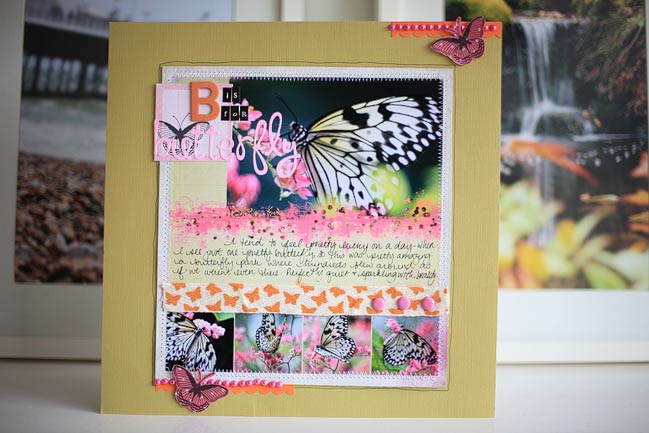 ~Supplies: Bazzill cardstock, American Crafts Thickers, Doodlebug letter stickers, Making Memories stamps and ribbon, Fiskars border punch.~
It was my turn to put forth a sketch for this month's Sketch Collection column in Scrapbook Inspirations. My favourite thing about this column is just a little bit awkward: I always love the contributors' layouts far more than my own! But the boss never lets me change my layout at the last minute, so I'm always stuck with that first page I made from the sketch. There are five additional pages in the magazine, but you can see pages by Lisette and Jen on their blogs to get an idea of their yummy pages.
If you read the fine print rather than just looking at the pictures, you'll already know that we added the sketch in a digital layout format as a free download — you can find it here, even if you didn't read the fine print in the magazine! That template is what I used for the hybrid page above — the middle section of the layout was created digitally and printed out on an A4 sheet of photo paper, then the paper embellishments were added from there. Even better, you can also download a second version of this template just from me by clicking here. The second template is a bit more suited to a full digital page I think, but you can use either for your digital or hybrid projects. Both templates are .psd files, ready to go in Photoshop or Photoshop Elements. Enjoy!
So this month's sketch looked something like this: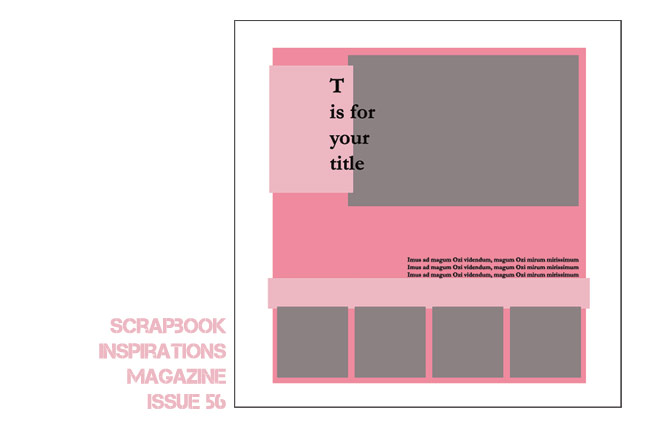 The space in the middle was the part I was most interested in when the pages started to come in. It can be filled with journaling, patterned paper, a border, a larger photograph…lots of options.
And since the article was done and dusted, I've been able to use it a few more times. Like this page that was featured on the Banana Frog Blog.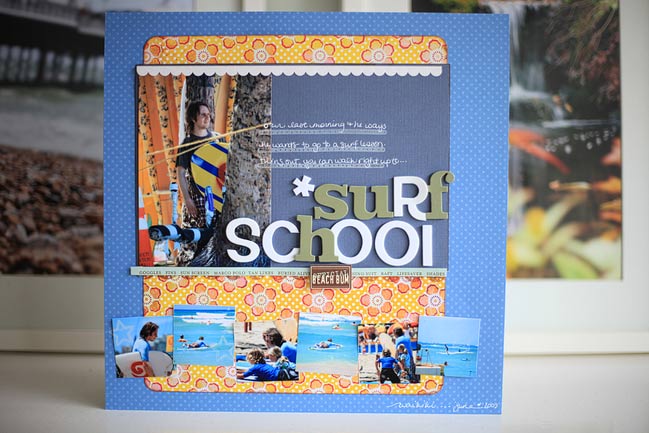 ~Supplies: Bazzill Dotted Swiss cardstock, BasicGrey patterned paper, American Crafts Thickers (and these), Doodlebug border stickers, 7gypsies word stickers and Banana Frog stamps.~
And this fully digital page made with the layered template…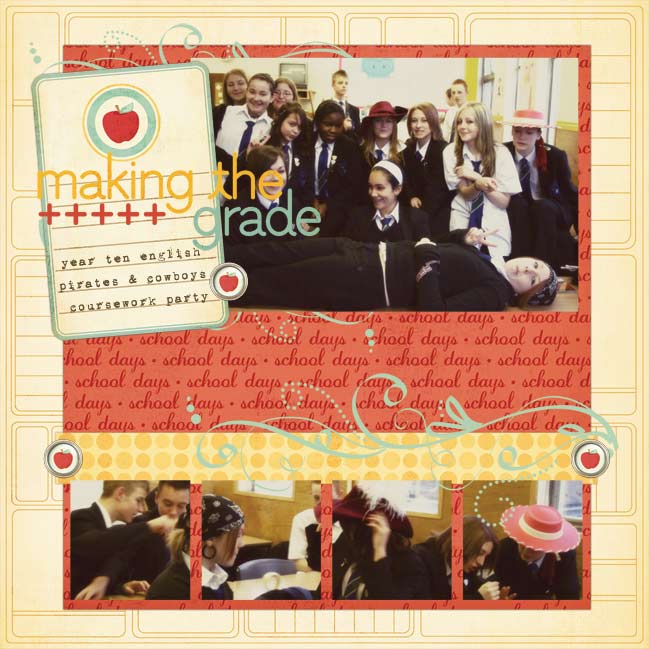 Supplies: Study Hall kit by Jen Allyson, Swirls by Rhonna Farrer
So of course, I think there's a need for a bit of a challenge, right? We're always looking for layouts that our readers create when they've been inspired by something in the magazine, like the sketch. If you tell us about them, you might even find your page on the SI blog or on the pages of the magazine.
Your turn now: let's see what you do with this sketch. If you upload your page online, make sure to leave a link in the comments. If you don't upload your pages but still want to share, email me pretty please!
Happy scrapping!
xlovesx

Read more about: scrapbook-inspirations-magazine free-digital-downloads
12 August 2009

Next post: Getting the hang of the Lensbaby.
Previous post: Party prize winners