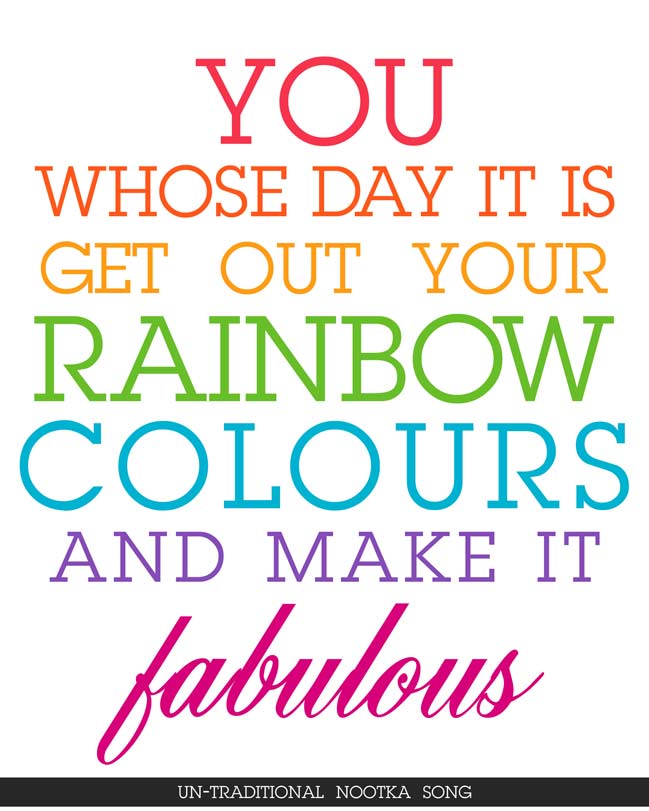 ©Tia Bennett. Click to download.
Need a colourful motto to keep you going on days that are a bit…grey?
The lovely Tia Bennett has made this just for you. It's free to download and will print out at a bit size for framing. Hang it on your wall, frame it on your desk, or print a small version to keep in your wallet for happy inspiration! I absolutely love the energy behind this sentence.
And as if that freebie wasn't enough, I've got more! Everybody likes something for nothing, right? Just leave a comment on this post (no challenge or link required today—just a comment) and I'll draw one name from all the comments for a prize. I'll hook up the winner with their choice of any kit from Tia's digital designs, which are great for digital or paper scrappers and crafters. Entries close at 11:59pm London time on the 30th of June.
Enjoy—and leave a comment to win! Have a fabulous – and colourful – weekend.
{Kindly note that the free download above is for your personal use—use it as much as you like on your scrapbook pages, your wall, your fridge, etc. Just don't sell it, make advertising with it or distribute it. Know someone who might like it? Just send 'em over here to download it! Thanks.}
xlovesx

Read more about: colour
27 June 2009

Next post: Writing in colour
Previous post: The mood of muted colours