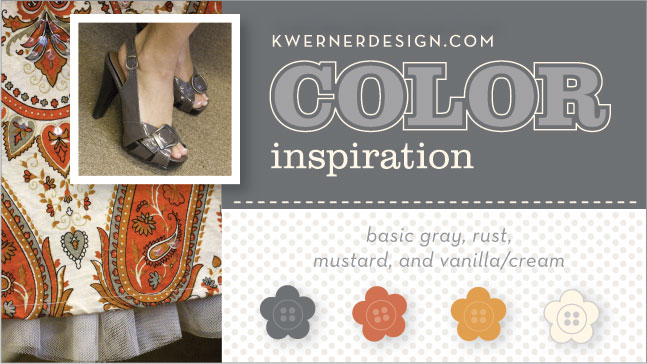 The lovely Kristina Werner is here with us today! Thanks so much for joining us for A Month of Colour! -S.
I've never been good with color—at least I never considered myself good at color. What I am good at is looking at pre-existing color combinations. For example, I'll be out shopping and see a particularly nice display in a window. I like the colors. I like the feeling it evokes. As discreetly as possible, I'll take my phone out of my purse and snap a photo so that I can remember the colors later.
Great color combinations are everywhere you look!
Sometimes the hardest part is making the connection between the colors you see around you and the way they can be combined in a paper project. It's often hard to look at a beautiful flower and pick out the specific colors that make it beautiful. But it's infinitely easier to see the color combination possibilities when it's a bedroom comforter or a shirt.
When it comes to finding color inspiration for papercrafting, some things translate better than others. Or in other words, when you look at the color of certain items, it's not too far of a leap to see them on a papercrafting project.
Some of my favorite color inspiration go-to items are clothing, home décor, and paper items like stationary and notebooks. Now that I think about it, the common denominator with all these things is pattern. Clothing, home décor, and other paper items often use patterns.
It is easier to see a color combination when it is grouped together in a pattern.
Try looking for patterns and you will find them everywhere! And if you're like me and sometimes struggle with grouping colors, it's easier to do so when someone else has grouped them for you! There's nothing like a cute pattern to get your color juices flowing. J
Now for a Color Inspiration Challenge…
Here are the colors for this week's challenge, and they come from my boss' skirt! She was wearing this adorable skirt (which unfortunately she couldn't remember where she bought), and I had to stop her so that I could take a picture. And check out those shoes! So cute!
Anyway, I want to invite everyone to participate in this challenge. For those new to the challenge, this is how it works: Just create something using the colors above as a springboard for your project. Post your creation somewhere on the internet—your blog, a photo gallery like Flickr, or at a papercrafting website/gallery. Then make your way over to my blog to leave a link so we can see it, too! Just follow the instructions there to paste your link.
For further instruction, please check the Color Inspiration Frequently Asked Questions. You have until Wednesday, June 24, 2009 to submit your link. Links will be closed at 7:00 pm Mountain Time.
After the deadline, I'll go through all the projects and just pick out a few that are my favorites. There's no prize or anything—I just like to show everyone your projects! And it's a chance to spotlight some of the challenge participants. For an example of a Color Inspiration Challenge Roundup, click here.
So, join us! You'll love it!
Click here to see the challenge at K Werner Design Blog and leave your link. You can also see all the other submissions there as well.
---
| | |
| --- | --- |
| Kristina Werner, a graphic designer by profession, was bit by the scrapbook and cards bug back in 2005. A year later, she started her blog and it's been a labor of love since. K Werner Design Blog is home to regular features such as the popular video series Make a Card Monday, the (nearly) weekly Color Inspiration Challenge, and the TwoPeasInABucket-affiliated video series Finally Friday. You can find her work at her blog and also in the Designer Garden at TwoPeasinABucket.com. | |

Read more about: colour
19 June 2009

Next post: A day for earth toned crafting
Previous post: A day for all things light...crafting