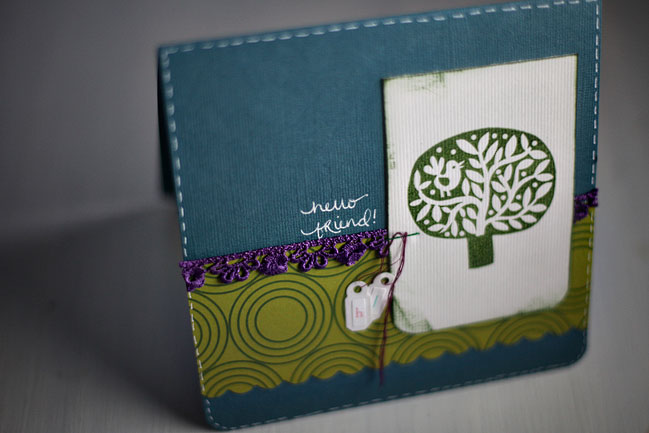 Supplies: Bazzill cardstock, Scenic Route paper, Prima trim (both the paper + trim are non-current, sorry!), tree stamp from Colorbok.
So that colour combination I got on the spinner this morning? Here's what it looks like on paper. Hoping to get a chance to work with these colours with a bit more detail on a layout soon.
But of course, now it's your turn!

The third challenge of the month: make something with a three-colour combination that pops up when you spin the colour wheel here. Get it online somewhere and link it up in the comments so you have a chance to win: the winner of this challenge gets a set of letter stamps! Same drill as normal—you have all month to complete the challenge and entries close at 11:59pm on the 30th of June 2009.
You can make whatever you fancy…a scrapbook page, a card, a quilt, a cupcake…ready, steady, GO!
xlovesx

Read more about: colour
03 June 2009

Next post: Inspiring colours for scrapbook pages
Previous post: Cracking the colour wheel, part one