In the summer of 2006, I needed to chill out. Stop running. So I planned a summer of working less and playing more, and since the plans lasted a total of three and a half weeks, I figured that was a safe amount of time. In three and a half weeks I took two trips—one on my own and one with the boy; one to the states for a scrapbooking weekend as a student rather than a teacher and one driving around the perimeter of Iceland. Both made me very happy. And both taught me a great deal.
I can't bottle up Iceland and give it to you in summary. For those lessons, all I can say is go there. Or to the place that is your equivalent. Find a way somehow to stop putting it off and go. You will never regret it. It will be beautiful.
But the other thing is much easier, as Ali is bringing her Week in the Life album project to the public and basically letting you follow along and choose to follow her steps or make your own and it's a case of there is no wrong way to do it. It's the sort of project you can do on your own but it's pretty cool to do it at the same time as lots of other like-minded people, and they can also be a little push to keep you going. Essentially the idea is to photograph and entire week and keep notes on the things you do, places you go, food you eat, conversations you have, purchases you make and so forth. A simple yet grand idea that taught me many things once I put it into practice. Things like…
...moving house is a part of life and you're never sure when it will happen. There's something lovely about having pictures of all the places you have lived.
...the people you see from day to day change. Some you see more, some you see less. Some you can't see again. You will be glad you took their picture and wrote things down in the present tense.
...you never realise how many times you eat the same meal, listen to the same song or go to the same shop until you really write it down.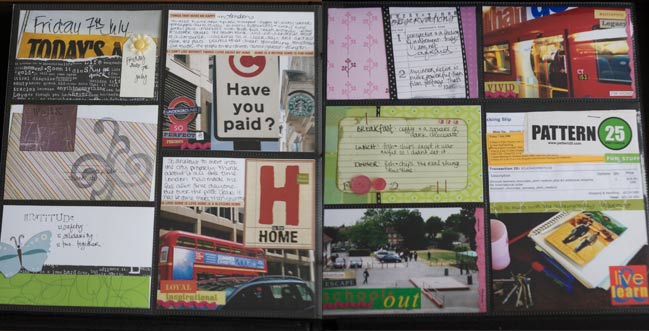 pages from Ali's class in 2006.
...dates on the calendar gain and lose importance. The first week I documented showed the 4th of July as quite an ordinary day and the 7th of July as quite out of the ordinary. I haven't been in the states for Independence Day since 1997. And in 1995 I wrote my college entrance essay about the travesty of working a double-shift on the 4th of July (I promise there was more to the essay than just that) so clearly, thirteen years ago I would not have predicted this change.
...you can say to yourself 'I'll come back when this is on sale' or 'I'll come back to this beautiful place with my camera' and you can go back, but you may find in both cases that the thing you wanted is no longer there.
...even if we're not growing in the same obvious ways as children, we look different in photos taken a year apart. And we will always be critical of our hair in the past.
...writing just a sentence or two alongside a photo really can take you back to the whole story of a particular day. It's up to you whether you keep that story a secret, tell someone you trust or write it down on the permanent record of life.
...getting past a bad Monday can be the key to finding balance.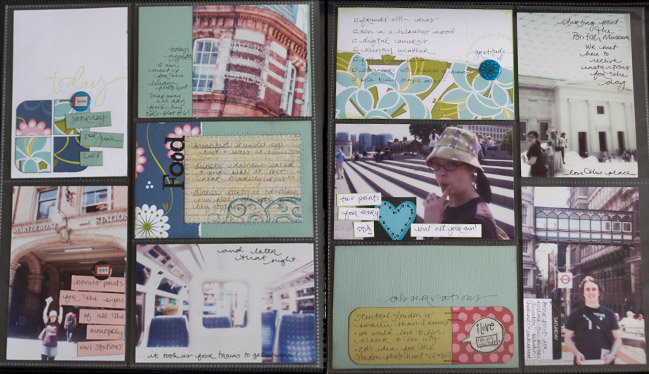 pages from the week I documented in 2007.
So this morning I went for a walk to capture a few images of how the things look right now. I'm going to keep it up all week, and it will become the third week in my album. This time with a slightly different perspective, but hopefully just as able to remind me (and maybe us) of a few important lessons.
More details about this project here.
xlovesx

Read more about:
29 September 2008

Next post: Monday felt green
Previous post: Everyone has a story