Greetings witches and wizards! Today we're joined by Hogwarts Guest Professor Niki Rowland to share a magical scrapbook page inspired by a sketch I shared almost ten years ago. Turns out the ideas we tried a long time ago can still help create pages that make us happy today! What magic that can be! And a less magical reminder – supplies have affiliate links and that makes all this possible. Thanks for clicking when you're shopping! Now, onto the scrapping magic! -Shimelle
Hey everyone! This is Niki and today I have a layout and process video to share that has been inspired by Shimelle! I was delighted to take part in this project and as Shimelle is such a huge inspiration it was an easy task.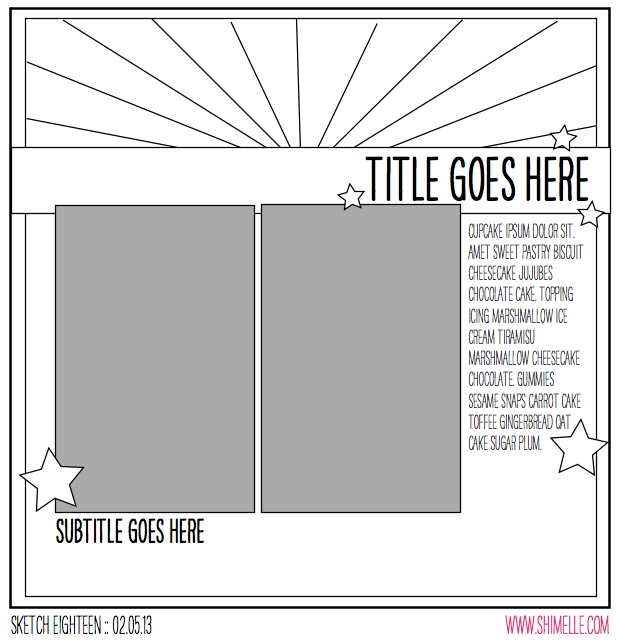 I looked back through Shimelle's archives and came across this sketch dated May 2013, and the layout Shimelle made for this sketch. The purpose of this sketch was to add a starburst to your layout and this is something I absolutely love to do so this was the perfect inspiration. I decided to make a Harry Potter themed layout today because I recently visited the Harry Potter Studio tour with my daughter and several years ago Shimelle made lots of layouts about her trip to the Studio Tour, which I crushed over at the time, so this theme is another way Shimelle has inspired me.
There is one final way in which Shimelle has inspired me today and that is her block of two 6×4" photos. Together they made a 6×8" landscape block and my photo is a 6×8" landscape photo. I find this photo size particularly tricky to use and therefore I often look to Shimelle's layouts when scrapping with this size to see how she has tackled the task. There are many layouts of Shimelle's that use this photo formation and therefore lots of sources of inspiration.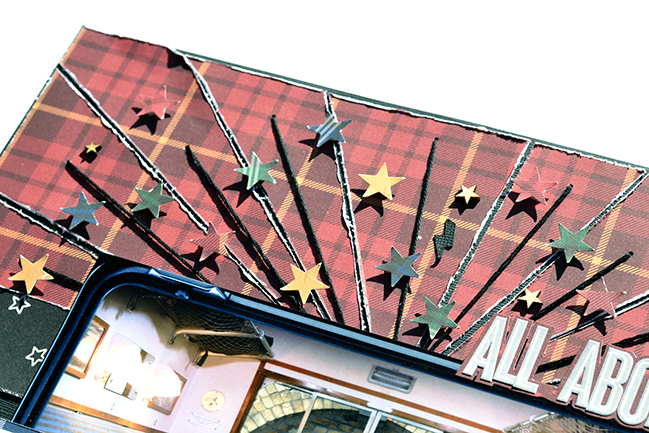 I started off with a black background and I cut a 4×12" strip of patterned paper to turn into a starburst. I didn't have much paper left from the collection I was using, (Witches & Wizards 2 by Echo Park Paper) so had to use one strip, rather than several different patterns. I used a pencil and a ruler to draw my starburst and then I cut all the pieces with scissors. I distressed all the edges and stuck them to the top of my black cardstock background. Because my starburst was all one pattern I wanted to embellish it further by adding long stitches of black thread to each ray, and I also added punched stars in several different colours, as well as some tiny wooden stars too. This helped to make it more interesting and therefore more of a feature, in the absence of lots of different patterns.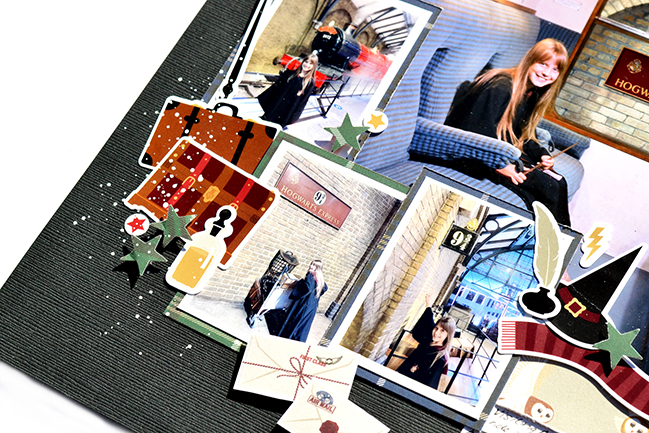 I placed my photo centrally which is slightly different from Shimelle's sketch and layout and I also added three more small photos to the bottom left corner. I turned the small photos into an embellishment cluster of their own by adding a few stickers, punched stars and fussy cut envelopes.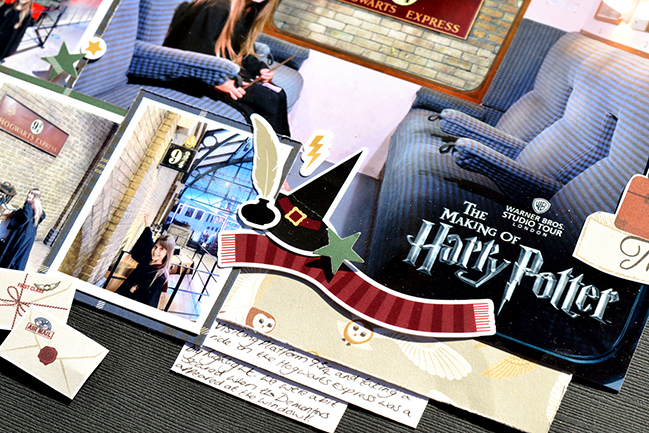 To the right of the small photos I added a small amount of patterned paper and two journaling strips. I didn't have access to a white or silver pen when making this layout so couldn't write directly onto the black background so journaling strips were my answer.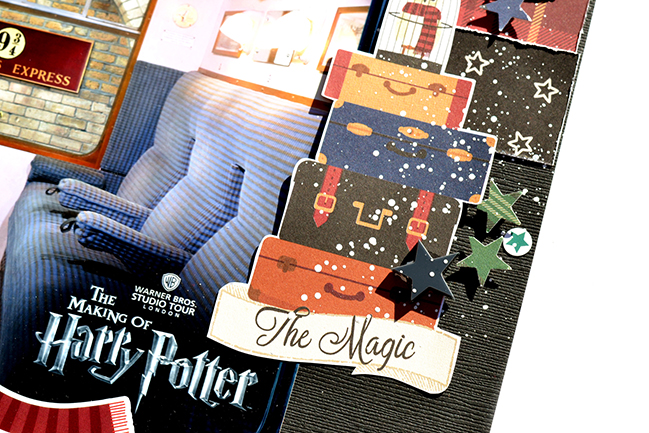 On the right I fussy cut a large stack of suitcases from a journaling card and added this as an additional area of embellishment.
For my title I used small (and very old!) alphabet stickers which I mounted first onto a plain piece of paper. I did this for two reasons: firstly to ensure they stood out against the background, and secondly so that I could raise the title as one piece onto foam pads. I finished off with splatters of white paint and a few more punched stars.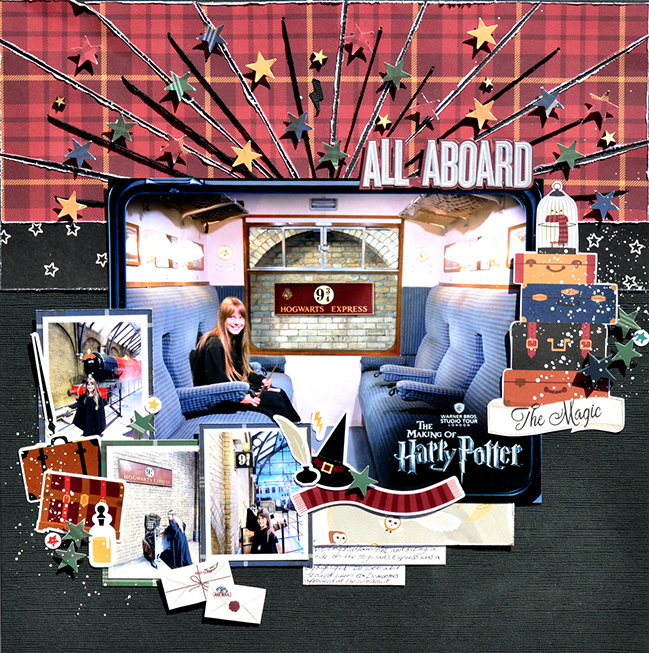 If you are ever struggling for inspiration then I would definitely recommend looking at sketches. They don't have to be followed exactly and can just give you that little spark you need to get your creativity flowing. Even basic ones can get you thinking differently.
Thank you so very much for joining me today, enjoy the video and happy scrapping!
| | | |
| --- | --- | --- |
| Niki Rowland has a passion for memory keeping and pretty paper. She lives in the UK with her husband and three children, and runs GoGo Getaway Scrapbooking Retreats. She loves coffee, sweet treats, books, and Lego. You can find Niki's scrappy adventures on Instagram and YouTube. | | |

Read more about: tutorials
09 August 2022

Next post: Scrapbooking Multiple Mini Photos with Tracey Fox
Previous post: Scrapbooking a Moment in Time with Michelle Crela