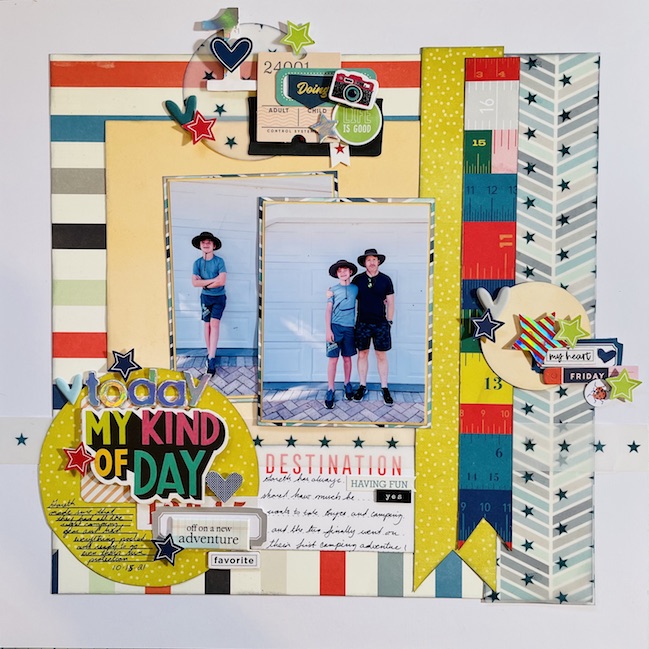 Today's guest artist is right on board with the Use What You Buy attitude: she's been making a point to scrap with the stash she's held onto for a while to make sure it goes from her supply collection to finished pages in her albums! Check out this page design and see if it can come together with things you've been stashing too! -Shimelle
I love scrapbooking old and new photos. For me scrapbooking lets me combine my love of photos, journaling and pretty paper into one hobby that helps me destress and be creative. For this particular layout I felt like I hadn't scrapped any very recent photos lately. I try to balance scrapping older and more recent photos.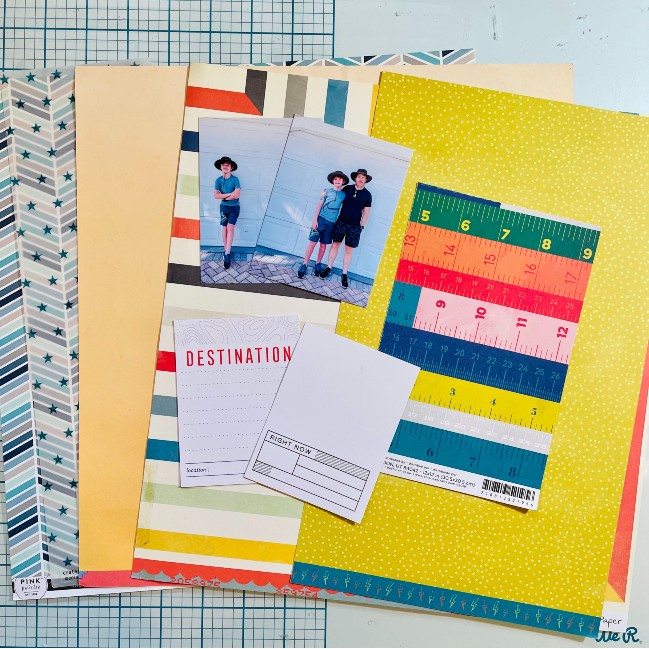 For this layout recent photos won out! I selected and printed out four different prints. Two prints that were of Gareth and Bryce going camping and two prints of Rhiannon and I exploring the Machu Picchu exhibit at our local museum.
The photos with the boys were jumping out to me more than the photos of Rhiannon and I. Gareth has always wanted to take our kids camping and an opportunity came up for him to go camping with Bryce. He went and got all the gear to go camping (including the sun protection)! I was so excited for them to get to go. Got to be honest I'm not a camping girl but glad that he will take the kids so they can see if they like the experience. Spoiler – Bryce really enjoyed the camping experience!
I approach almost every layout I create with one of three approaches as my jumping off point: sketch, photo, or product. Over the past several years I've been very conscientious of using my stash up (probably from all of our moving). For this layout I started off with my photos. I then went through my patterned paper looking for papers I felt went with the color and or story the photos tell. I then went through some of my 3×4 cards and pulled a couple that coordinated. My papers are from Paige Evans collections, a Crate Paper collection, and a Shimelle collection. My 3×4 cards are from Citrus Twist. I then went looking through my printed sketches to see if one worked with the amount of photos and papers I pulled. From there I start cutting up my paper and playing with the base layout using the sketch. Then I create my embellishment clusters.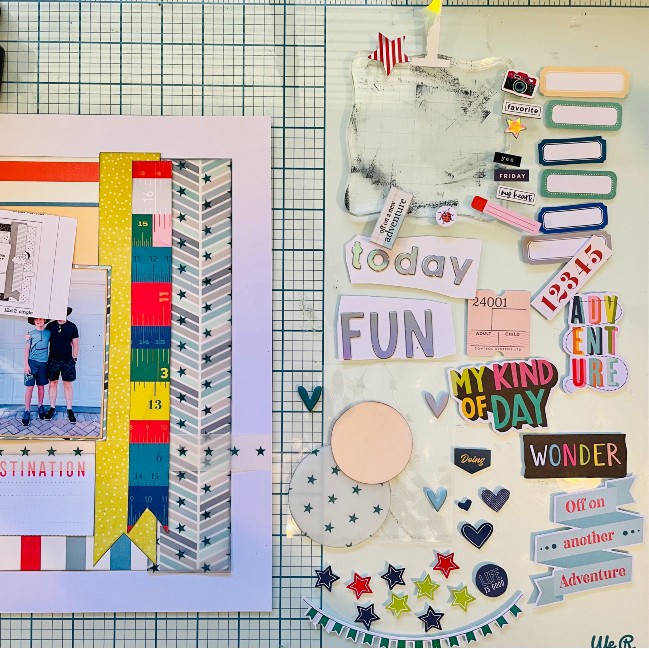 I usually like to have a base for each cluster. The base may be circular elements, tickets, labels, frames etc. I chose to have circles as the base for each cluster partially because of the sketch and because it allowed me to use more of my patterned paper. I then went through my embellishment stash and stickers to see what coordinated with the papers and helped to tell my story.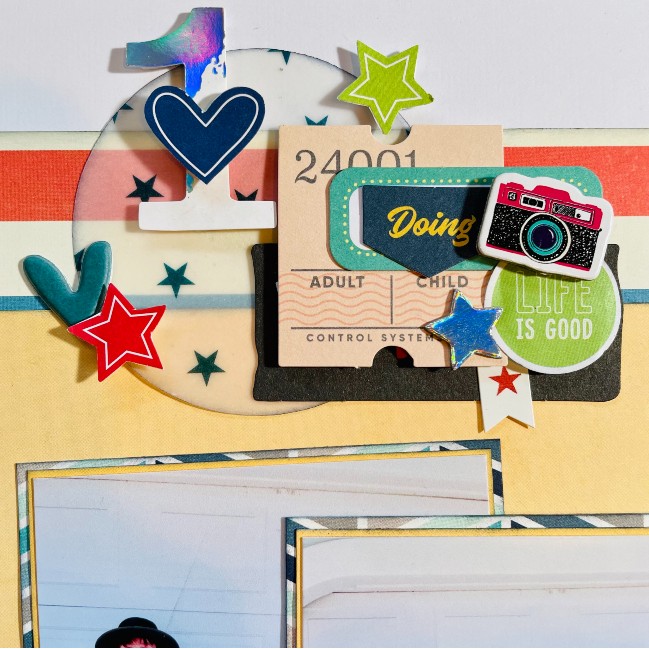 I ended up using a Vicki Boutin sticker book, chipboard phrases, and ephemera; Citrus Twist puffy stickers, labels, and ephemera; Shimelle stickers; and American Crafts word phrase Thickers. Once I pulled out what coordinated I then start sticked things onto each embellishment cluster base. I try to make sure I have the same colors, icons and word phrases represented in each cluster, which can help all the pieces of different collections feel like they belong together.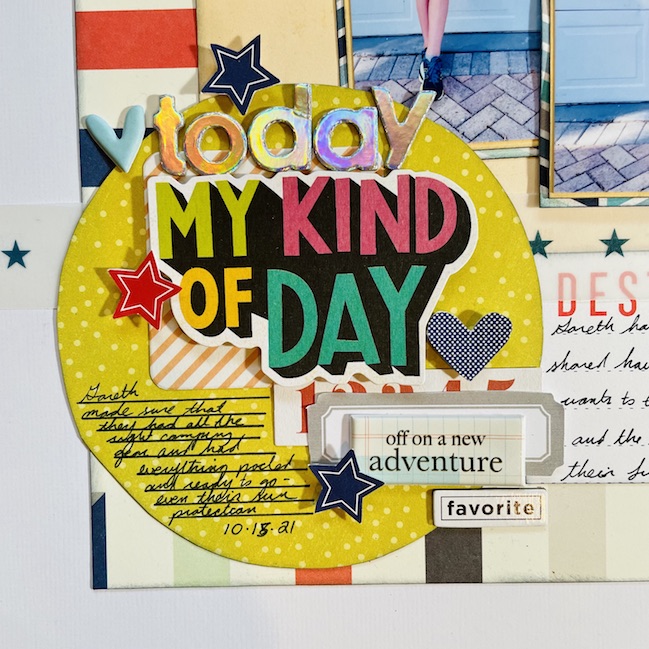 If this inspires you, I encourage you to scraplift the layout using items you've kept in your stash for a while. You could use the sketch I used. You could also just be looking for similar papers in your own stash. Another idea is to scraplift the color scheme, the patterns, or the placement of everything! Lastly, you could use my process of selecting photos, then patterned paper, and then embellishments to document your own story.
| | | |
| --- | --- | --- |
| Brittany Kielar resides in South Florida with her husband, two kids, and two dogs, and enjoys living so near her extended family. Brittany owns an education consulting company. When not working, you can find Brittany unwinding by scrapbooking, reading, and baking. She also loves watching her son in soccer and tennis and her daughter in dance. Her family loves going on walks and hikes, playing pickleball, doing puzzles, watching movies, and exploring. You can see more of Brittany's work on YouTube, Instagram and Facebook. | | |

Read more about: tutorials
23 August 2022

Next post: Using symmetry in Scrapbooking with Erika Breslin
Previous post: Using Paper Scraps in Scrapbooking with Valeska Guimaraes