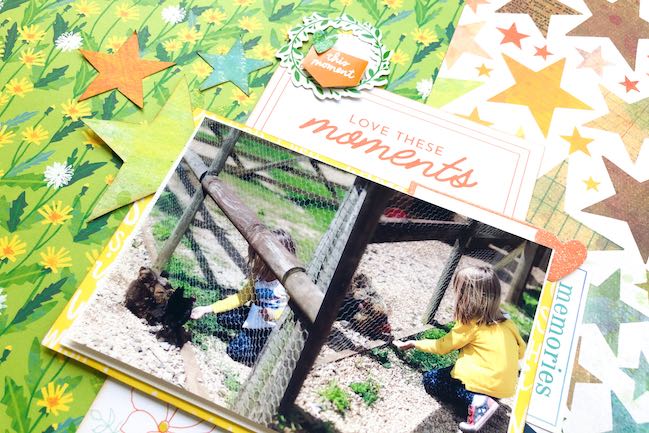 A second live video, a second layout finished with the August Best of Both Worlds kit! If you're starting here, pop over to this post to get up to speed with the whole Best of Both Worlds concept!
Today I started putting the summer issue of Scrapbook and Cards Today magazine to use! Take a look at their summer sketches – I used the sketch at the top right, but adjusted the design to two small portrait photos. (By the way, if you like the idea of scrapbooking videos from page sketches, I have a class on that and it includes 45 videos to work through at your own pace!)
Today's is a live video, so it's a chatty one, though not as far off topic as I sometimes find myself! We do cover my joy of secondhand copies of American Girl books. As you do. And also that 'sup? is the perfect greeting for chickens. Please do join us with that the next time you pass friendly poultry.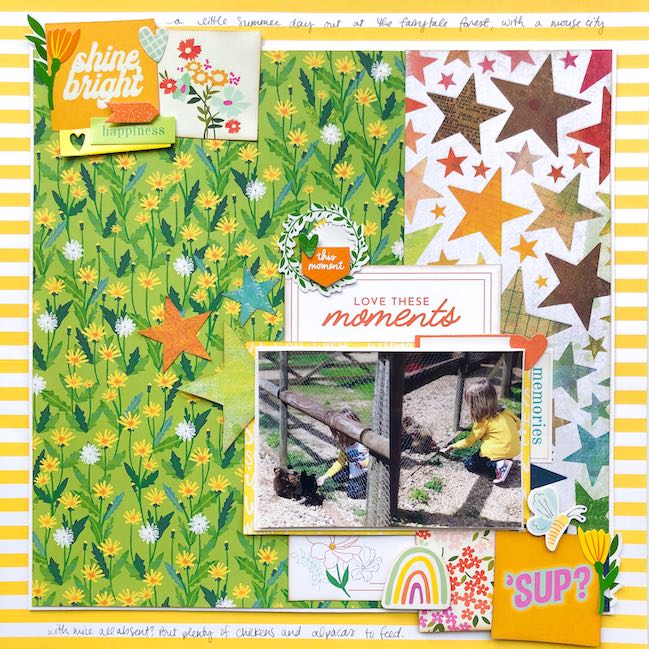 I'll be live again with this kit at 9:30am UK time this Friday, and I'll be using the summer cut file from the magazine extras. (It will be available as a replay video as soon as it finishes.) But next up is a YouTube video that's heavy on those camera stamps! See you soon!
---
Annnnnnd thinking ahead to September, the
next shopping list
is now live! Here's a look at everything on the list, and a few things to keep in mind! (Please note, these are affiliate links – thanks for your support!)
*This is rather a big kit, because I added a few things of opposite styles. If you love florals, you're good with the Crate Paper stickers and die cuts, but not everyone loves a floral. Or a pink paper. Or primary colours. There's a Pebbles cut apart that is quite friendly to card making, so if you don't make cards and don't love the b-side, skip that one. When I designed my AC collections, I always started with a really varied colour palette (Christmas Magic excepted) to make sure there would be potential for lots of scrapping topics – even if the collection at first glanced seemed very pink or purple or blue. This mix of papers is my way of bringing that logic to the kit. As always, choose the things that work for you!
*I've been asked a few times recently why I love mixing woodgrain with light and bright colours, so I've included two different woodgrain patterns in this kit to demonstrate just that. If you're shopping your stash, my Glitter Girl collection might be useful for this.
*I'm going to keep the Scrapbook and Cards Today magazine on the list every month, but it comes out quarterly. If you ordered it with last month's kit, that would be a duplicate. (The magazine is free with your order but you have to remember to add it to your cart, hence why it's on the list.)
*The stash-building elements of this month's selection are a Distress Oxide ink, a stencil, and a sticker book. These are all elements we can keep using well beyond the projects of the papers and embellishments in this kit.

Thank you so much for your support and enthusiasm for this project! It is truly brilliant to see and has made my heart so happy.
By the way, I've turned off comments on all my recent posts not because I don't want to hear from you! It's because I'm just getting a deluge of spam and some of it was most definitely NOT family friendly! I run a clean ship here! So comments are off, but you can always email me or get in touch via Facebook or Instagram. Thanks for understanding!

Read more about: best-of-both-worlds-kit
03 August 2020

Next post: A Simple Inky Background
Previous post: My first scrapbook page with Best of Both Worlds August 2020 Kit