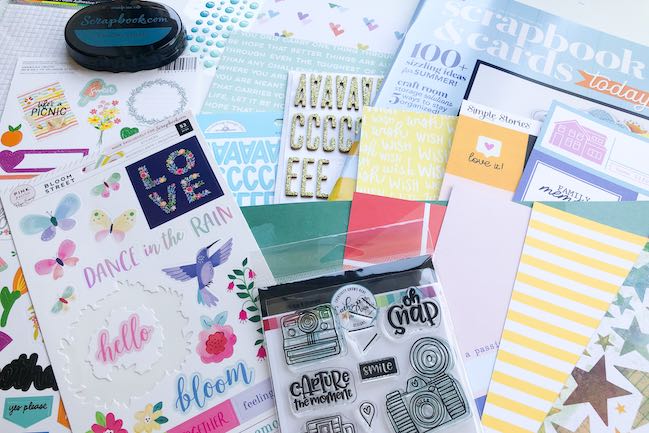 I love the idea of a scrapbooking kit: a collection of beautiful crafting items curated by a designer who has an idea for how they will go together, but sets you free with the supplies to make unique projects in your style. But subscribing to a kit is a delicate matter, because budgets change, styles change, favourite products and techniques change… but with a kit subscription, you're stuck with everything that arrives in the box. No more, no less.
On the other hand, you can shop from scratch. But for most of us, that's now an online activity. (If you have a local store, support it! Go shopping!) It can be tiresome to look at the screen for a long time, trying to imagine what the products look like in person, guessing what green will go with that yellow. It makes it dangerous to take a risk on a new brand or colour or product, because it might not be as useful in real life as I imagined.
To me, the Best of Both Worlds is a monthly shopping list that gives you the ease of a curated collection with the flexibility to add, remove, and change items from the list. It's something I used to do seven or eight years ago, and it was great fun to put the kit together then use it up with videos to share those projects. But the shop I worked with then is long gone, and the idea went with it. But I think it's just the right time to bring it back. Best of Both Worlds, from me in 2020, with affiliate shopping links to Scrapbook.com! It's all ready to go now!
Here's the schedule for things: I will update the shopping list just before the first Facebook Live of a calendar month. (My Facebook Live broadcasts are Mondays at 1:30pm and Fridays at 9:30am, both UK time.) I'll be ordering then too, and it takes a while for an order to make it from Arizona to me here in London! But that's okay – because I'll be making projects with one kit while the next kit is on its way! This first kit went live on the 6th of July and arrived with me on the 30th, so I started creating with it on the 31st of July, but let's call it the August kit. The September list will be available for shopping on Monday the 3rd of August, but I'll be making stuff with it throughout September. I will be sharing process videos using the kit supplies on both my Facebook Live videos (where there is lots of informal, non-scrapbook chit chat) and my YouTube channel (where there is no off-topic discussion and I focus on scrapbook talk only), and then I very much hope I can stay up to date with sharing all of that here so it's in one place and easy for you to come back and reference.
Here's a video walk through of what's in my August 2020 kit! Remember, this is the kit that went live at the beginning of July, so many items on the shopping list are now sold out. But that's okay! You are welcome – even encouraged! – to shop your stash for similar products that could work just as well without you needing to shop. And if you prefer, you can take the shopping list to another store of your choice! If you are shopping, leave out items you won't use or double up on papers you love. Make it work for you. I originally had the turquoise (swimming pool) enamel dots on the shopping list and they sold out very quickly so I changed the list to yellow (bumblebee), but you could choose any colour in the kit for your enamel dots or use a variety of colours if you have a stash of half-used sheets at home. If you don't stamp, don't add the stamps and ink and you'll have a less expensive kit without waste. If you do stamp but already have lots of camera stamps or plenty of ink pads, you can leave those off too. That's the Best of Both Worlds idea: you can keep it simple and add one of everything to your cart or you can shop selectively to suit your needs perfectly.
The Best of Both Worlds shopping list can be found here, and will automatically change over to the new list on the first Live of each calendar month – you won't need a new link. So here's also an itemised list so you can see the individual items I'll be working with over the course of August 2020.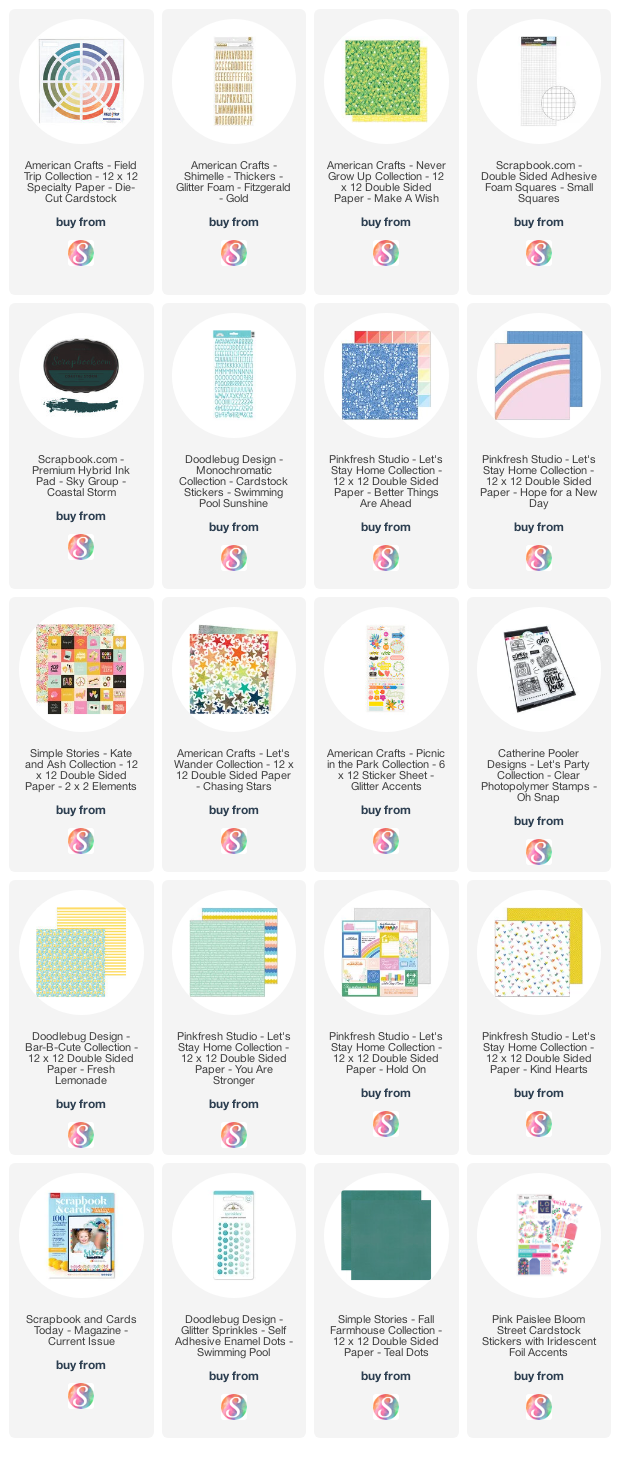 Thanks so much for your support and interest in this project! If you share your supplies all gathered (from a shop or from your stash) or any projects you make with this kit, please tag me @shimelle and add the hashtag #shimelleBOBW so we can all see the different projects made from the same supplies. I can't wait to see what you make!

Read more about: best-of-both-worlds-kit
31 July 2020

Next post: My first scrapbook page with Best of Both Worlds August 2020 Kit
Previous post: Seashells and Mermaids - Scrapbooking with another cut file from Paige Evans