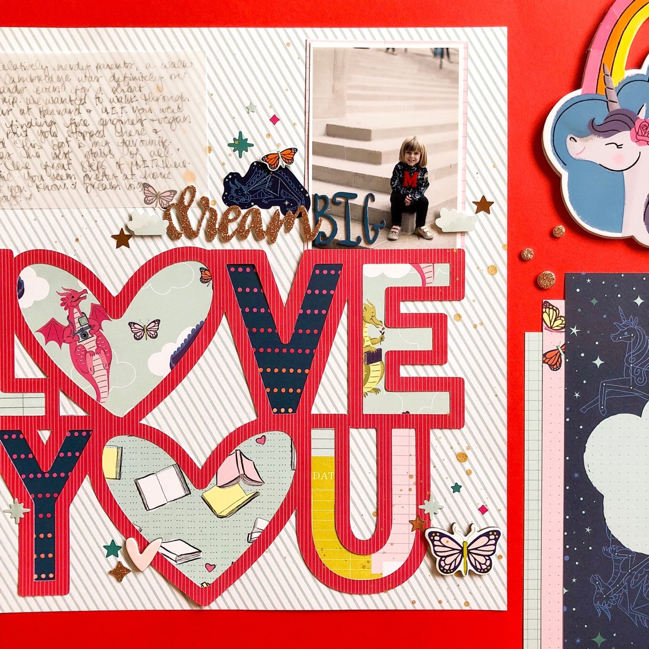 Now I love making a scrapbook page more than the vast majority of the population, but making a layout that really feels like something new and exciting? Those are the moments that feel like ACHIEVEMENT UNLOCKED. Next level crafting that reminds me of the joy I find in memory keeping and in creating pages, from the photos to the stories to the pretty paper. I've always found it's way too overwhelming to think about developing my crafting style by looking at all the elements at once. Instead, I go through seasons where I really focus on improving my photography, and times when I really write and draft to get the words just how I want them, and days when it's all about where things can go on the canvas of a page, and times when I want to try every new embellishment technique I can find. So it makes perfect sense to me that the way we can level up is to take the time to look at each of those things closely. Just imagine the level of Achievement Unlocked it will feel when you put all those things together on your pages! I hope you'll join me in class and level right on up!
Level Up starts Tuesday the 5th of March 2019, and includes four weeks of class materials in video and printable PDF formats. We will focus on one specific topic each week and you'll identify your strengths, joys, and challenges at the beginning of the week and follow steps to improve your skills and make it all easier: levelling up! Those four topics are photography, page composition, writing, and embellishment.
Photography: join in with your phone, point and shoot, or SLR camera. We'll be looking at portraits, still life, and scenery, and you're welcome to try all three or choose one to really bring it into focus. If you will be shooting on a DSLR camera, I would suggest reading through the Camera School section of the blog first, so we can go beyond those points in class.
Page Composition: how many photos and where can they go on the page? We will look at both single and double page layouts (and a tiny look at pockets alongside full pages) and where things can go on those 12×12 pages. I really do believe there is a page design for every occasion, so we will look for that right occasion for everything from a single photo layout to more than a dozen photos from a single day.
Writing: after I've done the pretty stuff, I'm supposed to journal too? You might already love to journal or you might currently be aiming to just get a name and date on the page. Either way, you can level up. We'll explore different ways to find your own voice and make the writing feel just right.
Embellishment: then the pretty stuff to close! We'll try different techniques with different supplies you have on hand – and there will be things to try if your stash is limited and things if it's really, really not. I even went out and learned some new techniques I had never tried for this topic, so I am excited to see you put your own spin on those.
There will also be a few live Q&A video sessions to discuss the class materials. All the other class videos are edited, instructional videos. (Just thought I'd clarify if you're new to class and have been hanging out in my much more casual environment of Facebook Life scrapping! I don't talk about random rubbish in class videos. Also, is it to the point where I need to start using a trademark symbol after the words 'random rubbish'? Answers on a postcard please.)
If you have a annual pass from 2018, this class is included and will appear on your class list when the forum opens. No need to do anything else.
If you don't have an annual pass, you can sign up for just this course in your choice of currencies: $30 US dollars or £23 UK pounds. If neither of those is your currency, you can choose the one that is best for you.
$30 – US Dollars £23 – UK Pounds
(You will be taken to PayPal's secure website, where you may pay by credit/debit card or a PayPal balance.)
Once you sign up, you will receive a PayPal receipt email confirming your completed payment. The forums will open next week, and when that happens you will also receive an email from me welcoming you to class. Any questions, just email me.

Read more about: classes
16 February 2019

Next post: What I Will Be Using for Journal your Christmas 2019
Previous post: Introducing Sparkle City: a collection coming this March