I know we've had this conversation before: sticker books were one of my favourite parts of childhood. I can say that loudly and proudly in front of scrapbookers because you probably had ten one too. I loved collecting the stickers and trading the stickers and finding the right page and placement for the stickers. I especially loved the part of the process where I was far too young for a job and needed to find every available moment to convince my mother I needed new stickers. And I loved sitting in my room when I was supposed to be asleep, quietly turning the pages under the lamplight to catch all the little foils and glimmers and shines on the most special of all the stickers in my book.
Tell me this is not crazy talk and it has long been time to bring back sticker books. Sticker books should never have left.
So I'm rather excited by this new collection from American Crafts that is actually called #StickerBook and it's made up of… books of stickers. Yep. Big books of stickers from all the different designers and collections you know and love: Amy Tangerine, Dear Lizzy, Heidi Swapp, Vicki Boutin, Maggie Holmes, Jen Hadfield, Paige Evans, 1Canoe2, and me too! Each book has thirty pages of stickers, so you can trade and stick on repeat for a long while before you're running anywhere near low. These stickers also have a thinner profile than the cardstock stickers of our collections, making them great for things like planners where bulk can be a real concern.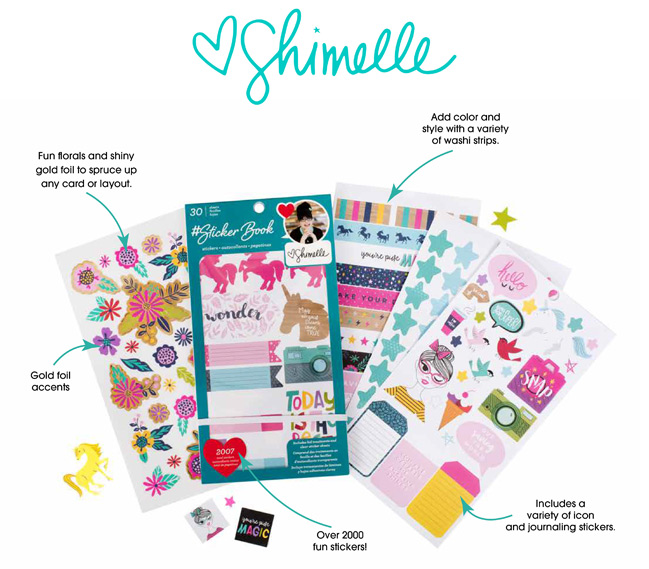 My sticker book has over 2000 stickers, thanks to several pages that have lots of tiny pieces designed to be scattered around the page in the same way I often use enamel dots and mist. It has the same colour palette as the Glitter Girl collection, with lots of brights and also gold foil and iridescent holographic finishes. Because 1987 me was very serious about her iridescent holographic finishes, and just maybe this is my gift to her.
You can collect all the #StickerBook editions from HobbyLobby stores in the US, or your favourite paper craft retailer, like here.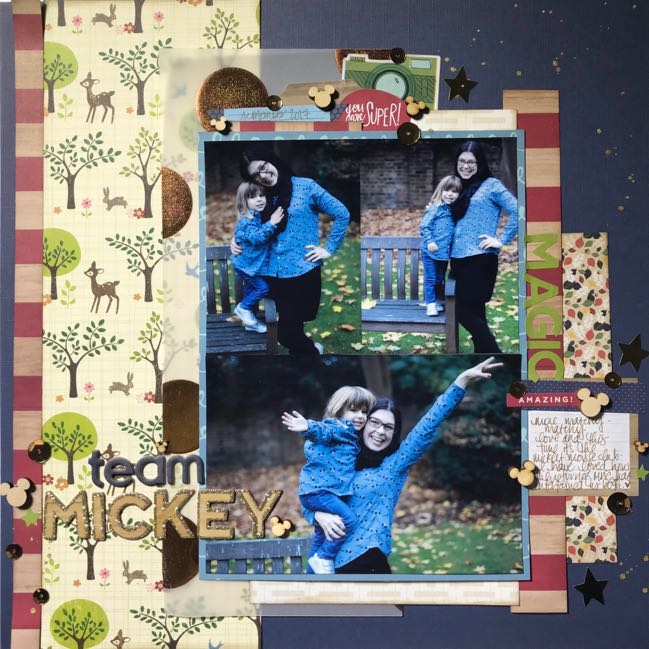 I've used my #StickerBook on a few Friday Live pages now, and here's the most recent – it is definitely possible to find plenty of stickers in this book that are not pink and purple. (But if you need pink and purple, when yeah: you are covered.)
Here's the full Friday Live session if you want to see this page from start to finish, alongside plenty of random Friday afternoon chitchat! (This week Friday Live moves to a new time – 1:45pm UK time. You can join in live on Facebook.)
And now… which of these sticker books will make it to your collection? I can't wait to see them on your desk and the stickers on your projects! I won't even tell your mum if you're up late looking at page after page of shiny stickers. I promise.

Read more about: friday-live american-crafts
01 November 2017

Next post: Introducing Box of Crayons :: My newest collection with American Crafts
Previous post: Scrapbooking and Random Chatter: A Friday Live Archive Update!