Just in case a weekend of challenges from the contributing designers is not enough to keep your fingers cutting and pasting this week, we have a weekly challenge for you as well! Time to dust off your sewing machine or your needle and thread: this week, I challenge you this week to stitch on your page. Machine or hand, a little or a lot – it's completely up to you, so you can take your inspiration in any direction you like! A few years ago, Marie Pierre shared a collection of stitching ideas you might find useful for reference, but let's started on this week's challenge with a look at these examples from contributing designer Heather Leopard and guest artist Joanne Walton-Calvert.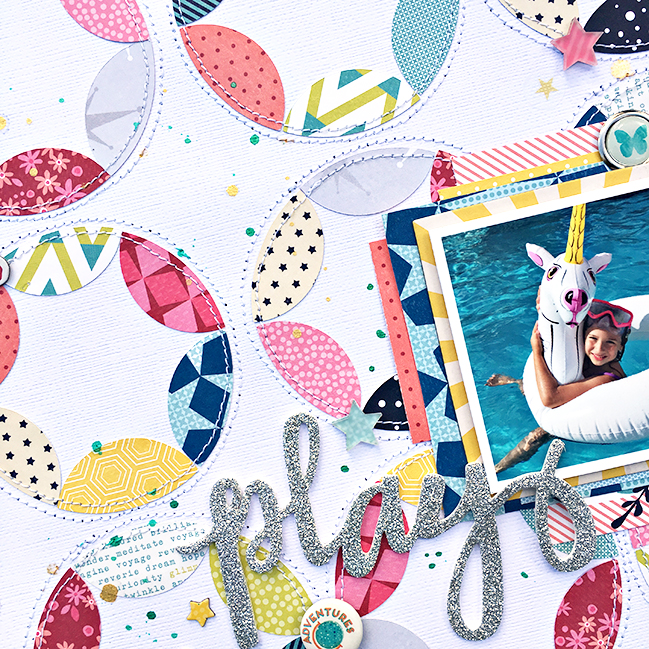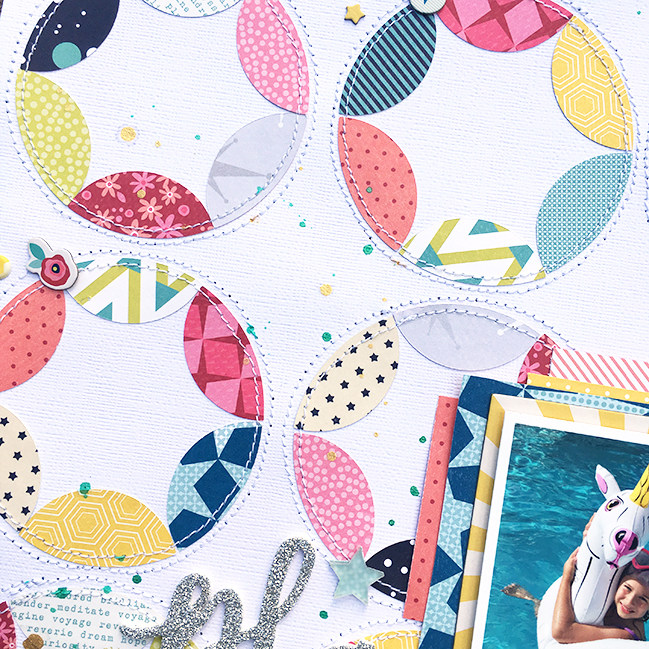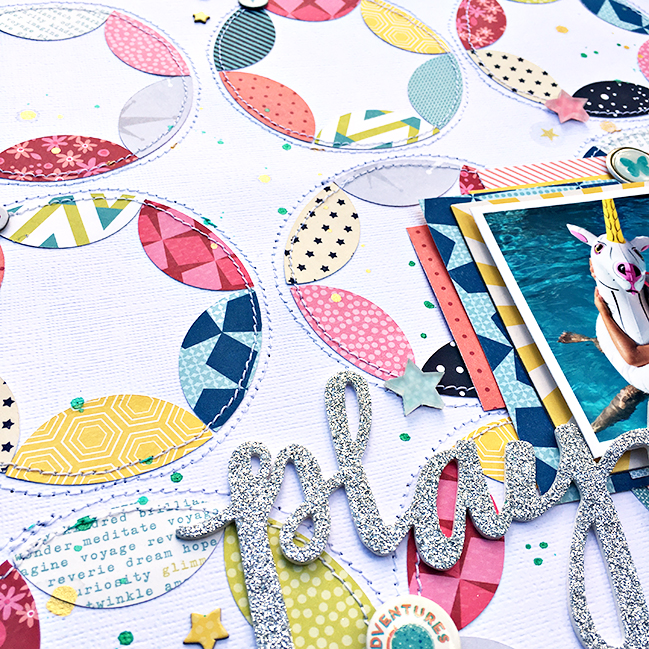 There's something about stitching that pulls me in every. single. time. I absolutely HAVE to include it on all my pages. While I love the look of a hand stitched layout, I don't do it on the regular because it's quite time consuming. I save those for binge watching tv or road trips (when I'm a passenger). My go to stitching technique is to use a sewing machine. What I love about machine stitching is that you can go as minimal or detailed as you wish in a fraction of the time so while it does add a little more time to your creative process, the results are worth it, in my opinion. It just adds that extra finished detail that bonds the entire page together.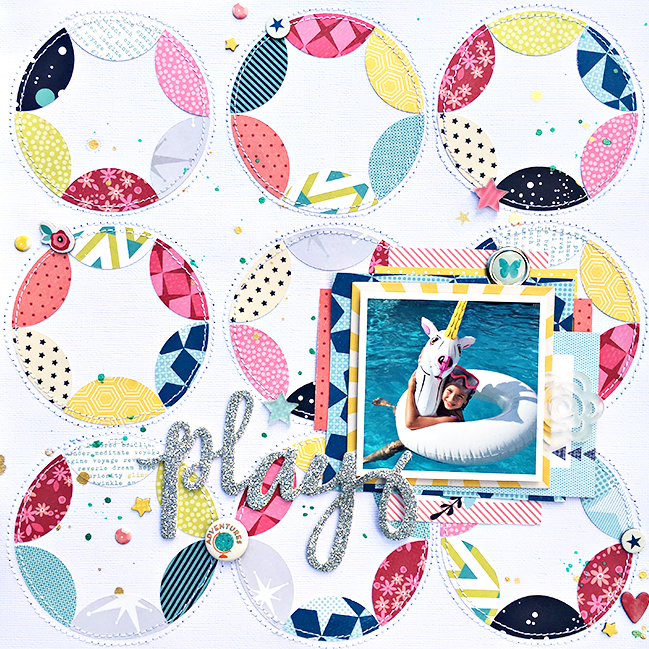 For this layout, I wanted to mimic the circular inner tube float in my photo so using my Silhouette software, I created a cut file and cut circles in half but with a rounded cut in the semi part of the circle. You can download my free cut file here. Then I pieced them together like a quilt and stitched over them on both the inside and outside of the perimeter. Circles are not my favorite to machine stitch but never fear, it's really hard to see if you don't make the perfect circle and you can cover little mistakes with an embellishment or two.
- Heather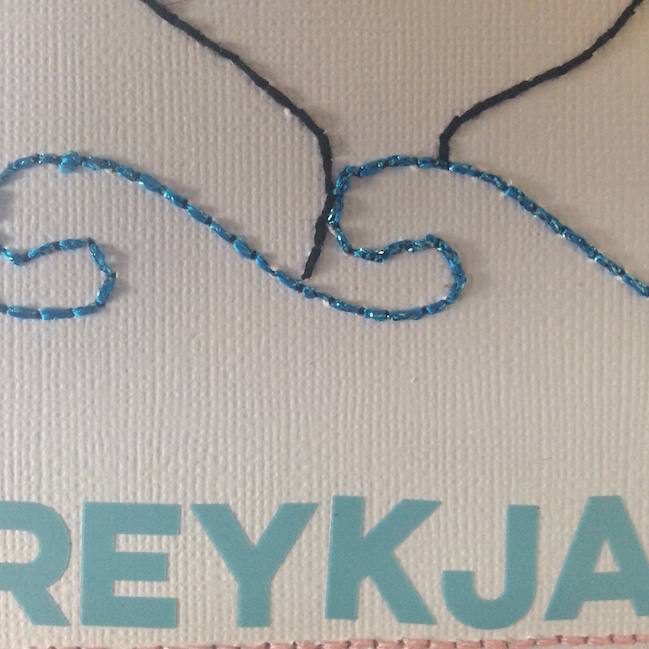 I made this layout with an arty photo my daughter took when we were whale watching in Reykjavik at Easter. I love how Fiona has gotten interested in photography recently and wanted to document this. I like using sewing on my layouts as it adds texture – hand sewing is very therapeutic and can be prepared so that I can do it while watching tv with my family in the evenings. It is also a frugal way to make my supplies go further!
I like mixing my new supplies which inspire me, with older supplies and collections. I only have a very small amount of the True Stories and Starshine collections left so I have used them here with My Mind's Eye By the Sea brads, Pinkfresh Felicity letters, and October Afternoon letters. The little grey envelope that holds my journaling is so, so old, bought from Two Peas on clearance, the embroidery floss is from various manufacturers and Bazzil card stock. I also detail cut the globes which is an economical way to make my embellishments.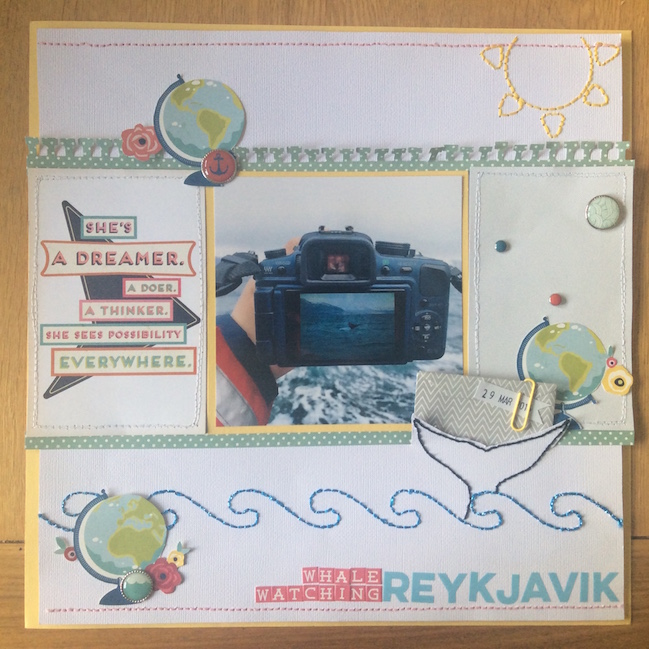 For hand sewing I use a mix of old fashioned stencils and simple free hand shapes, just pricking the paper first with my piercing tool. For machine sewing I use a children's sewing machine bought in post Christmas sales for £5 – I don't worry about making it too neat and often go over it several times for effect.
- Joanne
You have a week to complete the challenge and share a link – but of course you're welcome to set your own time schedule. Whatever keeps you happy and creative!
Today's Guest Artist: Joanne Walton-Calvert loves spending time with her family (including two cats), travel, and cooking. You can find more from Joanne on Instagram.

Read more about: scrapbooking-challenges
01 August 2016

Next post: Weekly Challenge :: Use lots and lots of layers
Previous post: Leigh Ann, Meghann, and a love of circles