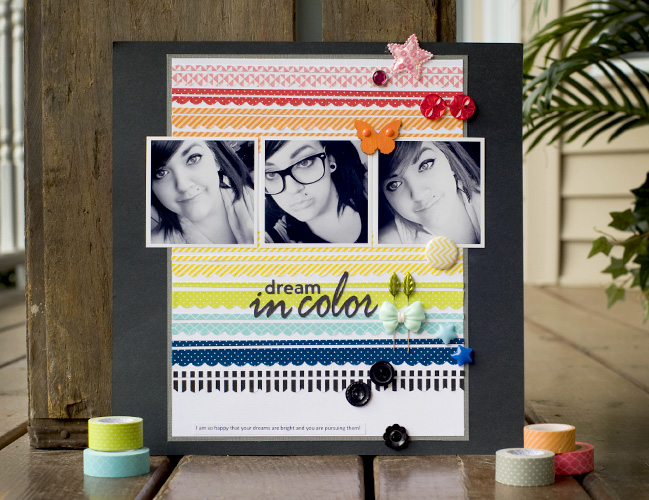 This week's scrapbooking challenge comes from one of my favourite guests posts in our archives: a washi technique from Tegan Skwiat. While Tegan shares steps for creating the look above, this is a challenge that allows for following directions or going off on a complete artistic tangent.
This week, I challenge you this week to take inspiration from those colourful borders. Follow the same look or just let the idea take on its own format on your own desk. To get you started on this week's challenge, take a look at these examples from contributing designer Gina Lideros and guest artist Anna Bradshaw.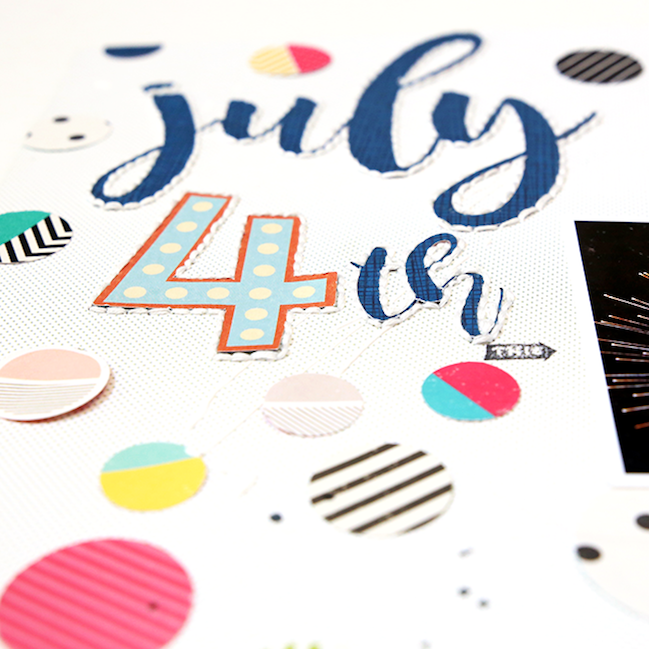 I'm excited to share my challenge project with you today! I chose to take my inspiration from the supplies rather than keeping it contained to a border. This is a great way to give new life to your tapes and punches. To create my project first, I picked out an assortment of decorative tapes that coordinated well with the papers and embellishments that I wanted to use.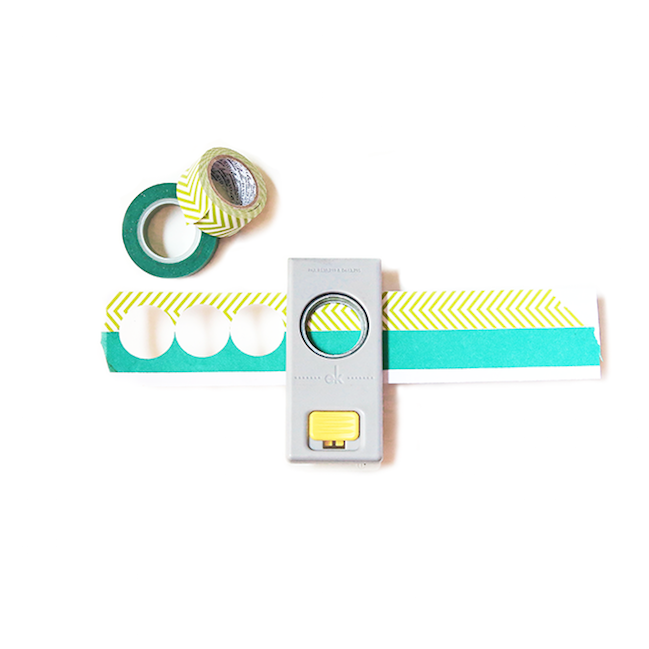 Then I tore two pieces of decorative tape and adhered them to a scrap of white cardstock in a horizontal pattern. Next I punched out circles using a one inch circle punch. This is the fun part where you can get creative – I repeated this step and punched out different washi designs using an assortment of patterns. I also punched out an assortment of patterned papers using different sized circle punches.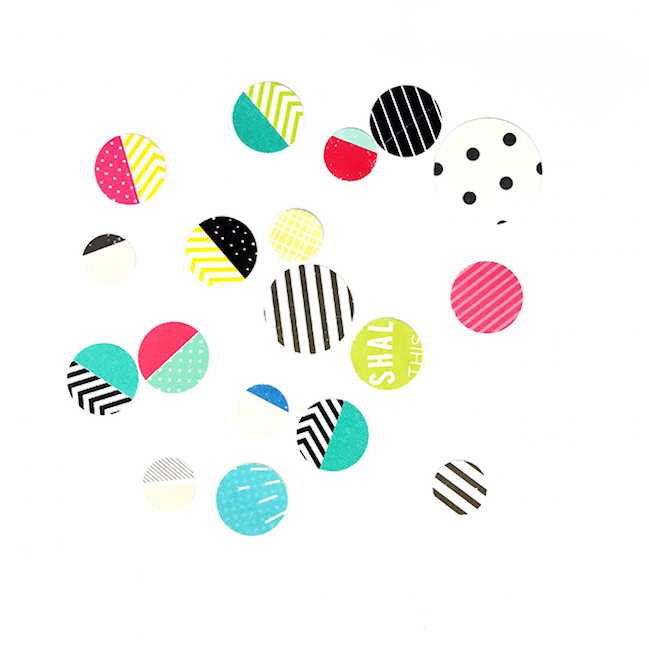 Once all of my shapes were punched, I adhered them to a pattern paper background. I used stamps, ink, paint, and hand embroidery around the title to complete my page.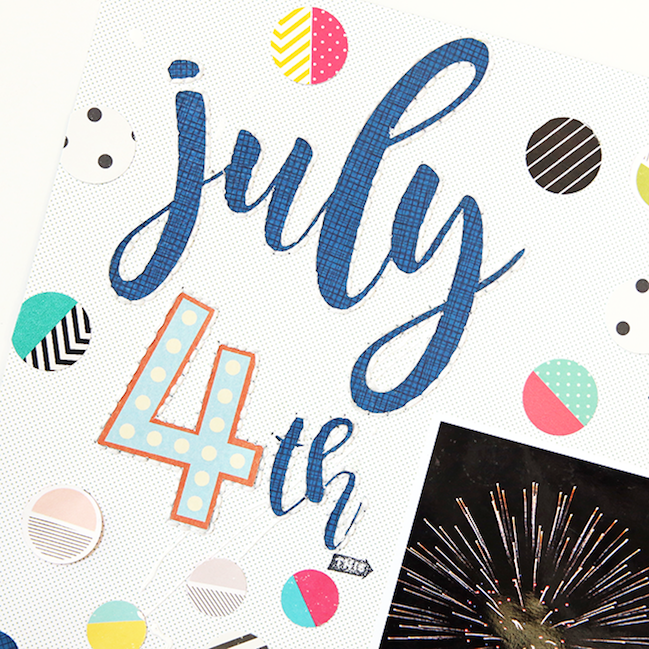 Tip – don't limit yourself to just red, white, and blue when working with Fourth of July layouts. Fireworks are colorful so your projects can be too! Instead of working with just one collection, I chose to bring in coordinating papers and elements from three of Shimelle's collections.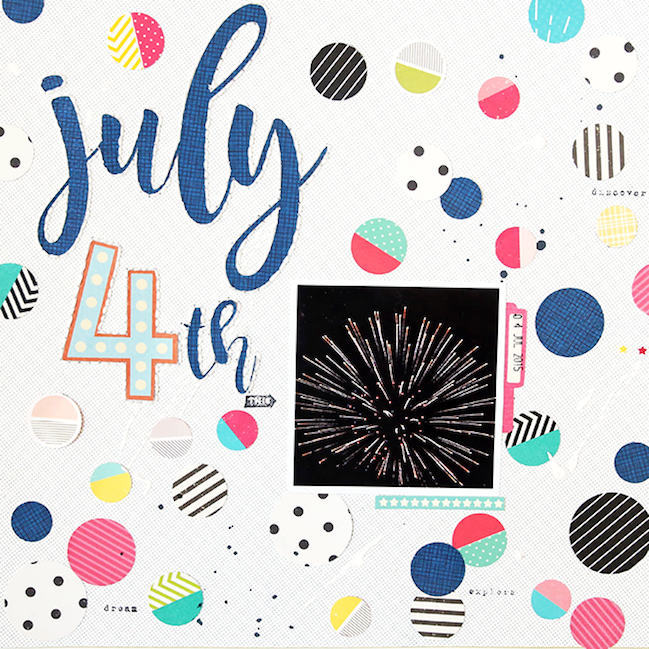 I hope this challenge allows you to get creative with decorative tape and get creative with your punches too, whether you create a border, an embellishment, or an explosion of color across your page.
- Gina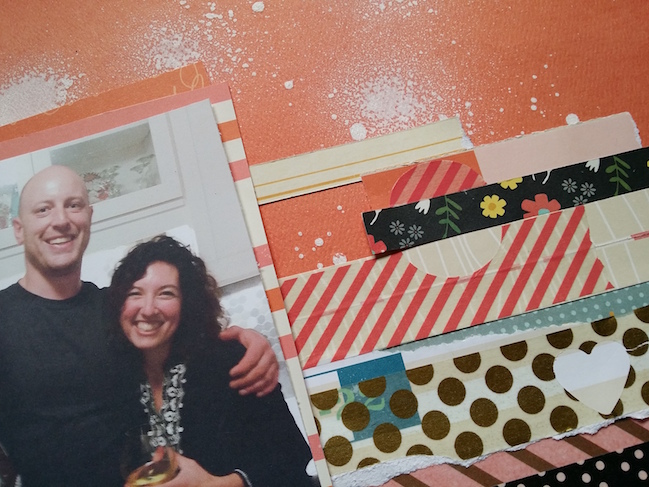 After a recent washi-swap, I came home with a clear but now colorful acetate sheet of shared tape strips, and, while staring at a handful of manufacturer's branding strips that happened to be lying near my photo, inspiration struck; I could use a few manual punches to create some custom embellishments with meaningful-to-me layers on this page documenting a recent road trip with my family.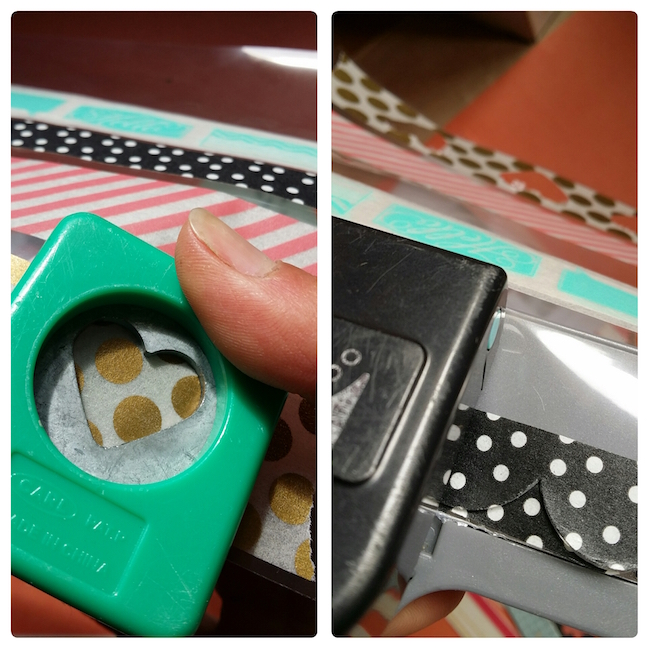 Alternating branding strips from the Simple Stories' I Am collection with WeR Memory Keepers aptly named Road Trip, and even a few from Shimelle's first delightful line of papers, I also punched some sentimentally appropriate hearts in a variety of sizes from a wide gold polka dot pattern of tape and the new We Are Family washi tape strips, also from Simple Stories. A popular EK Success border punch with a thinner black and white polka dot washi pattern grounds that busy block at the bottom of my page. It's awesome when we can use those tried and true tools and still get excited, no?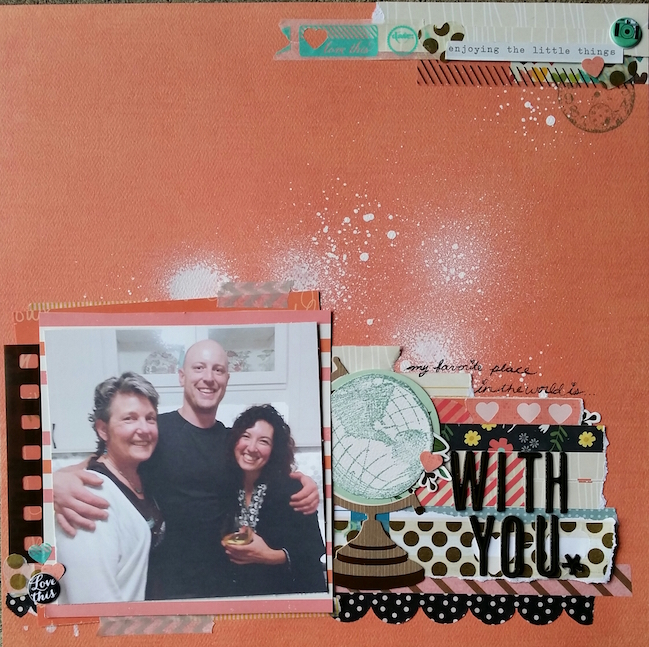 In Tegan's example she used plain paper to back her tape before punching, and I'll be honest, the clear acetate sheet as a punching mount did not give me a clean look – but I'm okay with that. Just like using ephemera and products with brand names that relate to my story, having a bit of the imperfect represented on this layout reminds me more of my "why" for celebrating this fun day alongside my mom and brother with a place in my scrapbook. It was our first road trip together, just the three of us, in ages, and I enjoyed it so much. The bouts of unrestrained laughter, seeing my brother trying not to enjoy making greeting cards and shopping for scrapbooking supplies, the unwanted advice-giving…yep, these are the perfectly imperfect moments that I want to remember in my family's (many, many) albums.
- Anna
You have a week to complete the challenge and share a link – but of course you're welcome to set your own time schedule. Whatever keeps you happy and creative!
Today's Guest Artist: Anna Bradshaw loves where she lives, teaching, and being with her biggest source of inspiration: family. You can find more from Anna on Instagram, Twitter, YouTube, and her blog.

Read more about: scrapbooking-challenges
27 June 2016

Next post: Quick Weekend Crafting for the Fourth of July
Previous post: Summer scrapbooking with patterned paper