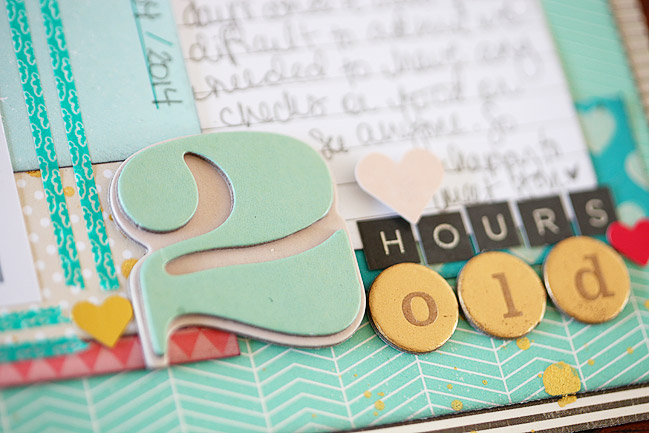 I'm a firm believer that we all have our own unique blend of why we scrapbook. For some it is 95% about the photos and 5% about trying new stamps. For others it is 33.3% a love of pretty paper, 33.3% a love of pretty photos, and 33.3% a love of a little quiet time not to worry about much else in the entire world. And as much as I love the pretty paper and as much as I love the pretty photographs, my personal blend weighs very heavy on the writing. Sometimes it's a lot and sometimes it's just a little, but for me, the journaling is what makes it part of a bigger story I tell page by page, and that makes me a collector of ways I can incorporate those words on my pages when there are times I don't really fancy just adding a journaling box or some lines.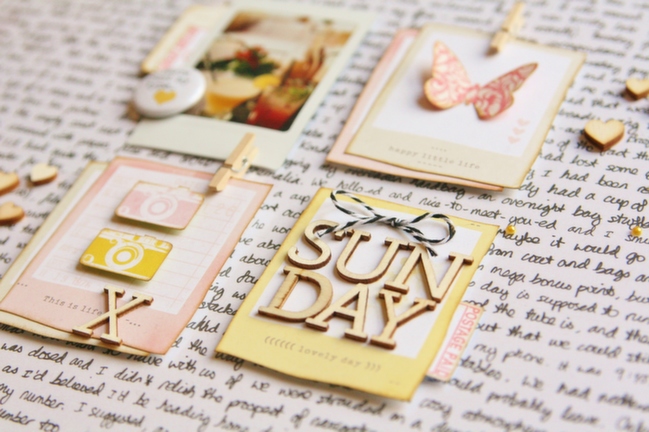 Here's a case in point: a tutorial Kirsty Smith shared here many moons ago. It's such a favourite of mine that I'm bringing it back this week specifically for this challenge.
I challenge you this week to make journaling the heart of your scrapbook page, taking inspiration from Kirsty's tutorial. The subject matter and how you take the inspiration is completely up to you, so you can go in any direction you like! To get you started on this week's challenge, take a look at these examples from contributing designer Leigh Ann Odynski and guest artist Mari Clarke. As a bonus, both have shared videos of their process today!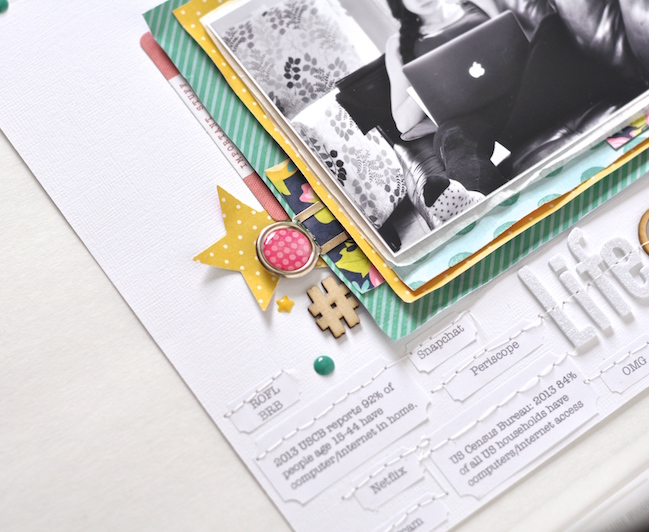 Taking inspiration from Kirsty Smith and her layout with "How to hide journaling in plain sight", I wanted to use the journaling as a design element on the page. Typically, I add the journaling into the design already on the page and size it to fit on my computer, then print it on my home printer. This time, I thought about how I could still stay true to my style, but incorporate the journaling in a more unique way, thinking about the journaling at the beginning of the process rather than near the end. That's how I came up with the little labels stitched to the bottom of the page. The EK Success label punch made quick work of punching out all those little journaling boxes.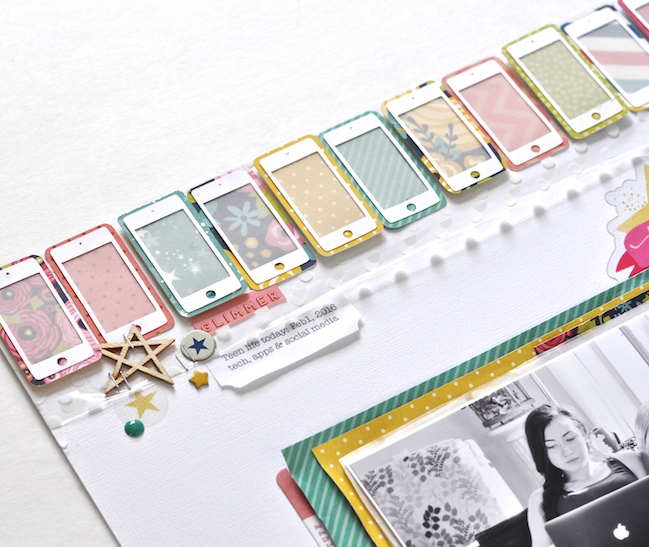 The next portion of this teen layout came about really quickly once I found this free cell phone cut file from Scrapbook and Cards Today Magazine. What goes together better than teens and cell phones? After I chose a variety of patterns from the Shimelle Starshine line – I used 12 in all – I cut the shadow from the patterned papers and the cover in white. Added a vellum "screen" for the phone and they look so cute!
Next, you can add vellum, transparency, or printed cellophane like this one from Heidi Swapp, under the die cuts at the top of the page for added texture and interest.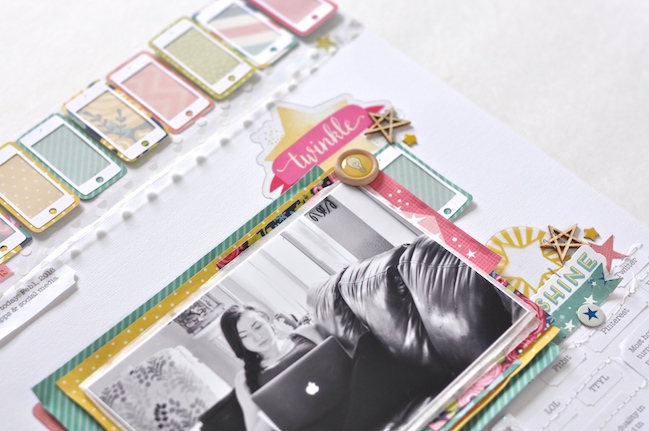 Then, you can add more patterned papers under your photo to tie in all the color at the top of the page. It was so much fun adding in different layers of embellishments with the Shimelle stickers, wood buttons, enamel shapes, epoxy paper clips, and cardstock and acetate pieces from the die-cut pack.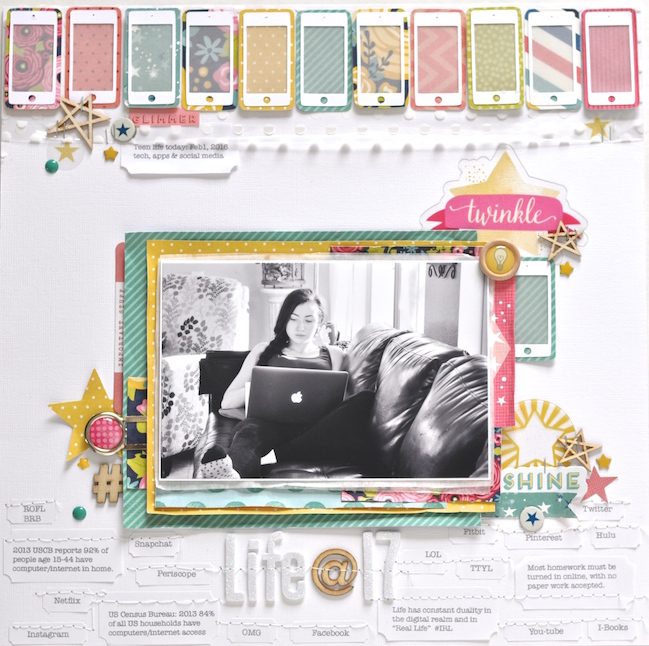 My focus for this layout was teen life now, so the title "Life @ 17" came to mind. All the little journaling labels tie in with facts about life and technology, and facts from the US Census Bureau on US households and computer and internet use. Use your country's stats to personalize your page, and have a go at this fun challenge! You can capture this moment in time for your teen, and wouldn't you love to have a page like this from your teen years, or your parents' teens? What a different set of pages they would be!
Thank you for stopping by today, and enjoy the rest of your day!
- Leigh Ann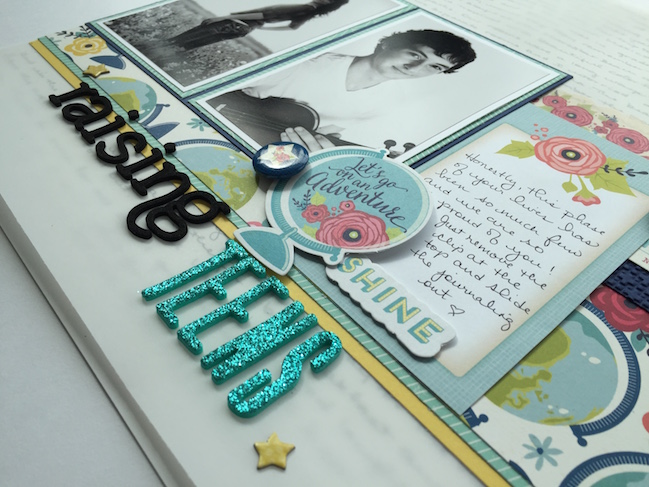 I love to scrapbook using photos of my son and daughter when they were teenagers. They were such fun years, and I love to document the stories of those days so we won't forget the details. Teenagers can be very sensitive when it comes to what parents share about them. When I was creating this layout, I chose to keep the majority of the journaling hidden to ensure that the big story would remain a mystery when first glancing at the layout.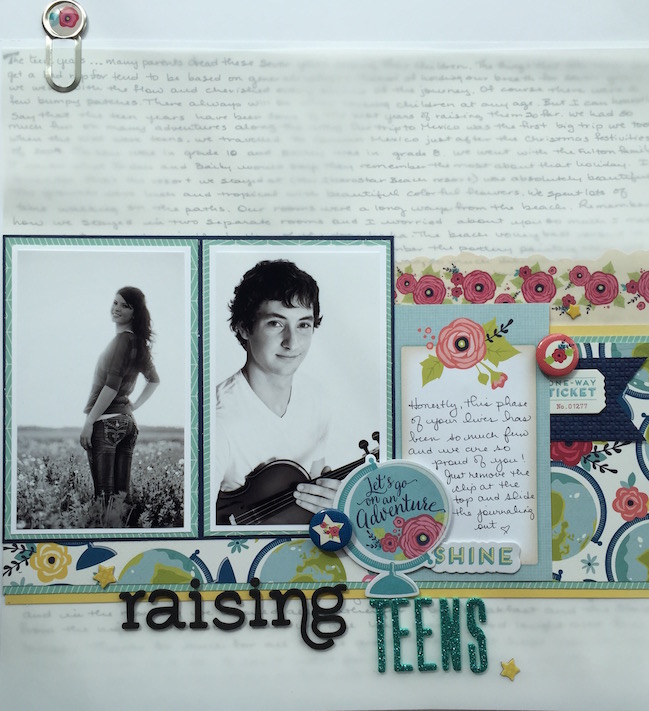 The 'hidden in plain sight' technique from Kirsty was just right for this page, and something that was refreshing to try without being difficult or time-consuming.
The journaling is handwritten on 12×12 white cardstock; I then placed a piece of vellum over the journaling and created the rest of the layout on the vellum overlay. I secured the vellum to the cardstock with a paperclip from the Starshine collection. Just remove the paperclip and slide the journaling out to read the details. The floral washi tape from Starshine made for a beautiful but super easy detail to divide the page and add colour.
- Mari
You have a week to complete the challenge and share a link – but of course you're welcome to set your own time schedule. Whatever keeps you happy and creative!
Today's Guest Artist: Mari Clarke loves creating, teaching, and drinking lattes in the sunshine. You can find more from Mari on Instagram, YouTube, and her blog.

Read more about: scrapbooking-challenges
25 April 2016

Next post: How to incorporate books into your crafting
Previous post: Glitter Girl Adventure 137: An Inky Experiment