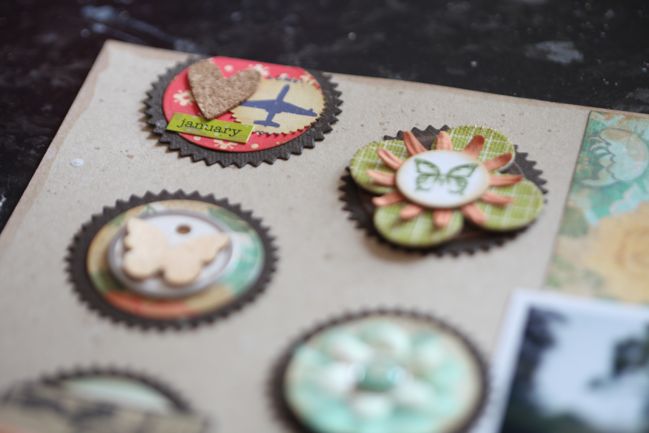 The loveliness of sketches: use them once, use them twice, use them a dozen times and still come up with something that looks new while completely eliminating that phase of creating when we just push paper around on a desk wondering where all the pieces should go. This week's challenge is a throw back to one of my favourites of all the sketches I've ever posted here over the years. It made me giddy to see two people take it on for today, so I'm very excited to see you give a try!
I challenge you this week to scrapbook with this page sketch. You can see the full layout, along with a process video, from my original try with this sketch here. To get you started on this week's challenge, take a look at these examples from contributing designer Sheena Rowlands and guest artist Irit Landgraf.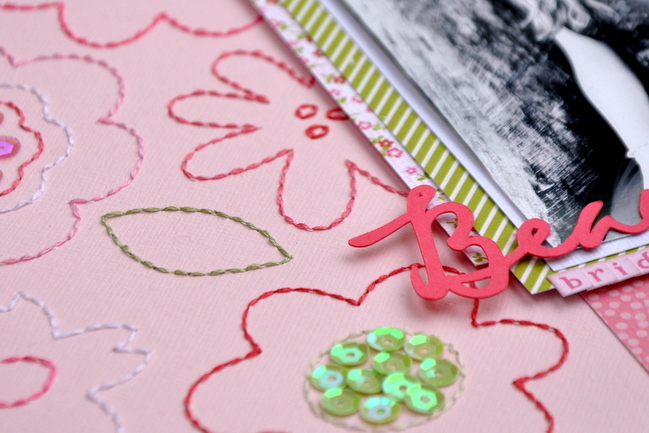 I find sketches are a really useful way to kick start my mojo. I was instantly drawn to the circles on the left side of this sketch and decided to make them the feature of my page.
I chose a photo of my daughter as a bridesmaid at my brother's wedding last year so I felt flowers would be perfect to cascade down the side. They are hand sewn using embroidery floss and decorated with sequins. I picked out some of the pink papers from the Starshine collection plus a couple from True Stories to create a soft feminine page. I added a cluster of embellishments, cut title, and journaling tag to complete the page.
- Sheena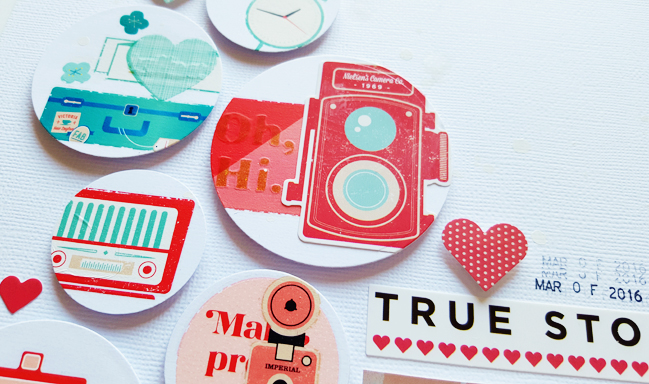 Thanks to the sketch, this layout came together really fast. I wanted to use some stickers and rub ons from Shimelle's first collection. I love the images, the cupcake, tea cups, and vintage cameras, but larger embellishments can be tricky to use.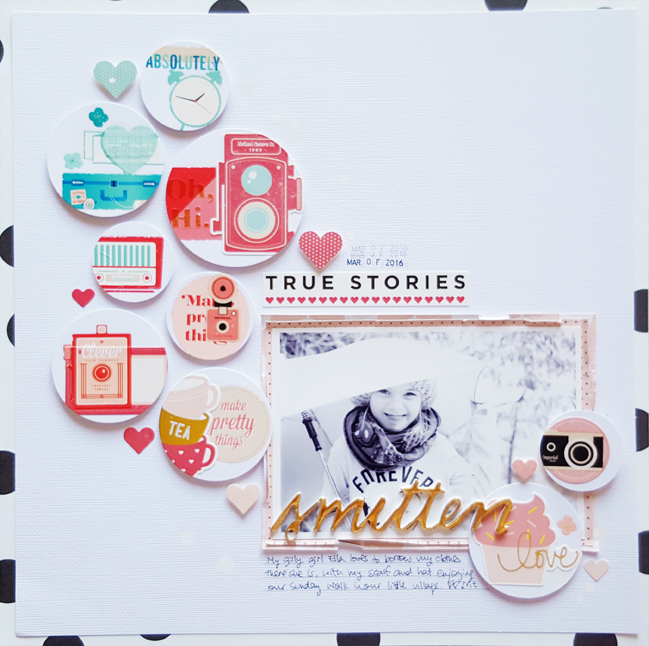 The circles in the sketch gave me the idea for my design. Grouping elements by color is another go-to technique that makes my process much easier! Watch my process video and see how everything came together!

- Irit
You have a week to complete the challenge and share a link – but of course you're welcome to set your own time schedule. Whatever keeps you happy and creative!
Today's Guest Artist: Irit Landgraf loves traveling, scrapbooking, and chocolate ice cream (preferably Italian). You can find more from Irit on Instagram, YouTube, and her blog.

Read more about: scrapbooking-challenges
28 March 2016

Next post: Scrapbooking with Flowers and Frills
Previous post: A Last Minute Easter DIY + A Special Sale