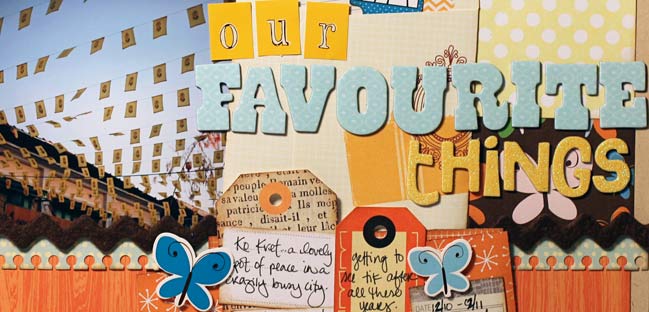 It has been such a delight and an inspiration to see the pages posted from our weekend of challenges! These have now closed, and 353 layouts were posted. Hurrah for all that crafting and creating and memory keeping. If you posted your work, you'll receive an email over the next week with a little something I hope will help you with further pages too. If you want to mark your calendar for the next time, then that's easy – the 7th of May for (Inter)National Scrapbook Day! (And again there will be two days of challenges and they will remain open until the end of the following weekend.)
Anyway! It's Monday so there is a new challenge here right now and you don't need to wait for weekends or crafty holidays! You just need letters. You have letters, right? You need letters!
This week, I challenge you to scrapbook with lots of letters. Use letter stickers, stamps, or pens; spell actual words or just use all your leftovers as a design element. Everything else is completely up to you, so you can take your inspiration in any direction you like! A few years ago, the page above was a letter-sticker-dominant design I liked so much I used it twice, and it might actually be one I return to for this week's challenge, now that I think about it! To get you started with all these letters, take a look at these examples from contributing designer Meghann Andrew and guest artist Tracy McLennon.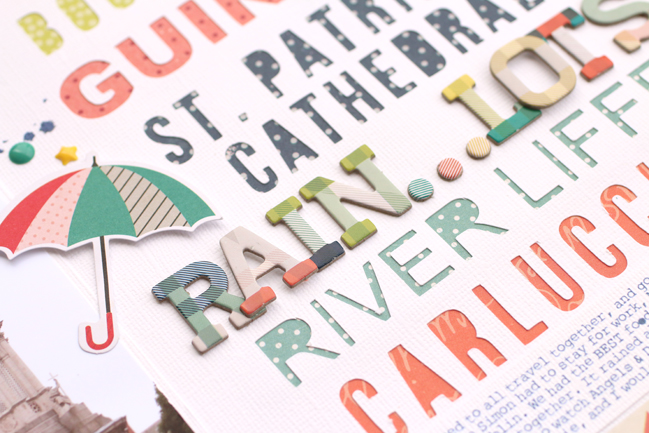 Ireland is such a lovely place in which to travel- its beauty is astounding and people are so welcoming. I had originally planned on sharing a layout about my first trip to Ireland, when I was 17, however, I greatly overestimated the quality of photos back in 2000. To spare you having to view blurry pictures, I'm sharing a layout about my most recent visit to Ireland, for a weekend trip to Dublin with my best friend.
Since this week's challenge is to use a lot of letters, I'm here to show you how you can get the same effect without breaking into your most-cherished packs of Thickers, using a die-cutting machine. I chose words from our trip- the things that stood out to me the most, including places we toured, restaurants we ate at and even the weather. After I printed my photos, and arranged them neatly in a grid on the left side of my layout, I began typing and placing all of my words in Silhouette Studio, keeping them in the same sans-serif font family, and leaving spaces to add Thickers from the True Stories collection for extra dimension, my journaling and my title.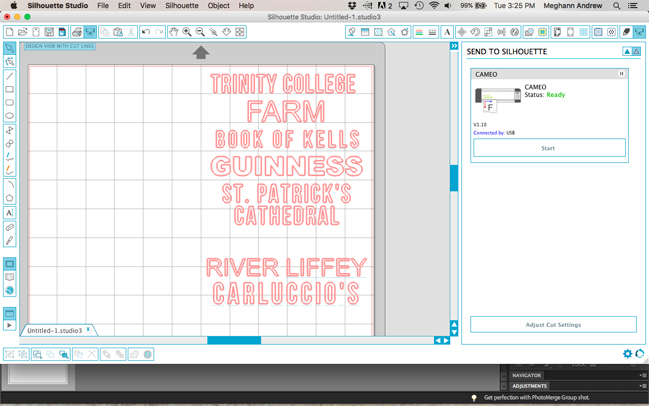 Each individual line was then backed with patterned paper from Starshine, True Stories, and the Shimelle collections to add a lot of color to my mainly-neutral photos. I love how easy it is to mix and match the three collections on my projects! Using such bold colors and patterns on the right side allowed me to keep my embellishment fairly simple, and just a few elements finished off my page.
- Meghann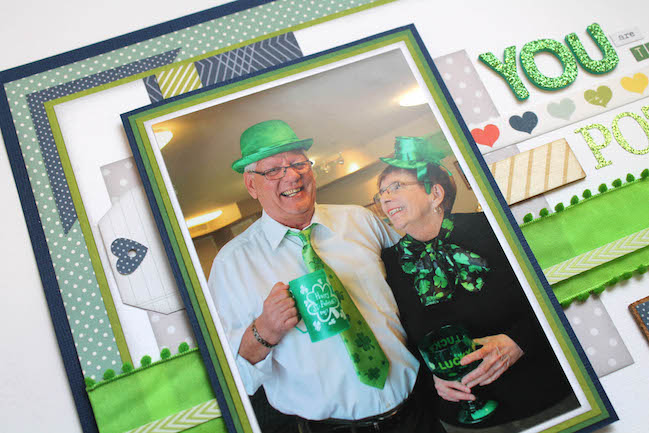 It's not often that I have great photos to scrapbook for St Patrick's Day, but last year was the exception for sure. I got some beautiful photos of some equally beautiful people…my in-laws. With their Irish blood, they love to celebrate St Patrick's Day and last year we just happened to be with them to celebrate and capture how sweet they are.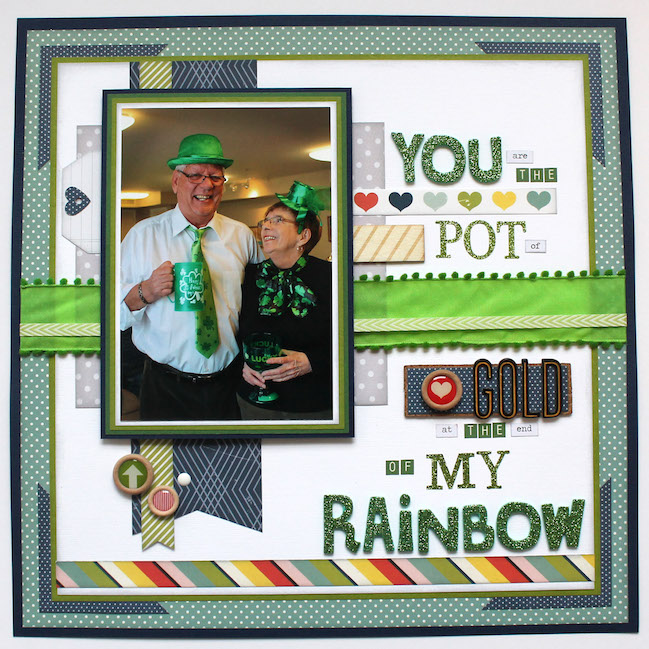 I used a hodge podge of different letters to create my title and I just think it suits the photo and their love for each other perfectly! I love mixing lots of pattern, texture and colour, this layout and it's super fun nature let me do that with a rainbow of colours.
- Tracy
You have a week to complete the challenge and share a link – but of course you're welcome to set your own time schedule. Whatever keeps you happy and creative!
Today's Guest Artist: Tracy McLennon loves papercrafting, vanilla milkshakes, and musicals. You can find more from Tracy on Instagram, Twitter, and her blog.

Read more about: scrapbooking-challenges
14 March 2016

Next post: Glitter Girl Adventure 132: Boy/Girl Adjustments
Previous post: Resizing and editing photos with a phone app