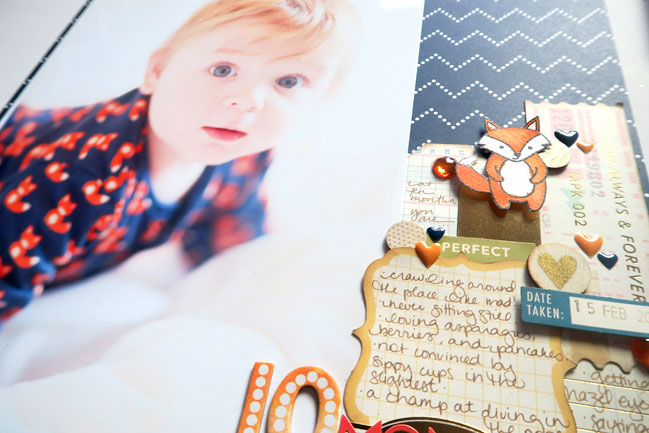 If you haven't caught up with Glitter Girl recently, her latest adventure is a big one – oversized photos! She's been helping me with this ongoing addition to that first year baby book: one 12×12 page each month with a photo printed at A4 size. I love how this changes the pace of all the tiny pockets in that book and lets me include those favourite portraits to chart his growth over the first year.
The photos were all taken with the same set up and the first six months went really well! I have the first six framed on the wall because they look so lovely together (in my opinion, anyway!) because he would happily lay on the duvet and look at the camera without much moving. There's no fancy photo backdrop or anything – the walls in the room are white and there's a white duvet on the bed and a big window to open the curtains for good light! I actually tried a bunch of different cute settings the day he turned one month, including props and my beloved rocking chair and all sorts of things that would give scale to him growing, but they were so much work to set up that I realised I would never have the stamina to reset the props and get it just right every month for an entire year! Making the bed was a lot easier. All the white makes it less about stuff and more about him anyway, which is why I love the pictures. But from month seven, things got very complicated as he wouldn't sit still for a second! The second half of the year is hit and miss in terms of photographic brilliance, but the whole set makes me happy and this one is a definite favourite.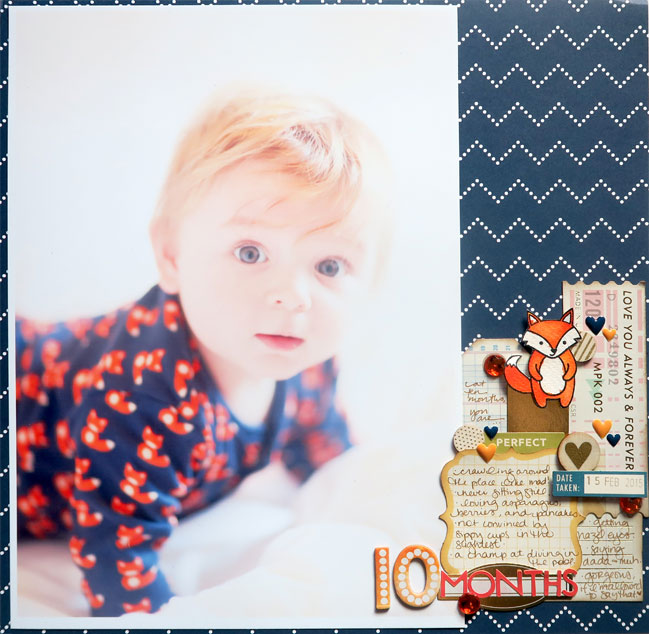 I love how big, gorgeous photos almost make the page themselves, but the space remaining still gives you plenty of potential. I've put together a special Pinterest board just for scrapbook pages with big photos, so do give it a look if you'd like to find something that works with your picture and style.
Then I asked special guest Karen Moss to join us with a big photo of her own! Please give Karen a warm welcome.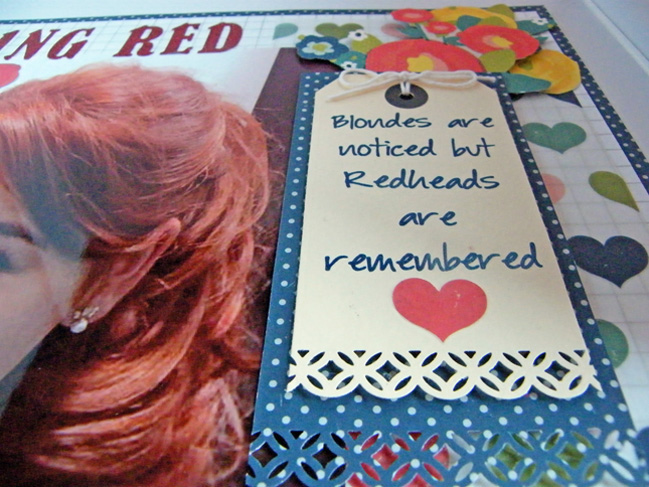 My daughter had her hair dyed auburn as a post exam treat and I loved how different it made her look. The only photos I had were the ones I 'swiped' from her Facebook page and particularly loved this one. The majority of my pages have a single photo and although this photo was not very good quality it was worthy of being printed at 8×10 to showcase her new 'red hot' look.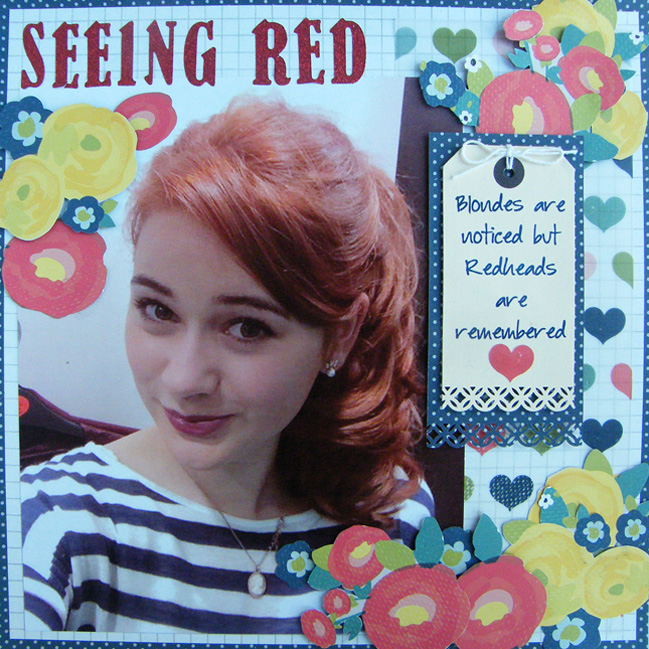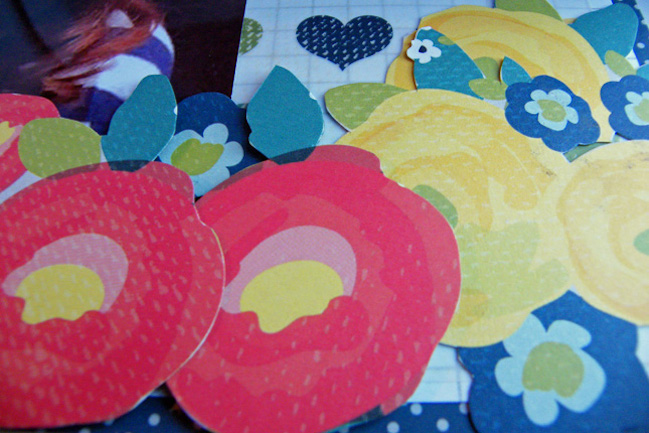 I am a big fan of detail cutting and foam pads, and the grey floral paper from True Stories I chose was ideal for this. I used two sheets as I wanted to use the polka dot b-side for part of my base and cut out the flowers from the a-side for my embellishments.
-Karen
Now it's your turn! Choose a photo you love and scrap it in a big way. Anything else is totally up to you.

Today's Guest Artist: Karen Moss loves family, foam dots (by the million), and new experiences. You can find more from Karen on Instagram, Facebook, and her blog.

Read more about: adventures-of-glitter-girl scrapbooking-challenges
05 March 2016

Next post: Gallery inspired frames for a scrapbook page
Previous post: Scrapbooking older photos with a monochromatic colour scheme