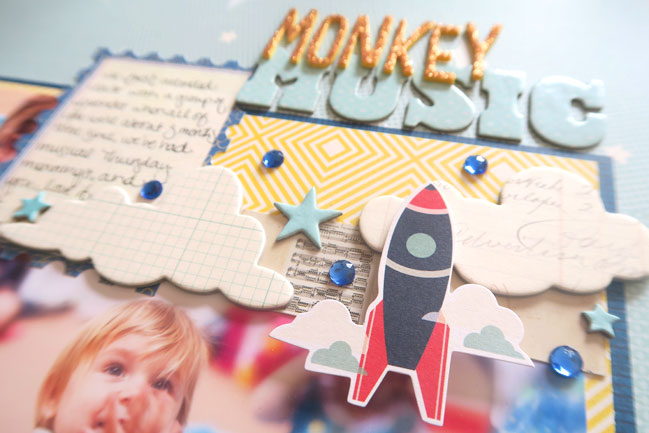 Yep, that title line is horrible and I love it anyway. Please sing it at least once if that song is now in your head. Thank you. But onward to some actual scrapbooking! I asked Cheryl from Scrapstorian to revive an old scrapbooking technique and she pulled out a page template designed to colour block a scrapbook page. While I never owned the exact one she used, I did have plenty similar items! Maybe twelve years ago I was teaching workshops using the Deluxe Cuts colour blocking templates – please put your hands up if you remember those or still have them in your stash. The idea of colour blocking takes me back to that phase…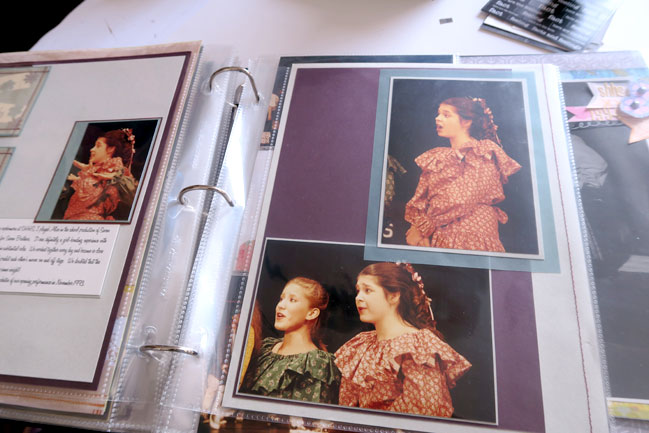 …and also to this phase! This was my scrapping style circle 2000, and in fact this layout was in the CK Hall of Fame book in 2001 (bonus points for anyone who is reading this who is actually too young to remember 2001, scrapbooking or otherwise). It was a time when I had basically no access to patterned paper and all of my pages were made with solid cardstock. I got to a point where I did a lot of experimenting with randomly wide open spaces, and it all went a bit Mary-Quant-gone-wrong sometimes but it was a phase that helped me find what did and did not work in terms of design. But it was almost always colour blocking, even if I didn't know to call it that.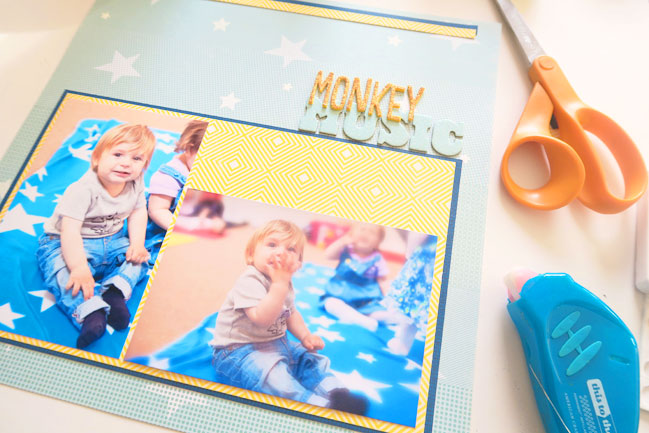 Back to 2016 and trying to figure out how I can mix that old school technique with my current style and have it actually be useful and enjoyable! The first big difference for me is to swap all that solid cardstock for patterned paper. I keep very little solid cardstock on hand these days compared to patterned paper. Patterned paper is definitely what feels right to me, and there's no reason why it can't be used in the same way. My usual practice is to use the more subtle patterns for the bigger expanses of the page if I'm scrapbooking more than one photo on that layout. I started with that blue paper in the background from Starshine and added a dark blue crosshatch (a Starshine b-side) and the yellow print from an older October Afternoon collection (Midway, I think).
In terms of making things useful, colour blocking is a brilliant way to work with that combination I so often try to avoid: one landscape and one portrait photo. These are both printed at 4×6 and if you look at everything at this stage of putting things together, there's a lot in common with that older layout! Multiple photo mats that are square and even. No angles on anything. Straight lines in the open space (the stitching on the far right on the old layout; the strips of paper at the top of the new layout). But then I got to the point where I wanted to bring it up to date with how I scrapbook today!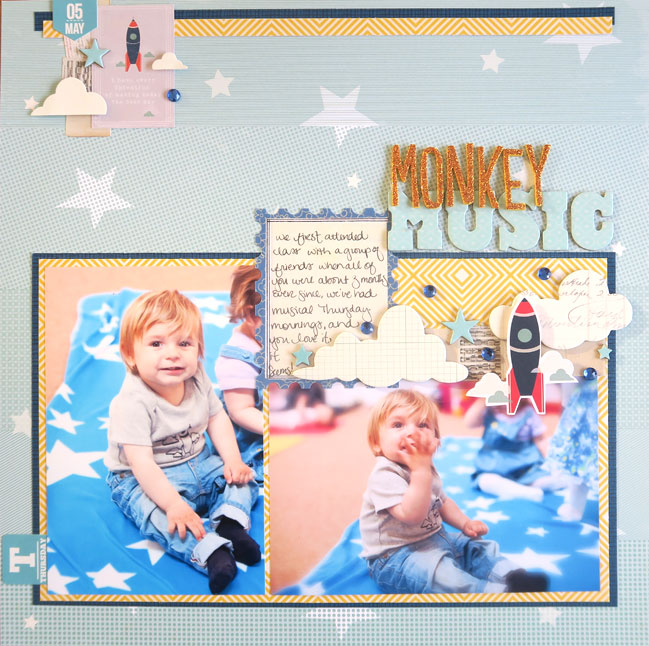 This felt like shaking off the things I don't love about colour blocking. Now there is some movement, with curved shapes and slight angles and overlapping layers. But there's also purpose. Wonder Boy's friend in the background of the landscape photo was having a momentary unhappy face, and I have much happier photos of her on other pages in my album. I'm okay with using a bit of embellishment to cover that bit of the photo and that gives a softer line to the top right of that photo – so it's blocked underneath all that, but not just blocks on the surface. (Also I was really happy I could use that rocket die-cut because it matches the rocket on his shirt, which I made with the same drawing, but that is really not a requirement of scrapbooking and I do not expect you to fire up your lightbox to customise baby clothes to match die cuts. I said I'm not expecting it but I don't disapprove either.)
Does it still count as colour blocking? I'm voting yes. If nothing else, it is definitely an old page inspiring a new one! But what would Cheryl do with her trusty page template that started all this?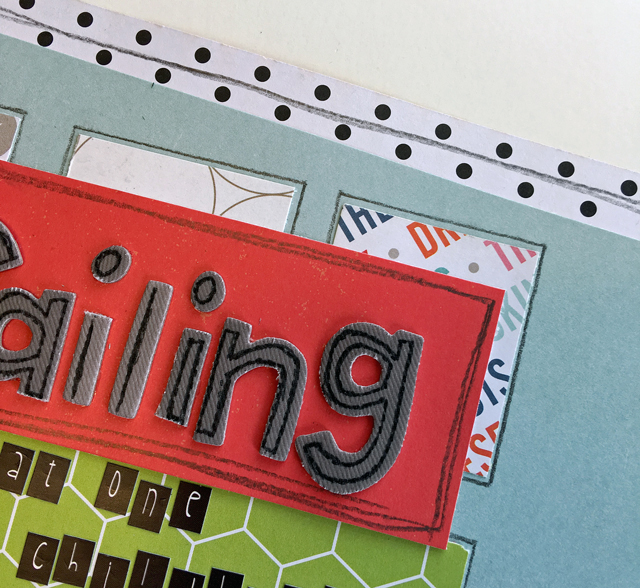 No matter how many times I go through my supplies and "de-stash" or donate items, my Creative Memories page template stays. I'm sure it's been around for 10 years. It's purpose used to be to fit as many photos on a page as possible, but since that's not what I needed here, I had to rethink it.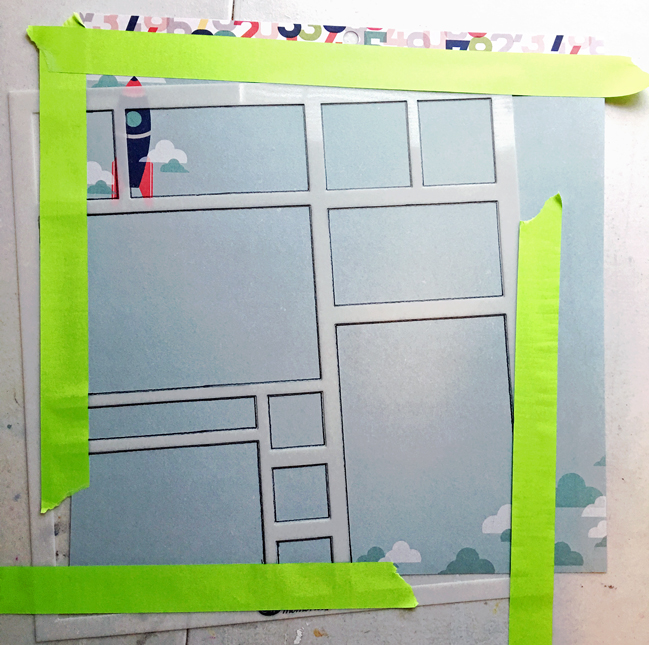 I wanted lots of colour, so a modified grid design was the answer. Each square of the template became a home for a different patterned paper. It was an easy way to dress up the Shimelle True Stories background.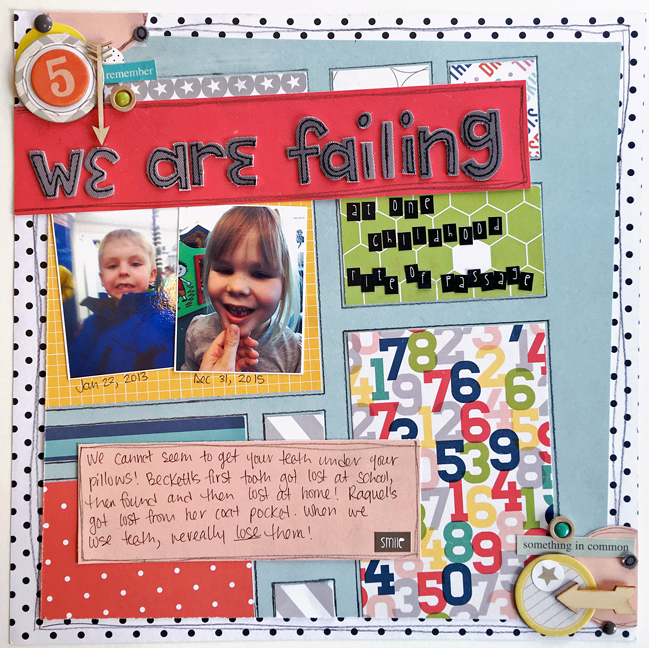 I loved the pencil lines (and what tool is older than a pencil?) so I doodled around the edges of each paper piece. A vibrant, carefree page is the perfect home for this silly story. Now, if only I was as good at keeping track of teeth as I am photos.
Okay, your turn now! Cheryl and I challenge you to colour block your next page! With or without a template, create a page with blocks of colour or pattern. You can scrap lift either of our pages or come up with something totally your own. You maintain all artistic freedom here, of course! We'd love to see what you make!
Today's Guest Artist:
Cheryl loves to play with paper, sing in the car, and lift heavy stuff. You can find more from Cheryl on
Instagram
,
Twitter
,
Facebook
, and her
blog
.

Read more about: scrapbooking-challenges inspiration-party
05 March 2016

Next post: Scrapbooking older photos with a monochromatic colour scheme
Previous post: Project Life Baby Book update