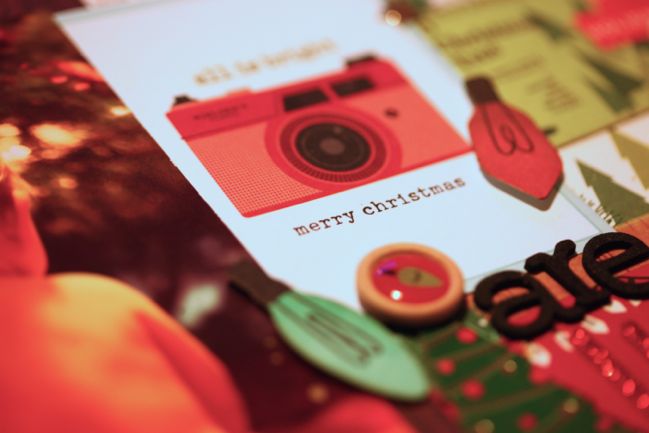 Thank you so much for the amazing response to Christmas Magic! I am so, so excited to see it arrive in stores this month and to see your projects come to life with this paper version of my childhood Christmas memories! I am really quite speechless reading your comments. Thank you times infinity!

Here's my first page with this collection on my actual desk! The only things I added were a pinked circle punch, some Amy Tangerine washi tape, gold Color Shine mist, and a brown precision pen and ink pad. Everything else is Christmas Magic!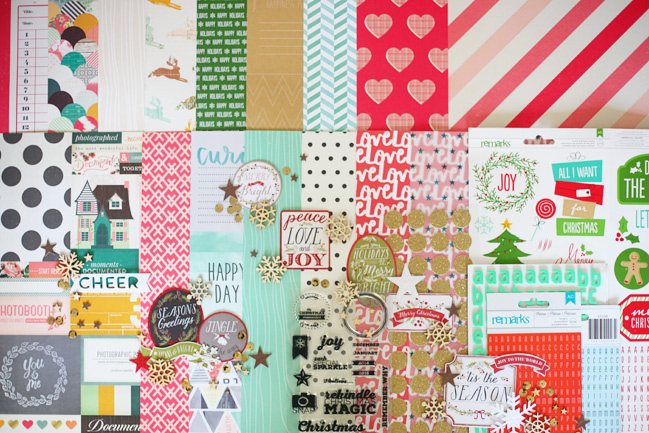 But it's also time to open reservations for Christmas in a Box 2015! (That's last year's box in the picture! All new kit coming for 2015, of course.)
If you're new to Christmas in a Box, you can have a look at the 2014 box to get an idea of how much it includes: papers, stickers, embellishments, custom stamps (in fact, this year there are two sheets to the stamp set) all designed to be used throughout December, but also be versatile at other times of the year, so many of the papers will include a non-seasonal b-side, for example, and the stamps have a variety of holiday phrases and more general motifs for documenting life. This year's box will contain a noticeable amount of the Christmas Magic collection, but will also include elements from a range of other releases that I've chosen to coordinate. The kit does not include an album, as Journal Your Christmas participants have long embraced a variety of different formats for their finished projects and I embrace that variety and creative freedom. (I will also say it does not include the paper chains die set. I'm really excited about those dies, but I don't think everyone who usually orders the kit necessarily has a die cutter, and it would really reduce the amount of other fun stuff in the box!)
There are three reservation options: a box to a UK address, a box to an address anywhere else, and just the stamps.
If you're in the UK, you can reserve a kit that will be packed on my very own hands and sent to your door. It's a £5 deposit with a balance of £35 due at the time of shipping, with the shipping aim for these to arrive with you to be crafting on the first of November. (This is significantly earlier than 2014, and I've made sure some things are already in place to make sure everything moves promptly!) The total £40 price includes the postage. You can simply pay £5 now to guarantee your kit, then the £35 balance will be due when the kit is ready to ship to you. If you choose not to pay the remaining balance for your kit, the £5 will not be refunded and you will not receive the kit, but that's all: no further action will be taken.

If you're elsewhere in the world,
I have a way for you to get the same kit that will ship from the US instead so we don't just zig-zag boxes all over the world. Rather than clicking to pay to reserve your kit, I need you to
send me an email
with your name and your zip code (for the US) or your town and country (rest of the world), and I will reply to you directly with the rest of the info you will need to collect your deposit and balance.
For both of the above options, your kit will be reserved ten days from the first invoice to pay the balance. I'll email at least two more reminders before the tenth day. On day eleven, I'm going to go ahead and list those boxes for sale at the full price. If there is some extenuating circumstance for you around the time of the balance being due, I'm hoping ten days is enough time for you to at least get in touch, and that way I don't need to build my own Christmas tree out of unclaimed boxes or anything else a little crazy. If you don't feel that time frame is fair, don't reserve a kit. You can always make your own kit by shopping at your favourite retailer. I'm hoping that seems pretty sensible and fair.
If you just want the stamps, you don't need to pay a deposit but you can reserve a set by sending me an email with your name and shipping address. (Please note, that is a different email address to the kit option above, so be sure to click the one you want.) This year's stamps will be two 4×6 sheets of high quality, made in the UK clear material to be used on an acrylic block – the same manufacturing process as last year but with two sheets and all new designs. Last year these sold out far more quickly than I expected, so I'm adding this reservation now in hopes there will be more happiness at receiving your stamps than sadness at missing out. Plus they will ship faster with the addresses all ready to go. Yay!
Reservations for all three options will remain open until the 24th of September. There will also be a number of kits and stamps available for purchase without a reservation, but that number will be very small.
You don't need to participate in Journal your Christmas to purchase the kit, and the kit is not required to participate in Journal your Christmas. It's just for fun, and it can be a great way to treat yourself to a lovely mix of brand new products for Christmas crafting when the calendar is extra busy with holiday celebration leaving you little time to shop. In case it's not obvious, Journal your Christmas will run again this year. It had a big refresh last year and will have a few smaller updates this year, and you can sign up at any time and have access to all the materials from previous years. (Rest assured, all previous participants are still welcome to join in at no extra cost.)
I think that's everything! Any questions, please feel free to leave a comment and I will email you a response.

Read more about:
16 September 2015

Next post: 5 scrapbooking projects with the True Stories Phrase Roller Stamp and Notepad by Alissa Fast
Previous post: Introducing Christmas Magic... my new collection with American Crafts