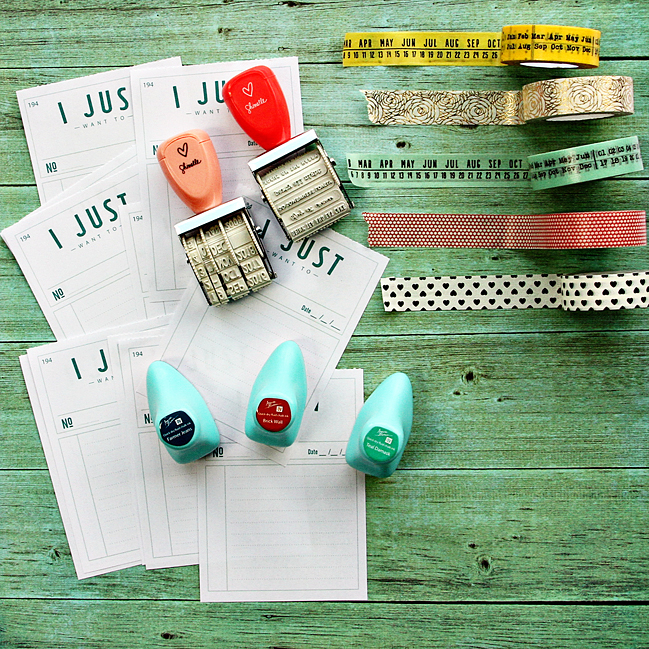 Today I'm delighted to welcome Alissa Fast, who I 'met' when she first signed up for a class many years ago. Since then, she's done Christmas journals and Learn Something books aplenty, amongst all her other lovely projects! I hope you love her inspiration for getting more from your phrase stamps. -Shimelle
I love roller stamps. It's that simple. I've always loved roller stamps and it all started with an office supply store date roller stamp so many years ago. Today the roller stamp has evolved to a supply I cannot live, or scrap, without. They just add that special touch to all of my projects. Sometimes a finishing touch. Sometimes as the journaling. Sometimes as a design element. Always something. Shimelle went a step even better with this little set. The notepad that comes with the True Stories Roller Stamp is so versatile and, well, amazing. I loved working with it to create these fun projects and I hope you find them inspiring.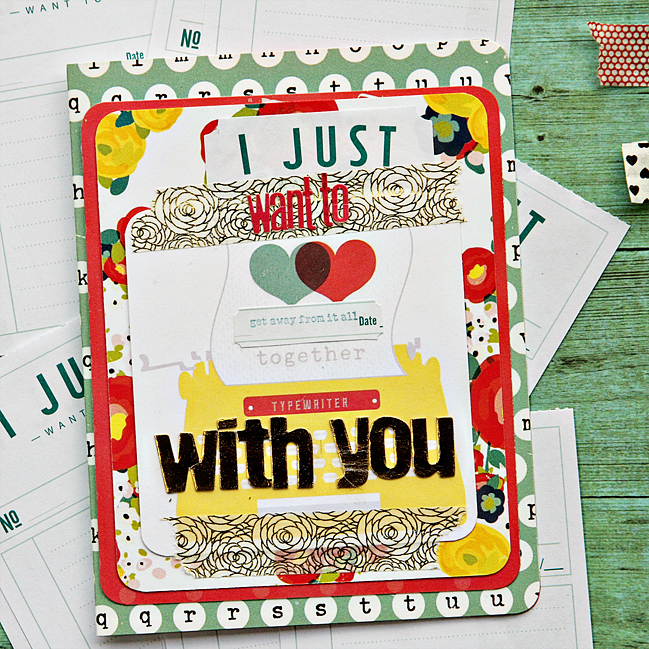 The card.
I started with a fun card for my sweetie. I punched out a couple labels from a sheet of the notepad and strategically layered papers from the True Stories collection, washi tape, letter stickers and a phrase from the roller stamp to personalize my card. Layering papers, washi tape and letter stickers are my go to techniques when scrapping.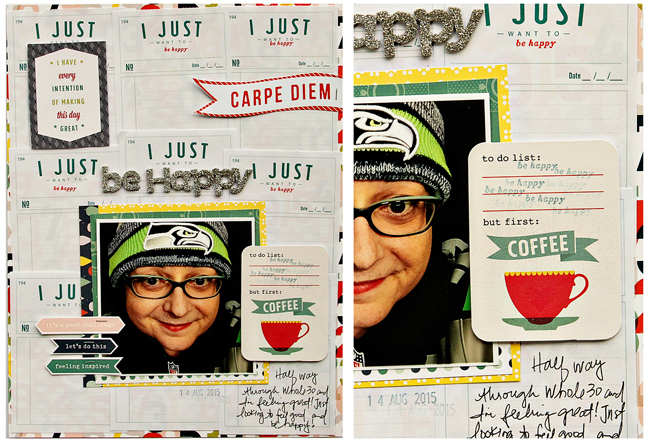 The layout.
I really wanted to tear off a bunch of the notebook pages and layer them up for a background page. Reminds me a bit of a messy pile of papers and I love all the layers. I stamped all of the ones I could still see with the "be happy" phrase and made it my tile of the pages. Lots of layers, staples, a little glitter and stamping. These are a few of my favorite things.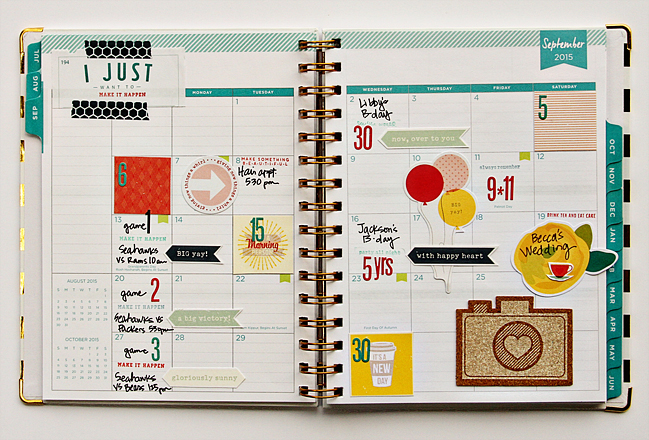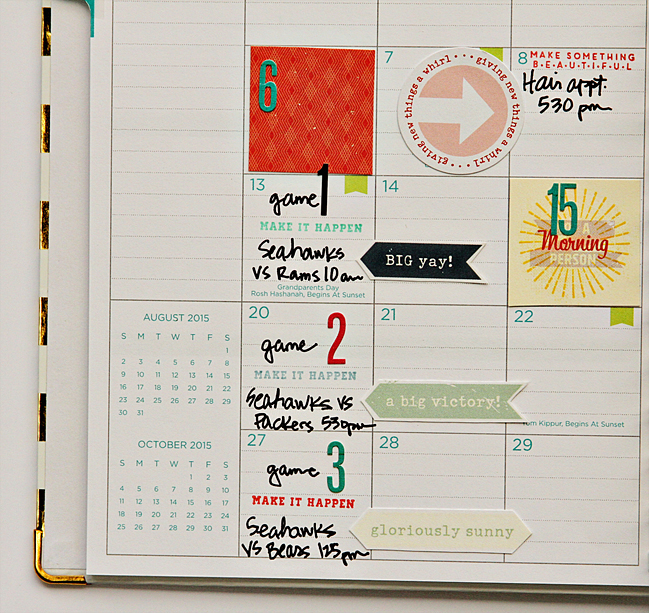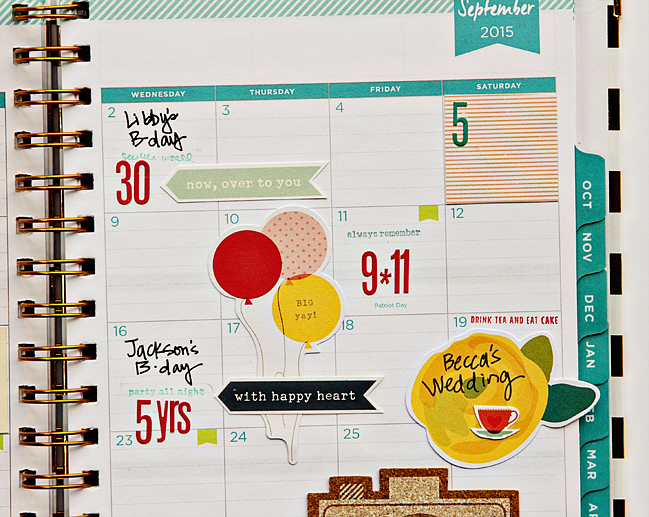 The planner.
Next up was the September monthly spread in my home planner. I love my planners because they help me "make it happen" every day. They keep me on task, which I love. I snipped off the top of one of the notebook sheets and stamped it with the "make it happen" phrase as the title to my month. I stamped random, appropriate, phrases to my special days in September and added a few bits from the True Stories Die Cut Cardstock Shapes. This spread just makes me happy to look at it and really motivates me to get things done. Don't forget your scrapbook supplies are perfect for decorating your planner pages. I find it's a great way to use up your stash.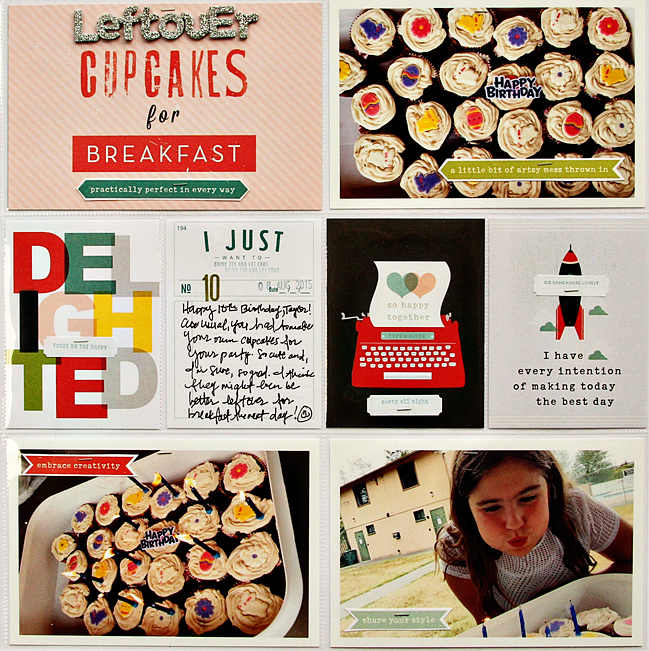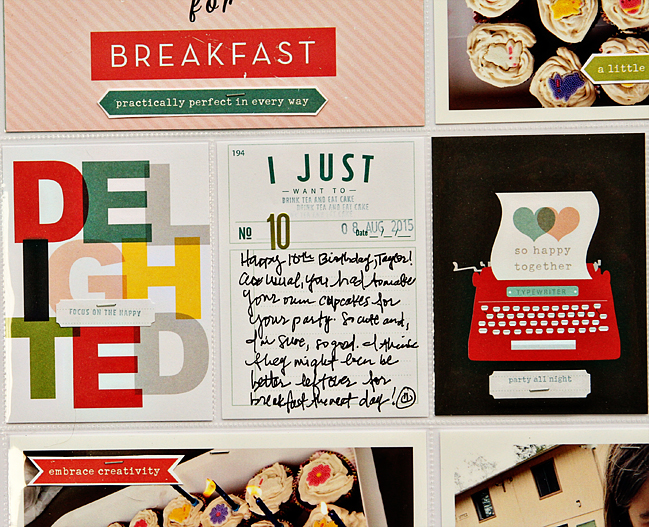 The pocket page.
I think pocket pages are my favorite to scrapbook lately. Each little pocket is like a tiny little scrapbook layout or page in a mini book. I find that they also come together pretty quickly. Here, I selected a cut apart page from the Tue Stories collection and a page from the roller stamp notebook to fill the pockets. The notebook is the perfect size for 3×4 pockets and it's a perfect spot for the journaling on this page about my niece's recent 10th birthday. I also punched out labels from another sheet of the notebook to add to each of the other 3 3×4 cards with a stamped phrase from the roller stamp. Staple them on and we are good to go! The perfect little design element on this page!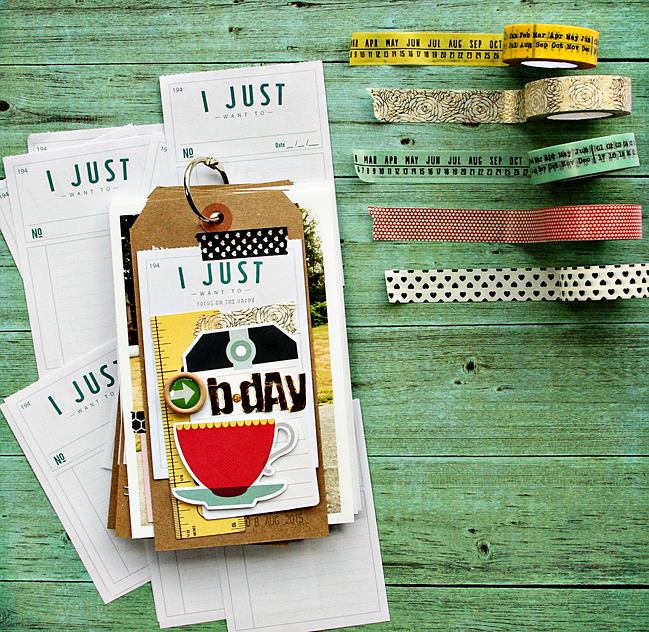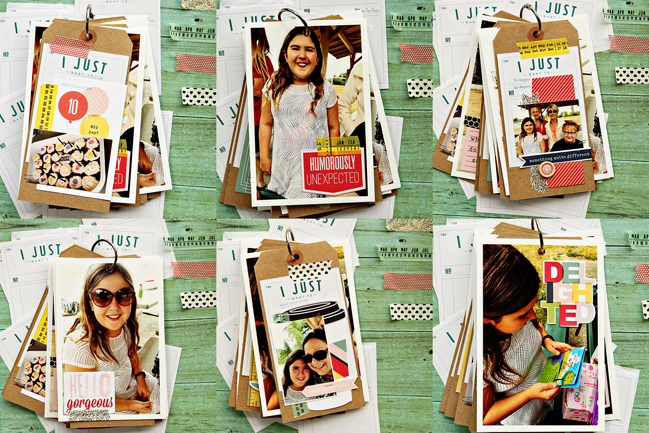 The mini book.
My last project is a mini book I made out of tags and 4×6 photos. On each of the tags I layered a sheet from the notebook and stamped it with a different phrase from the roller stamp. This mini book came together fairly quickly by using the same design idea for each page. I just varied the washi tape, die cuts and photos to provide a little variety, while still keeping the whole book cohesive.
Now, I encourage you to take one of these ideas for the phrase roller stamp and notebook set and make it your own. There are so many uses for a roller stamp that I didn't even get to them all. You could stamp them all over the page, or pocket card, as a background element (similar to the "to do list" card on my page layout) or add them as a simple journal element on the photos in a mini book. So many ideas I could go on for days! I hope you've enjoyed these ideas and have been just a little bit inspired.
Thanks for stopping by today!
| | | |
| --- | --- | --- |
| Alissa Fast lives in Ferndale, WA with her hubby of 28 years and her beloved cat, Stormy. She loves taking photos and documenting her everyday life. Her all-time favorite scrapbooking products are her tiny attacher stapler and washi tape. The last thing she made was a mini book about her family's last trip to the pumpkin patch last fall. See more of her work on her blog, Instagram or on Facebook . She also designs for Cocoa Daisy, Simple Stories and Elle's Studios. | | |

Read more about:
25 September 2015

Next post: From Inked Hearts to Painted Wood Veneer :: Scrapbooking with guest Nancy Damiano
Previous post: A Christmas Magic process video + reserve your Christmas in a Box kit