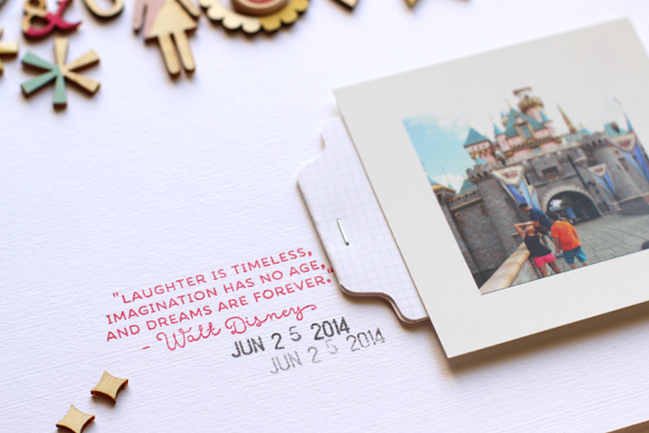 I think you will love today's guest project – I really do! I'm not sure I've ever seen a page made by Nancy Damiano that I didn't love. Her style is so clean and crisp but detailed and nuanced. It's just always a breath of fresh air to me. I miss working with this lady all the time – she was also a Garden Girl back in our Two Peas days – and I'm so happy she is able to join us here today. Please welcome Nancy! -Shimelle
For my layout I was really inspired by Shimelle's Scrapbooking Colour Schemes with Pink layout. The first thing that caught my eye was the beautiful colour scheme. I love bold pops of colour and this layout delivers. I also like linear designs that feature repetition of a shape or element. The repeated hearts on Shimelle's layout inspired the band of painted wood veneer featured on my page.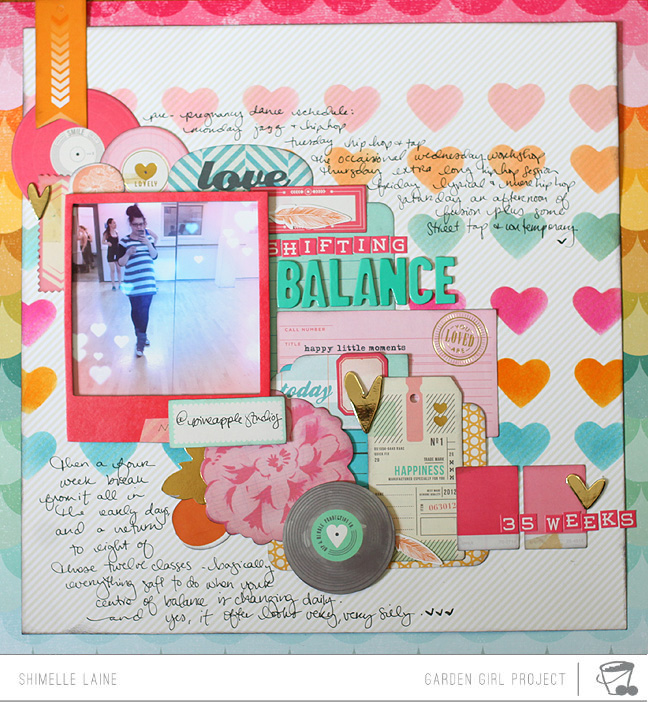 Let's take a look at this tutorial on how to dress up plain wood veneer and create a bold band of repeated shapes:
It's a lot easier than it looks isn't it? Using supplies on hand like a stash of veneer shapes and acrylic paint can add dimension, style and a splash of colour to your layouts. Individually, the painted veneer may not look like much but take a look at how repetition adds a punch of wow to a plain background.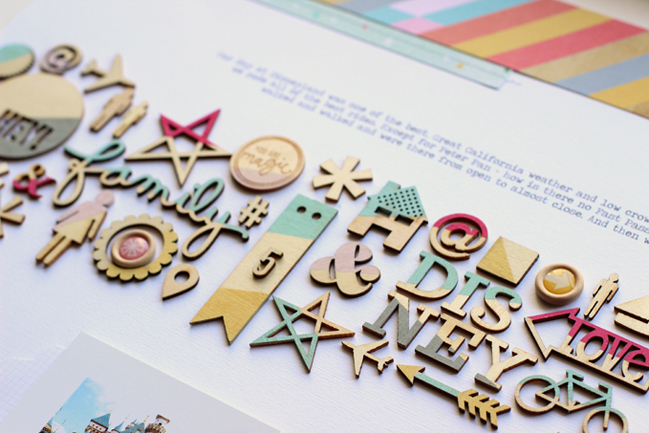 Adding a small stamped sentiment to a layout lends a nice handmade touch. The fuchsia ink provides a nice contrast to the white card stock.
The fun painted accents and colourful patterned paper are the perfect background for these photos from Disneyland. They tell the story of a whimsical, happy place from the start. This layout is the opener for my Disneyland album and showcases the 'where' and 'who' went. The heavily embellished page is a delightful way to begin this story.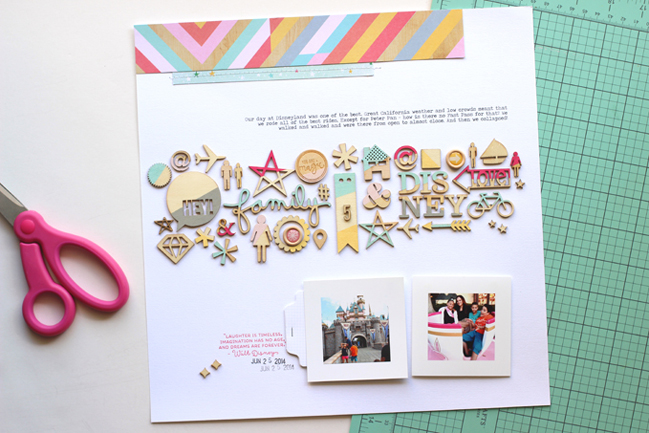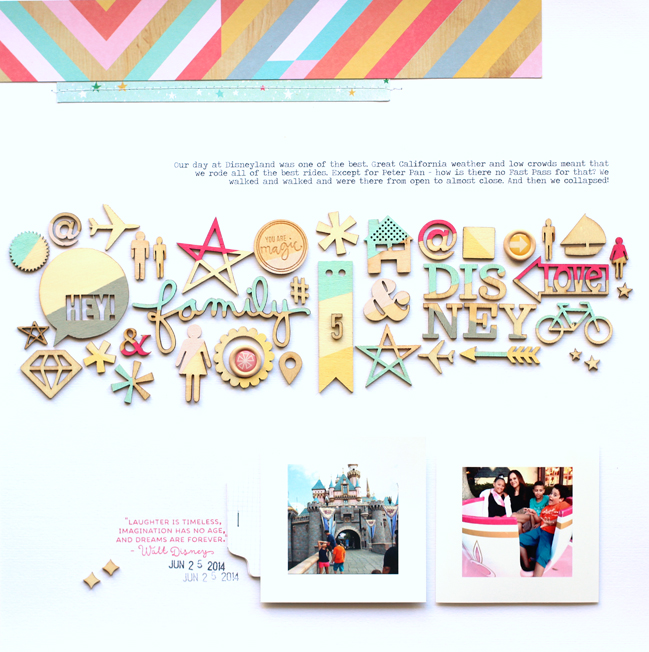 If inked hearts inspired painted wood veneer, what's your next step in this bit of creative Chinese Whispers? We'd love to see what you're inspired to make today.
| | | |
| --- | --- | --- |
| Nancy Damiano lives in New Jersey with her husband, son and a gaggle of nieces and nephews she adores. She has a passion for the color aqua, Disney, and anything paper + craft. She currently designs for Simple Stories, Scraptastic Kit Club and Scrapbook & Cards Today Magazine. You can find more of her work and life at her blog, Instagram and Pinterest. You can also find a lovely collection of process videos on her YouTube channel. | | |

Read more about: scrapbooking-videos
29 September 2015

Next post: Inspired to Scrapbook with Mists by Sian Fair
Previous post: 5 scrapbooking projects with the True Stories Phrase Roller Stamp and Notepad by Alissa Fast