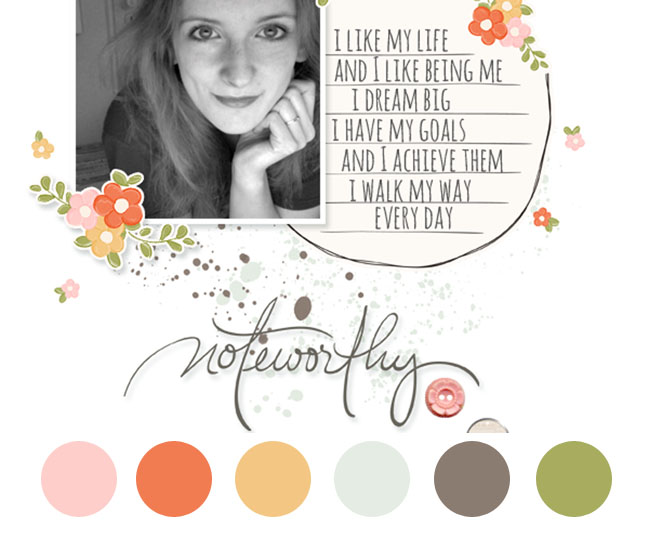 Winding down to our last three challenges of this online weekend – how about a colour scheme or two? Or five? We asked four scrapbookers (plus Glitter Girl) to create a scrapbook page about themselveswith a colour scheme that included pink and then waited to see what other colours they would pick. Your next challenge is the same – create your own colour scheme including pink or use one of these!
First up, something delicate from Magda Mizera.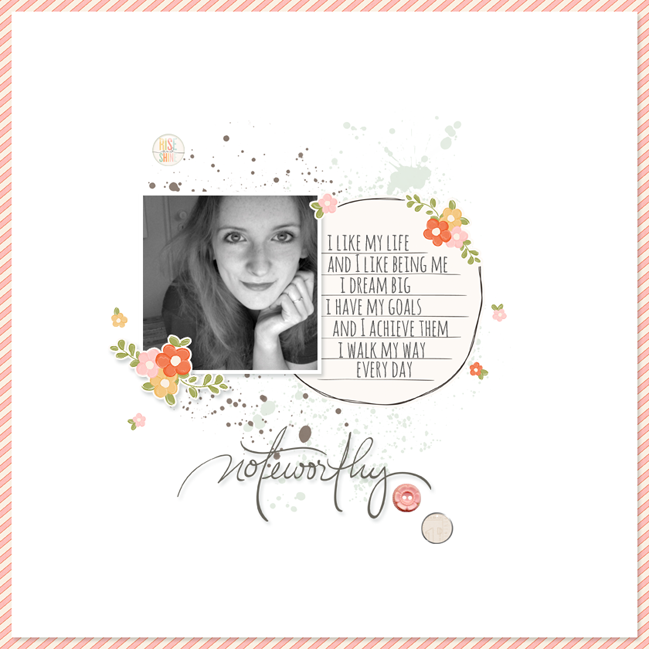 Scrapping about yourself isn't that easy.. This time I wanted to note my strongest attribute: being able to live the life I really like. I wish I can stay strong and dream big for the rest of my life. I used two kits from One Little Bird to make this digital page – Rise & Shine and Beyond Measure – which threw in a little peach and green with my pink and white. One little tip for keeping pages delicate: use a dark grey instead of a true black for the neutral details like lettering and outlines so things stay soft! -Magda
And something bright from Stephanie Buice.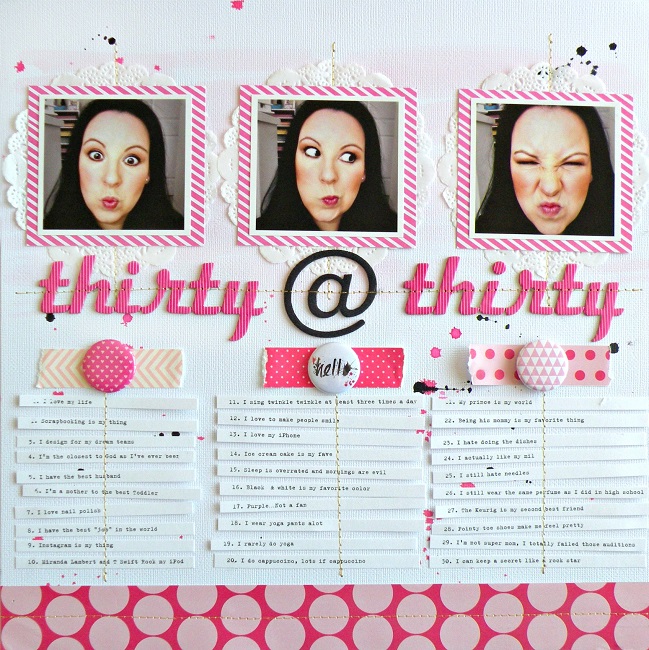 Since my challenges for this layout were to make it about me and the color pink that's exactly what I did. I just turned 30 at the beginning of the month so I thought it would be fun to document a little about myself for a change. Hope you like it! My addition to the shades of pink was a touch of yellow – I used that for the stitches that hold the journaling strips in place. -Stephanie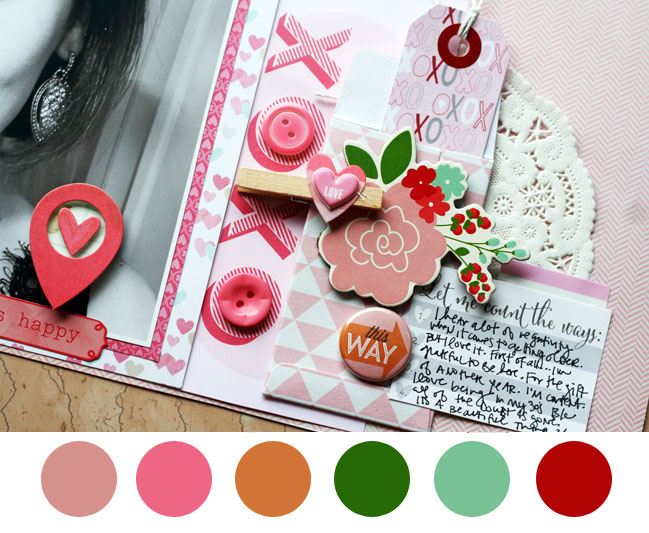 Something lacy from Stephanie Howell.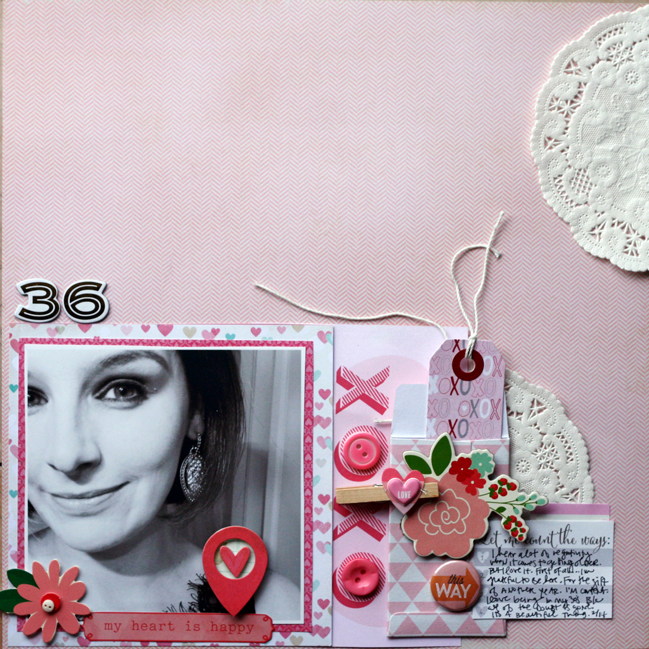 I had an absolute blast creating this layout. As a mother of four girls…it should come as no surprise that I had a PLETHORA of pink scrapbooking product in my stash. It was a joy to use the pretty items for myself. That's something I should do more often. Most of these items are Valentine themed products, and though this isn't a Valentine's layout, it is a layout about how much I love the life I've been blessed with, so it worked out perfectly. -Stephanie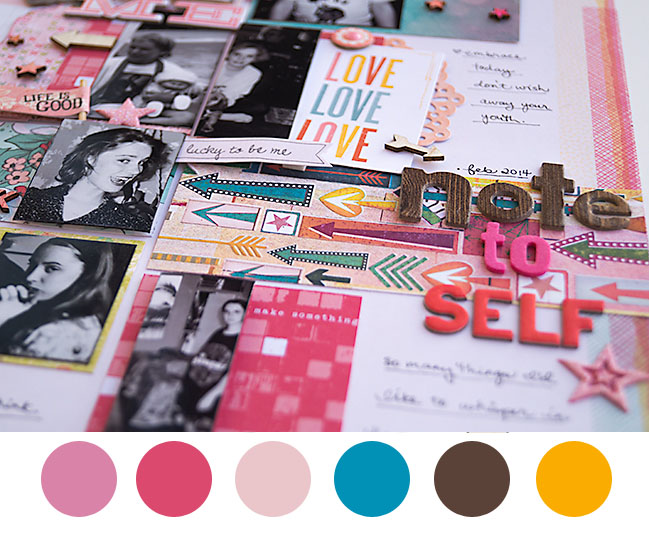 And something bold from Melanie Ritchie.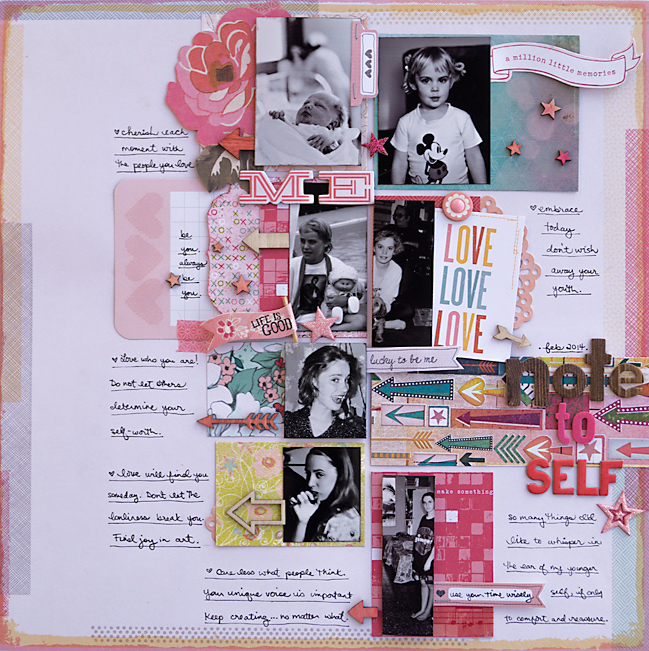 I often think about my past – sometimes regrets or things I wish I'd realized as a child. I thought it would be interesting to have a layout where I journal the things I wish I could tell my younger self. I scanned photos from various ages and made them black and white. I used arrows to connect the words to the corresponding photo. I titled the layout "Note to Self". I used a white background paper that has a lot of pink on the border. My patterned papers were either predominantly pink or had interesting pink highlights (bokeh, flowers, arrows/stars). I added pink embellishments as accent. I wanted the pink to pop against the starkness of the white background and black and white photos. -Melanie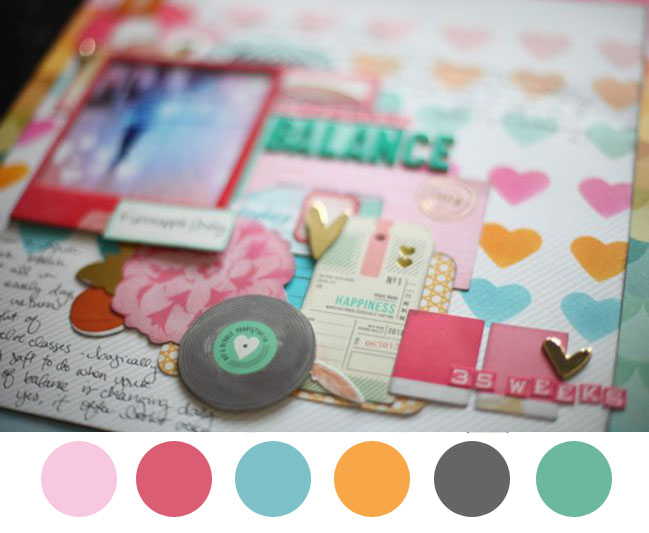 Of course, my sparkly friend has a real weakness for a certain colour alongside her hefty doses of pink: turquoise. But this month, the Two Peas mood board challenged her to add a new colour to the mix, and orange made an appearance alongside all that turquoise and pink in this page about dancing with an ever-expanding waistline! (I went to class right up to the day before I went into labour, if you're curious. In fact, that morning I got dressed to go to class and at the last minute decided maybe it would be better to stay home for a bit. I'm glad I conserved that bit of energy since that was Saturday and Wonder Boy didn't arrive until Tuesday! But I love that I was able to keep up with so many classes right to forty weeks. Now I'm just in that sort of withdrawal wherein you really miss something but you barely have time to think about missing it, much less do something about it. I'll be back when life allows, and who knows – maybe I'll have a tiny dance partner eventually!)

If you're reading via a reader and can't see the video, click on through to watch! You can also find a supply list there at Two Peas.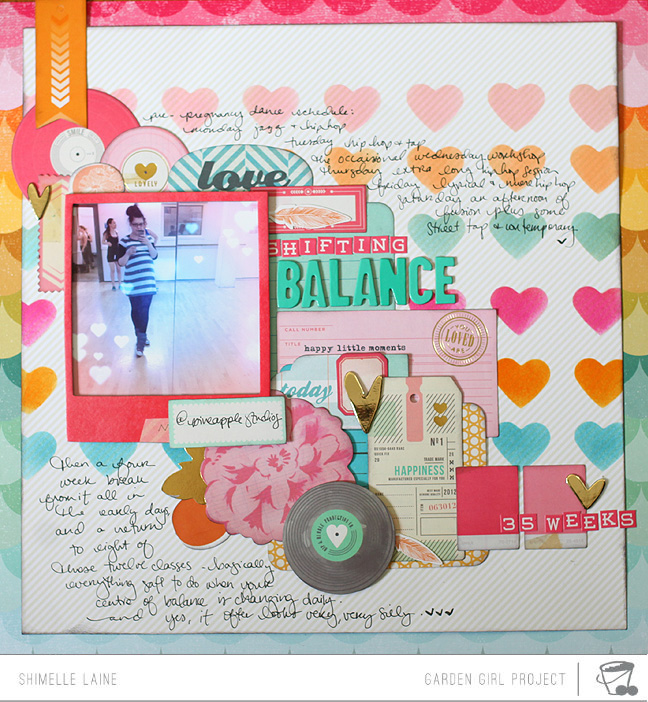 That punch and ink in the background is something I'm ready to try again already. I'm sure I need a butterfly version in my life! Inking through a punched scrap of paper was actually one of the very first techniques I learnt when I started scrapbooking, but the inks and tools we have now are infinitely better so there is far more freedom to the look than when all I had was a tiny teddy bear punch (no, I'm not sure why either) and a metallic gold ink pad!
| | |
| --- | --- |
| Magda Mizera is 26 years old and lives in the most beautiful city in Poland. She has a great passion for all crafty things! Scrapbooking took stole her heart over two years ago and is still her beloved hobby. Magda is a young, natural light photographer who loves to capture beautiful moments in life. She can easily describe her style, both scrapbooking pages and her photographs are bright, fresh with pops of colpurs here and there. | |
Stephanie Buice, lives in AL with her hubby and sweet two year old son. She loves to scrap and document her everyday life. Stephanie feels so blessed to get to design for three of her favorite companies. You can always find her work on her Instagram and her
blog . Hope you'll take the time and check them out.
| | |
| --- | --- |
| Stephanie Howell is the blog hostess of My Mind's Eye and Social Media Director for Gossamer Blue. But mainly she's a mama of four little girls. She is currently living la bella vita in Italy. Her life is one big adventure because she is married to her real-life hero (and action figure) Jimmy. Because he's in the Army, each year brings something and somewhere new. Her mantra is 'you have to laugh, because if you don't, you'll cry…' And laugh she does. She spends most of her days chasing her twin toddlers, securing ponytails, picking up Barbies, and doing pink loads of laundry. Scrapbooking is her escape and her sanity, and she believes it should not be taken too seriously. | |
| | |
| --- | --- |
| Melanie Ritchie studied Visual Arts in college and university in Ontario, Canada. Art and Design have always been a focus in her life. As a child, she sold hand drawn greeting cards at the end of her driveway instead of lemonade. She kept journals of lists, collaged notebooks, kept scrapbooks of her idols, and created a family newspaper on her mint green typewriter. Her childhood dream was to illustrate the covers of novels. It wasn't until the year 2000 that Melanie first entered the aisles of the scrapbook section at a new big box craft store. She has been hooked on the hobby ever since. Melanie spends most of her time raising her two young children and the remainder of her time documenting life while oohing and aahing over pretty scrapbook supplies. | |

Read more about: inspiration-party
22 June 2014

Next post: Sketch to Scrapbook Page :: More is More
Previous post: Sketch to Scrapbook Page :: Half page photo