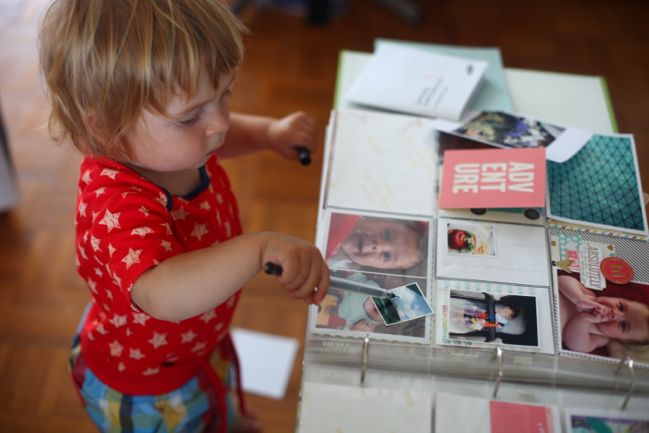 Oh hello. It seems like forever, but I finally have something to share. Let's focus on that positive and not on how I haven't managed to clear the dining table in weeks, shall we?
For years, the reason I absolutely love scrapping out of order (though I keep my pages in chronological order in their albums) is the complete freedom. Zero pressure. I don't do the whole concept of staying 'caught up' because I have no hope in ever doing so, and I enjoy the hobby more when I jump around from story to story with whatever is inspiring me on a given day.
That said, I am starting to understand why many scrapbookers feel there is a pressure to stay caught up. Not that I am changing my philosophy! But I look at that baby book I started for Wonder Boy and I understand the pressure. It has ten or so weeks fully finished. The others have the photos slipped into the pockets with reference notes here and there but nothing else. I'm pleased I stayed on top of that part, but I really love how those finished weeks look and I long for the rest to go alongside, so it becomes an album like the rest of my library that I am happy for anyone to pull off the shelf and see. I also find I'm reminding myself of why I chose the Project Life format for this album in the first place: because I could work in tiny little pieces, a few minutes at a time, and still make progress. Wonder Boy is old enough now that I have the few minutes while he is engrossed in something (not many minutes, just a few) and while I could probably use those minutes to clear the dining table, dare I say I might find working on this album a little more rewarding? As a result, I've set myself a challenge this August to work in this album a few minutes every day and film it to share as well. My plan is to share those short, individual videos as soon as I can on my YouTube channel, then whenever I finish a full two page spread, I'll post it all here in a sort of omnibus style, so you can choose to watch day by day or all at once. In this first week, I managed to stay on top of the create-every-day part of the challenge, but fell down with editing the videos on some days, but overall it was an enjoyable experience, so I think I'm okay to keep going, assuming you'd still like to see!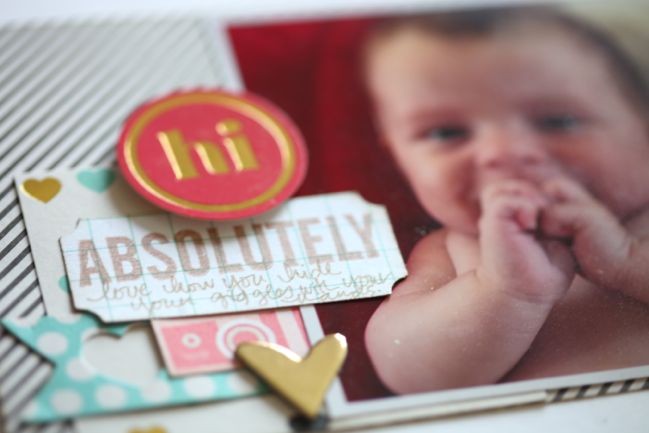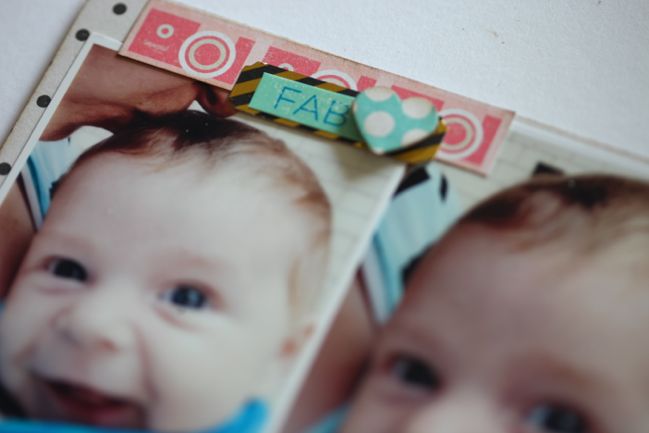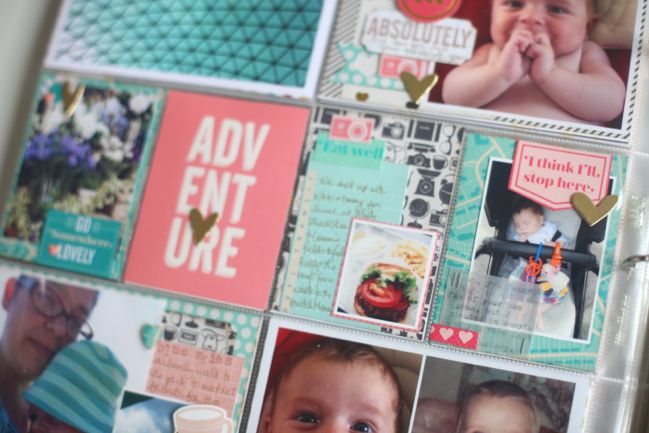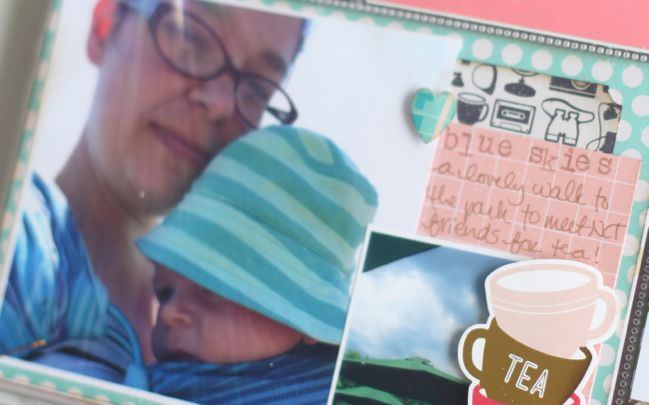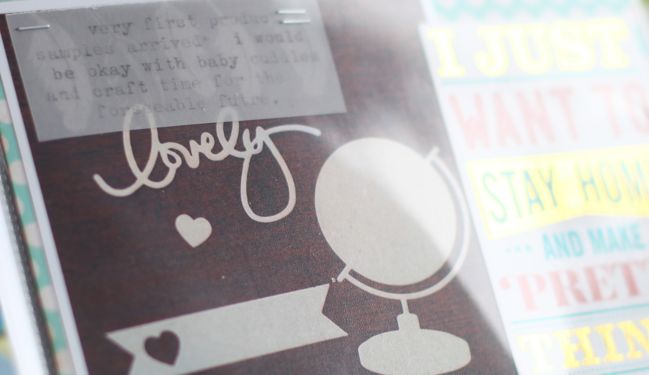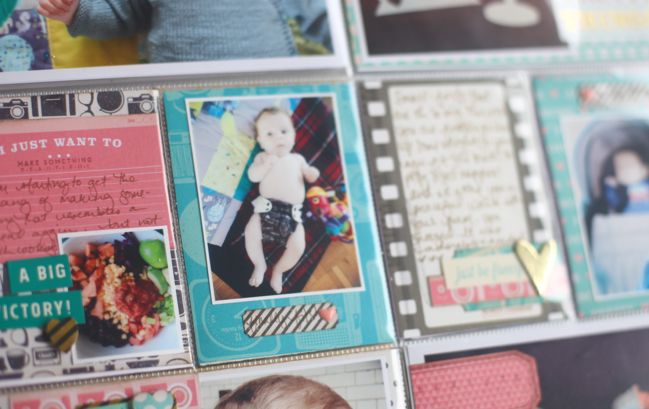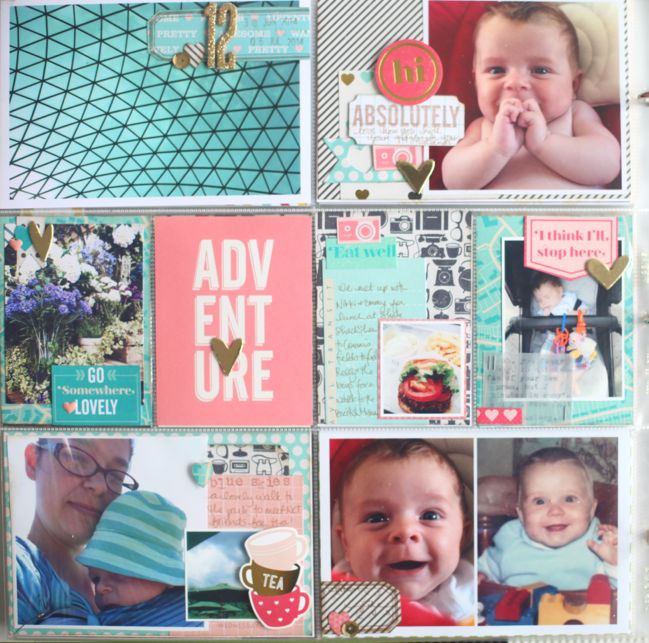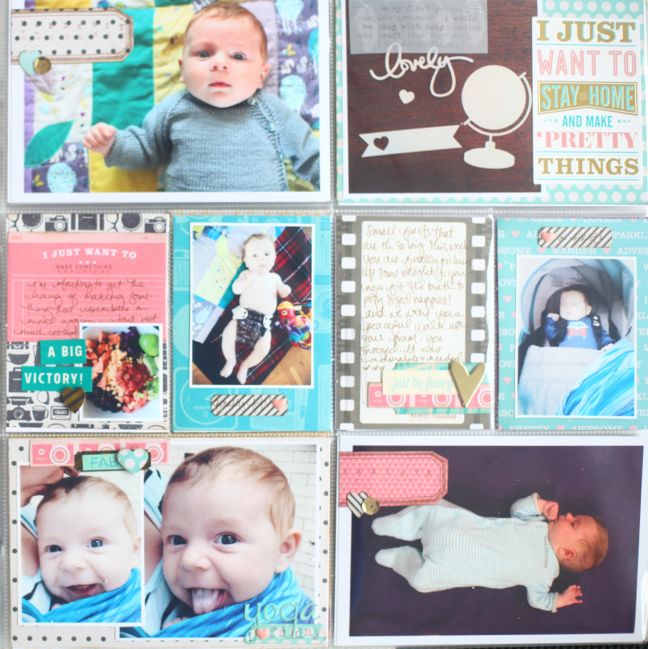 That's another week done and a challenge kept! I realise I'm not working so quickly as to make great strides in August, but something is better than nothing in this case, and I don't want to sacrifice enjoying the process for getting more pages done, if that makes sense. I guess I feel the pressure to catch up just a little, not a lot! But I do want to get these memories down on paper before they become fuzzy, and I'm already working more than a year behind now, so a little progress sounds good to me.
Supplies for this project include the Project Life 'Lovely' mini kit, which is no longer available in print form but is available digitally within the Project Life app for the iPhone, if that's any help, or in a digital kit for your computer. I also used items from the Shimelle collection (my first collection with American Crafts), including the 6×6 paper pad, stamp set, word stickers, sticker book, and gold Fitzgerald Thickers, and word stickers and enamel dots from the True Stories collection. Also some gold sequins, patterned vellum, and gold chipboard hearts from Studio Calico, letter stickers from October Afternoon, and two punches by EK Success. I think that's just about everything! I'm still embracing old and new together, so there are some items that would no longer be in stock, but you might have something similar in your own collection if by chance it reminded you to pull out your own pack of small chipboard shapes or some vellum. You can find my American Crafts products at Blue Moon Scrapbooking, scrapbook.com, and Amazon US or UK. (Shopping through those affiliate links costs you the same amount but helps support this site. Thanks.)
Have a beautiful Saturday and thanks for sticking with me through my radio silence! Happy scrapping.

Read more about: scrapbooking-videos american-crafts
08 August 2015

Next post: Inspired By...Shimelle's Sketch Twenty-Five - a layout by Mendi Yoshikawa
Previous post: As it Happens scrapbooking video :: A Collage of Embellishments for Father's Day