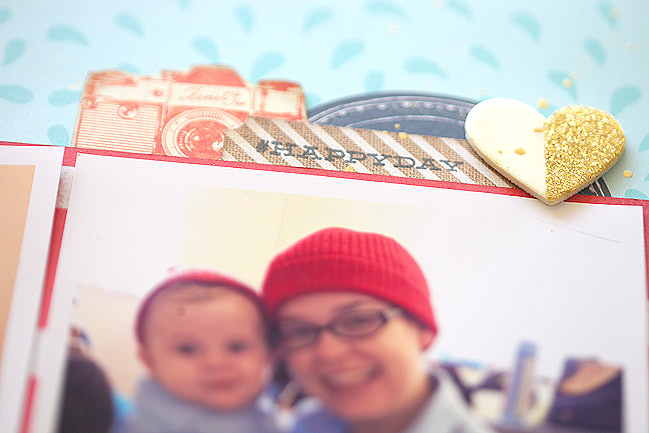 Apparently there is an unwritten rule that babies in our neighbourhood are to be dressed as either a pumpkin or a witch on their first Halloween. I had no idea of the existence of this rule and neglected to dress Wonder Boy as either of those things. Instead, I put him in a red knitted hat and stitched a school uniform shirt down from junior school age to his size, and made him an honorary member of Team Zissou, and knowing that it was a pretty subtle costume, dressed myself to match so that perhaps in some universe there would be a chance that we would appear to have dressed as something, whatever it might be.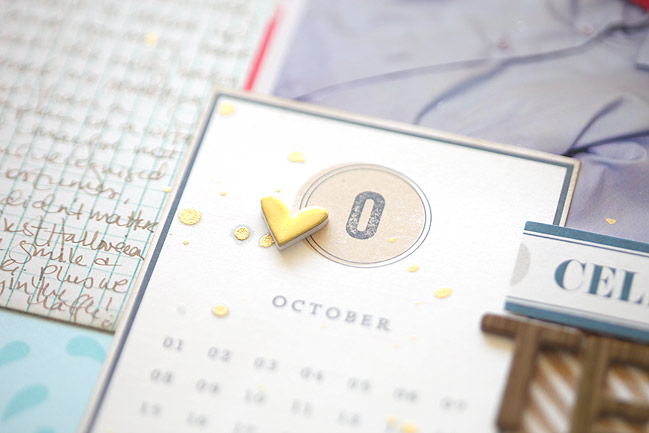 And so we went to the local baby and toddler Halloween party, to be met with a room filled with pumpkins and witches and no one really understood that we were dressed up but it didn't matter. It also just didn't make sense to me to scrapbook that story with pumpkins, so I went for reds and blues rather than orange and black.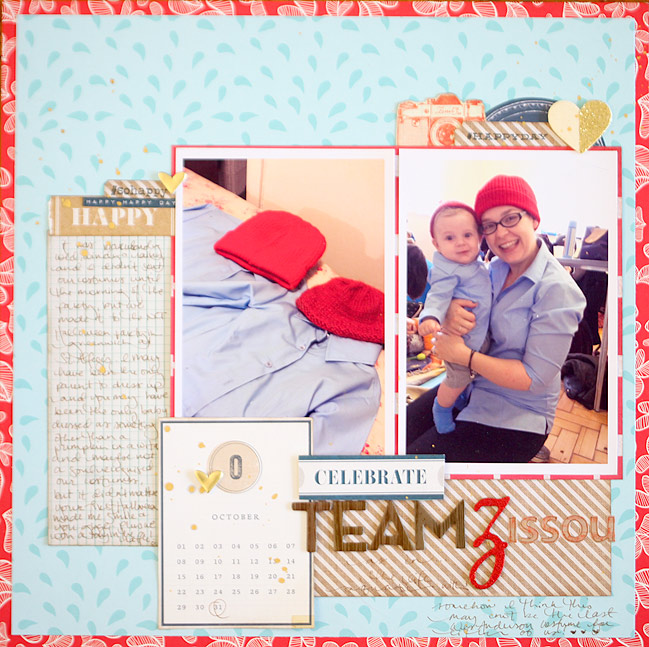 Supplies here are a real mix of old and new, including American Crafts papers from Mayberry and Soho Garden but also the new Crate Paper Craft Market, woodgrain and red glitter Thickers from years ago, Sassafras letter stickers, and small stamps and foil hearts that were more recent releases from Heidi Swapp. But no pumpkins.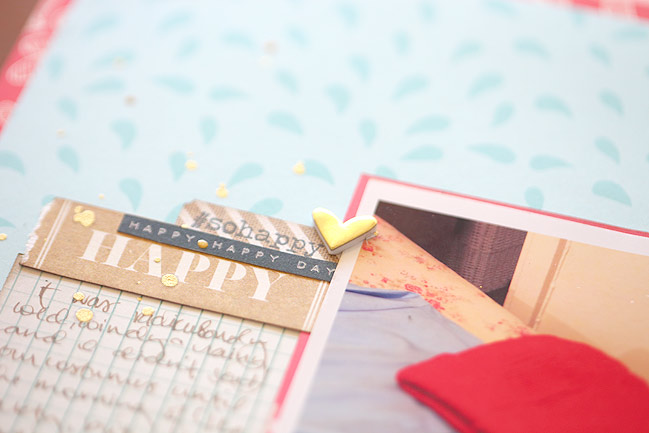 For quite a while now, there have been so many products with 'hello' somewhere in the design. Now I seem to be collecting things that say 'happy' in one way or another. My technique for both words is the same: pile it on with all the different versions of the same word in one place. You know, just in case someone looks at that photo on the right one day and wonders exactly what emotion it is meant to portray… just in case. inserts significant wink here
And thank you for the comments that you don't mind the vast number of pages featuring Wonder Boy… because I don't really think that's going to change all that much at the moment. I'm having far too much fun with it and you know… it makes me able to use all those 'happy' stamps AND the 'hello' stickers too.

Read more about:
20 April 2015

Next post: Cut, Stick, Stamp :: Scrapbooking with a Birthday Cake Stamp
Previous post: As it Happens scrapbooking video :: An Autumn Stroll