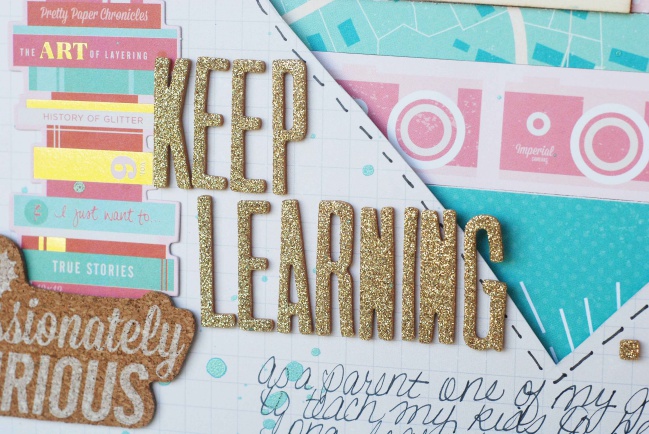 When I saw that the Shimelle collection was overloaded with fabulous patterned papers I could not wait to get my hands on it… all of it. I immediately jumped in and got started. I picked a few papers to save for background papers and then I started cutting the rest into strips. Some of various widths but mostly in the one inch and one point five inch category. I am thrilled with this collection and can't wait to create even more projects with the supplies I have left.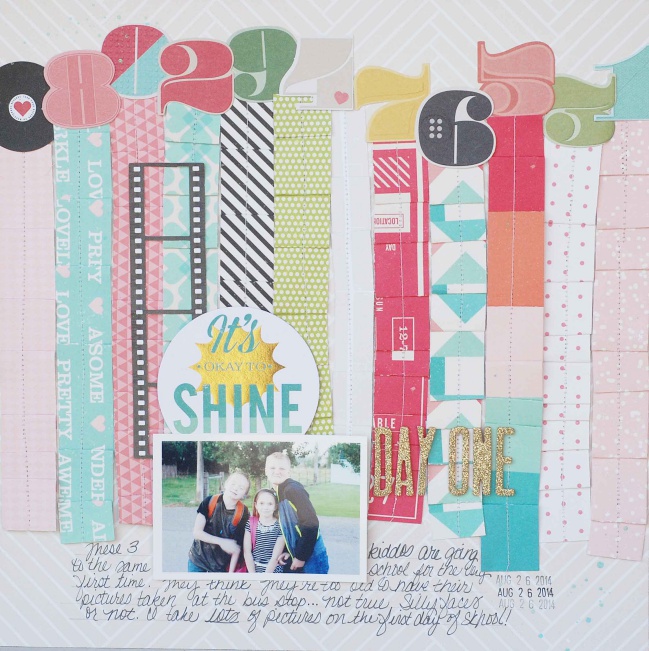 Day One
On this layout I used twelve strips of patterned paper. I cut each piece of paper just under an inch wide. I scored and pleated each strip and machine stitched each pleated strip before I adhered it to my background paper. At the top of each strip I added a die cut number. This technique gives lots of texture and dimension to the layout.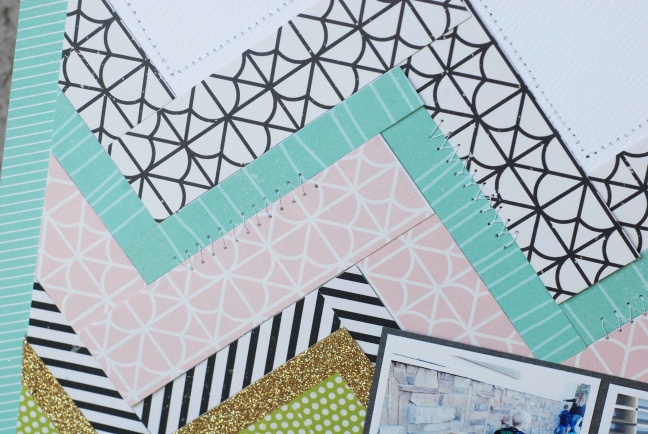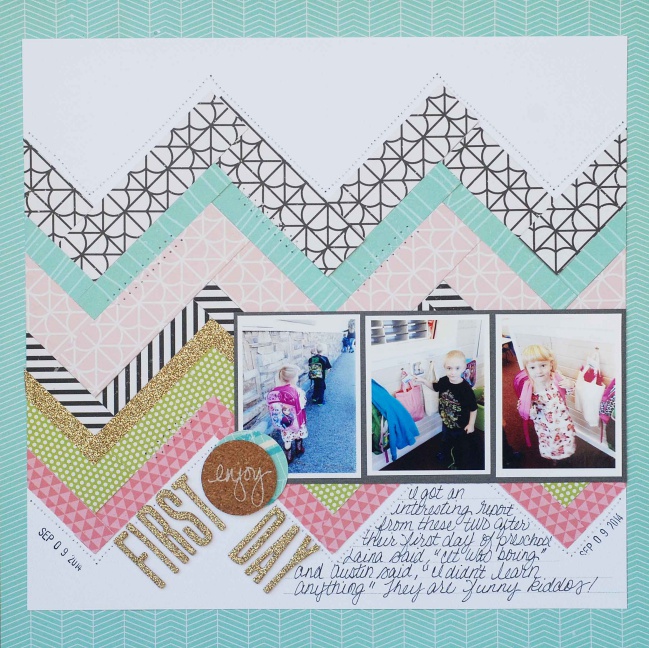 First Day
By cutting strips of patterned paper in various widths I created a bold chevron background on this layout. With a background this bold I kept embellishments to a minimum and only added a little bit of machine stitching throughout the chevron.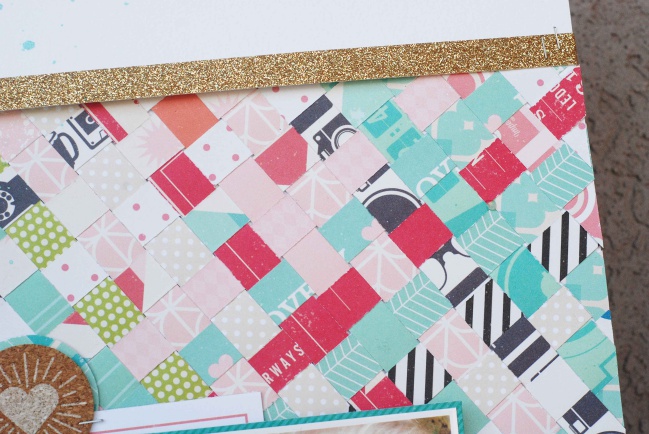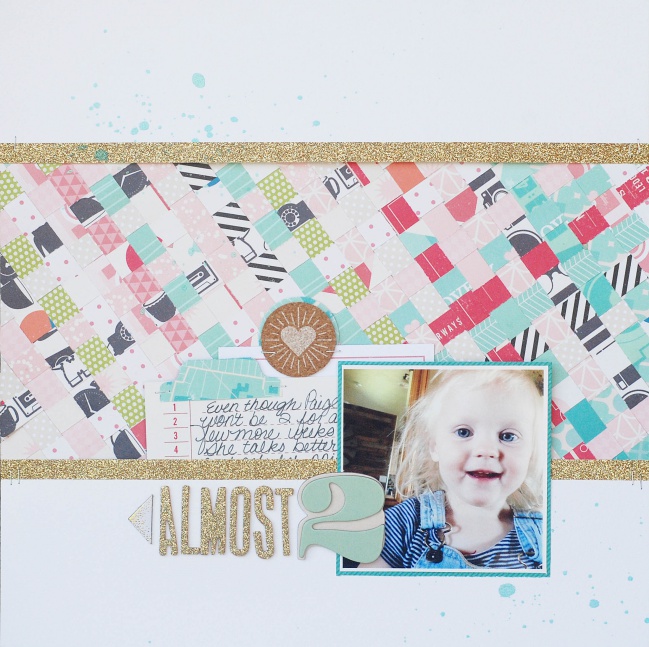 Almost Two
This is my favorite of the five layouts I created with patterned paper strips. This was really easy to complete. It was a little bit time consuming so I turned on my favorite show and got to work. I adhered the very end of the strips while I was weaving them to make sure they stayed in place. I used a LOT of adhesive underneath when I was finished. To give the project a more finished look I put strips of white cardstock above and below the woven parts to cover the uneven ends. The layout is complete with a strip of glitter tape on the top and bottom of the woven background. The strip of cardstock at the bottom of the layout made a perfect spot for some journaling cards.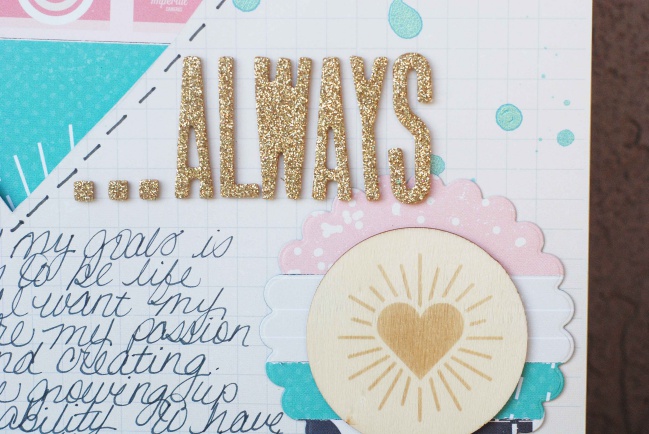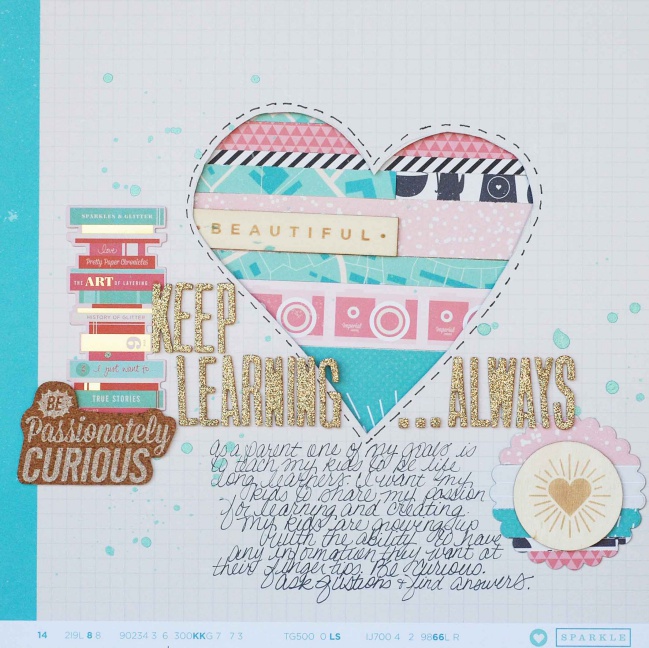 Keep Learning… always
This layout is created by cutting a heart out of the background sheet of paper. Then, on the back of the paper I adhered strips of patterned paper so they were inlaid on the background. I also added a wood veneer piece to one of the strips. This layout also varies from the other ones because it doesn't contain a photo. This layout is just for my kids. I wanted to document my hopes for them. I didn't have a photo that particularly went with the story so I just left it as a story, without a photo.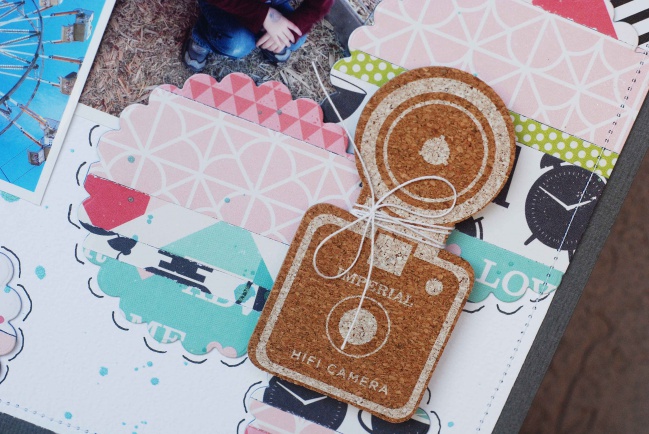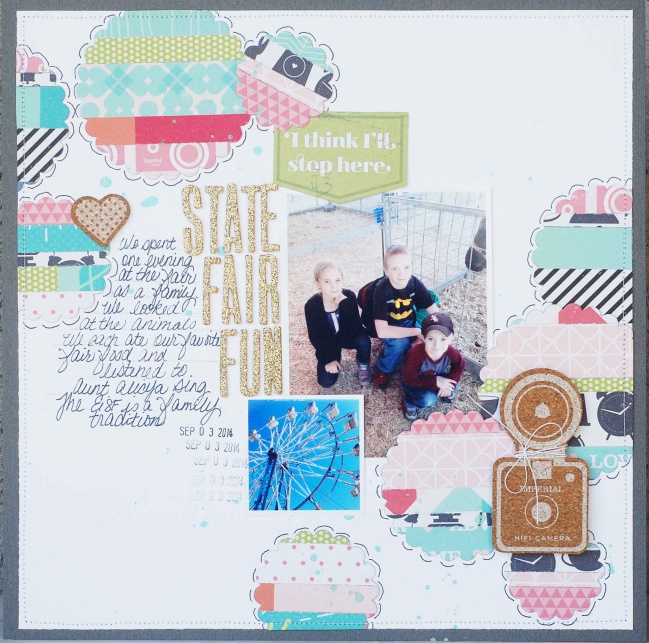 State Fair Fun
On this layout I used all the bits and pieces from the previous layouts I created. I adhered the strips to scraps of cardstock and then die cut the scraps of cardstock in my manual die cut machine. These bold scalloped circles added a bold whimsical look to the white cardstock background.



Becki Adams has been passionate about memory keeping since 1998 when she first started scrapbooking. She lives in a small farming town in Idaho,

USA

. She spends her days scrapbooking, blogging, creating, being a mom to three amazing kids, and being a second mom to her nieces and nephew. She loves a clean house, a good book, and a really great cup of hot chocolate (in the winter) or a glass of raspberry lemonade (in the summer). Oh, and chocolate, don't forget chocolate. She also love a great find in a thrift store. Some of her favorite things to look for are books and dishes… a girl can never have too many dishes, or books. You can find Becki designing for Pebbles Inc. and Carta Bella Paper. You can also find her on her blog, Pinterest, Facebook, Twitter, Instagram and Youtube.




Read more about:
26 September 2014

Next post: Two scrapbooking workshops to check out
Previous post: Gold Leaf:: A Scrapbooking Tutorial by Carrie Elias