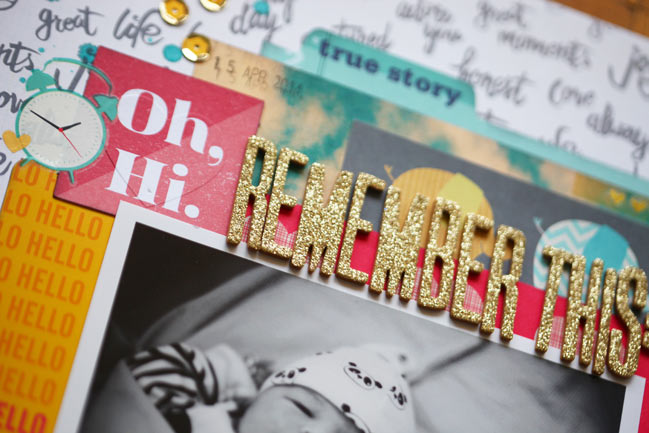 Oh, hi. Originally that die-cut said 'hello'. I had to explain that I pretty much never say hello. I say 'oh, hi', and if extra excited, 'oh haiiiiii', but that wouldn't translate to so well to a die-cut. And thus, dry embossed hearts on pink squares that say 'oh, hi' and make me very happy.
I also have finally been able to finish the editing on a new scrapbooking video, and that makes me happy too.

Reading somewhere that doesn't show the video? Click through to watch!
Although I've really enjoyed scrapping with just my own products, my true style for many years has been to mix and match brands and collections to get a look I love, so throwing this all together was a whole new kind of scrapping adventure.
Supplies for this page include text background paper, heart patterned paper, map patterned paper, die cut pack, colour rub-ons, gold rub-ons, elephant card, cloud card, hello card, sweetness card, true story card, gold sequins, journaling pen, and turquoise mist.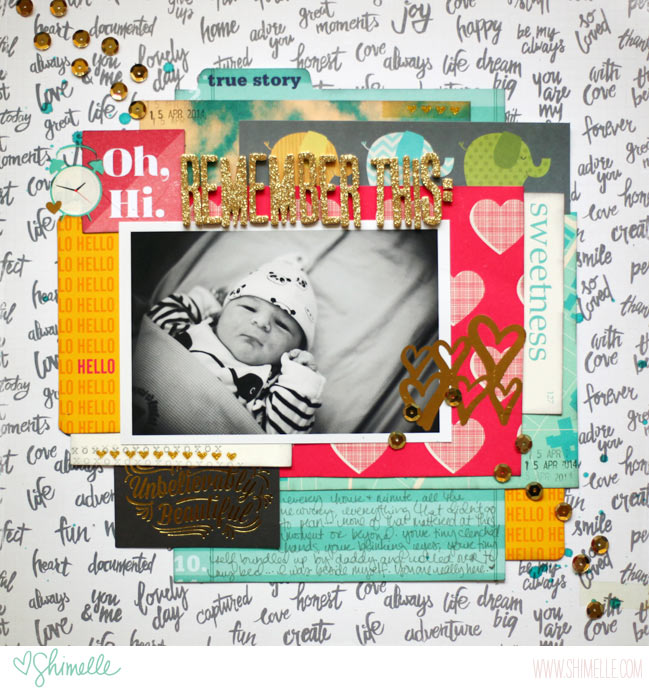 I hate to repeat what I said in the video, but I will anyway. Because I love this photo and I love it a little bit more for having totally missed it for quite some time. I don't remember it being taken (apparently this was while I having vitals checked or something), though I do remember the midwife giving The Boy instructions for dressing Wonder Boy and then getting a bit short with him when he didn't know the difference between a vest and a sleep suit, and then shorter still when he told her I didn't bring sleeveless vests, but Wonder Boy did eventually end up clothed. He was wearing a panda outfit that was the very first gift he ever received, such an early gift that I was quite terrified by it and I buried it at the bottom of a drawer for many months because otherwise I would have spent those months looking at it and clutching it and being ridiculously emotional. Instead I get to be ridiculously emotional now, seeing it on him at the hospital, seeing it in the photo, and seeing it now in the box of teeny-tiny outgrown clothes. I need to write all that on another page, but on this one I wanted to document just a bit of my feeling that although the process of his arrival was many miles from what I imagined in my head, it didn't matter for a moment. …and to think it was just tiny panda-printed clothes that made me ridiculously emotional.
Thanks for watching.

Read more about: american-crafts scrapbooking-videos
11 September 2014

Next post: The Shimelle Collection is now available at scrapbook.com
Previous post: On The Writing Process