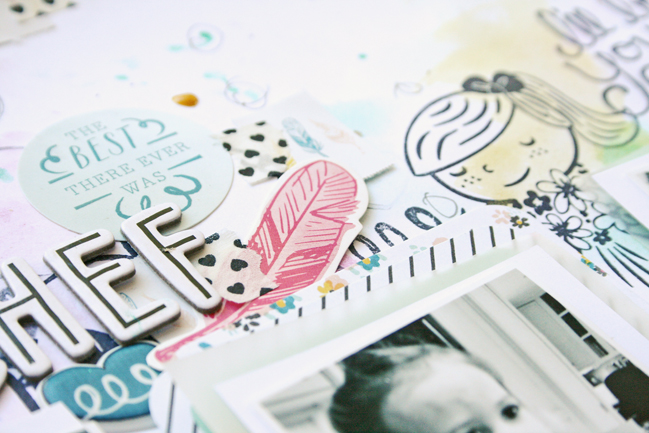 Every now and then a collection comes along that I find to be complete perfection. From the colors, to the icons… I have most recently fallen head over heels in love with the Dear Lizzy Daydreamer collection.
While my budget wouldn't allow for me to purchase every single item, I was able to pick up several things… most importantly the stamp set. This will allow me to stretch the look of this collection and to make some patterns of my own. Let's have a look…
That was super fun! I hope this has inspired you to embrace what you love in a collection and to make the most of it in your crafting!
So, next time you head to your crafty space, grab some stamps, an inspiring collection, and craft up some patterns that you can call your own!
Thanks for joining me!




Ashli Oliver (aka soapHOUSEmama) is a recovering graphic designer, a homeschooling mother, wife, daughter, coffee addict, knitter and gardener with an extreme passion for mixed media paper crafting and memory keeping. Ashli finds great joy in both the creative process and the final piece. Most of her craft time is found in the wee hours of the evening when all of her kiddos are in dream land. Although, Ashli never misses an opportunity to grab a snippet of time during the day to shuffle some paper around.
When Ashli is not blogging, you can also find her on Pinterest, Instagram, and Twitter.




Read more about:
29 April 2014

Next post: Sewing with Alice:: The T-shirt
Previous post: Weekly Challenge:: Make the most of your Title