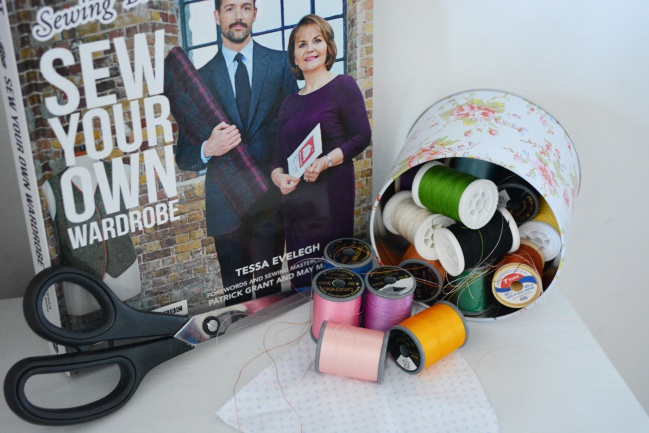 Hello! This week I am trying a little something new for you lovely readers!
Over the last few months I have felt less drawn to creating my own home furnishings/gift type creations and more drawn towards making garments (the Great British Sewing Bee has definitely been a part of it!). Dressmaking & pattern cutting has something I have always had a massive interest in, from studying it at two different colleges to teaching myself. However, I feel I still have so much more to learn and can't wait to keep learning! Thats the great thing about sewing… you can never run out of things to do! That is the genius of the new GBSB book.
It is full of projects that will either really push you or something you can complete in an afternoon. The tutorials are super easy to follow and they give you all the information you need to know, such as what fabrics are best to use and if its suitable for a beginner or not. And when you're sewing a project, you need to do know what you're dealing with! Am I right?
Today is a 'introductory' project. You will find that I haven't given you a tutorial as such or attached anything for you to work with. Instead this will be how you can take a project and make it your own.
This particular project you see pictured is from there newest book, and I have to say, it is perfect for a beginner. When they said it would be easy, I didn't quite believe that it could be – a pattern with sleeves is never easy right? The magic of this pattern however is, you don't need to put in the sleeves. Result! With dressmaking, I love a good fit – like the majority of my wardrobe, its structured and fits well. (Unless I'm having a bad day, then out comes the baggy jumpers). So, if I see a pattern I like but feel its not quite made for me, what do I do? I make it into how I want it. There are no rules with patterns, you can change it or add to it just as you would any other garment. Which is exactly what I did with this pattern… The t-shirt.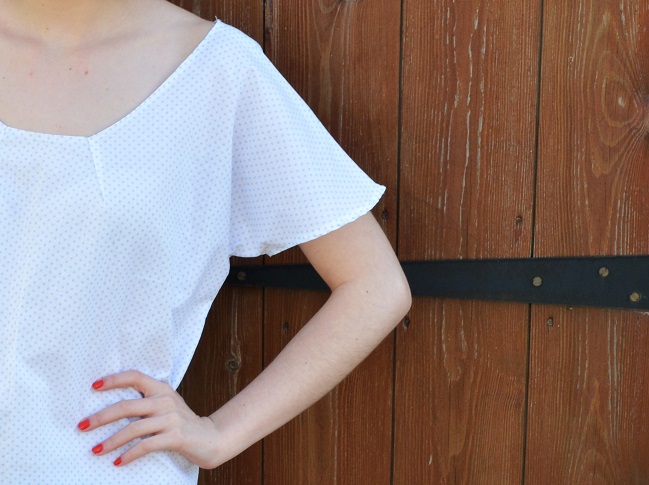 So, How did I make this my own? Well, one, the fabric I chose wasn't as 'drapey' as the book suggested. Its a lot more stiffer and doesn't flow as well. Two, I added darts to my pattern to give it a more fitted look a long the neckline. Darts are a great technique to learn if you wish to alter anything to make it fit better, such as skirts or dresses.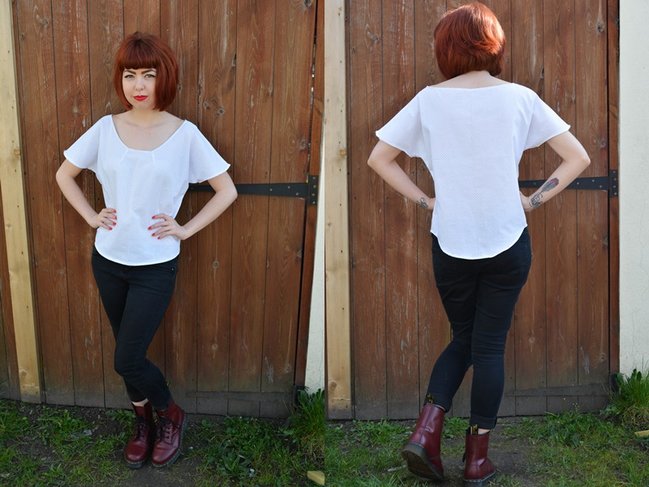 This pattern is made of two pieces. The front and the back. Once pinned together, you sew the shoulders together, then the side seams. That is pretty much it! As an added feature, you can do bias binding, but I chose to do a rolled hem all the way along the neckline, shoulders and the bottom of the top.
I hope you have enjoyed this today and are keen for more! If you have any dress-making needs, feel free to let me know what they are. I shall be back in a few weeks with a freshly made garment and a tutorial!
Until then, happy sewing!
Alice Partridge is a young designer-maker from southeast England. She hopes to make a living doing what she loves, and spends most of her free time reading blogs, drinking tea, or stitching with a needle in her hand. In addition to working behind the scenes at shimelle.com, her recent work includes Kirsty Neale's recent craft book, Hoop-La: 100 Things to do with Embroidery Hoops. She blogs when she can on
Alices Homemade Studio and you can follow her on pinterest.

Read more about:
03 May 2014

Next post: Weekly Scrapbook Challenge:: Scrapbook Paper Strip
Previous post: Making your Own Patterned Paper:: A Scrapbooking Tutorial by Ashli Oliver