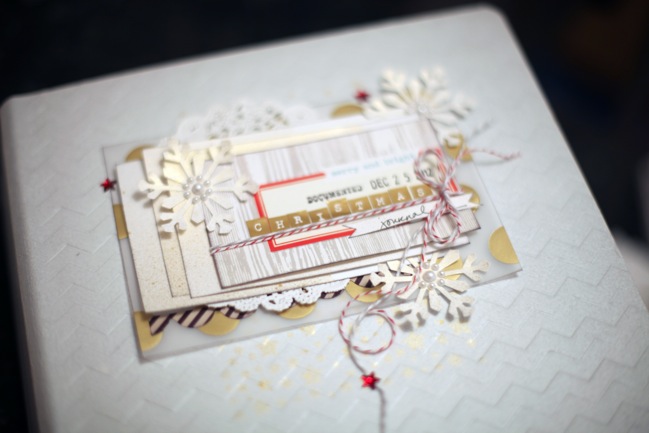 Tomorrow marks the start of Journal your Christmas 2013, and I'll be starting a new album just for this year. But I've made more than one by now, so I've found over the years that different processes work well for different types of creative people and all the individual factors that go into their unique December for that year. Some crafters love to prepare in advance and have their book read to go as soon as the Christmas products hit the stores! I am not one of those people, and I've found that the albums I prepared the most in advance were the ones that were most difficult for me to complete as the month went on, so my preparation is more limited yet there's still a tiny bit of a system that works for me. The good bit is that system doesn't require much time at all, and it's absolutely fine to do even in the first few days of December, if not later.

This video is from Journal your Christmas 2012, and this is the preparation I did for the start of December – meaning I painted my album cover on either the 30th of November or the first of December, and then the video also shows my very first entry which I made on the first. And you can see an idea of the type of preparation I do: choosing an album to work with and the page size, gathering supplies, and having some design ideas in mind. That type of preparation works really well for me! Sometimes I work on the album cover at the beginning of the project, sometimes at the end, and once or twice I've actually made changes to my cover in the middle of the project itself. I will warn you I started December with a pretty gravelly voice last year and I can hear that in this video! So far this winter, my voice is intact. Long may it last!
The album I used last year is a Studio Calico Handbook (I used the chevron cover, which is currently 30% off, but there are several different designs and currently all on sale). The page size is 6×8 inches, and I used a mix of page protectors to have pockets in 3×4, 4×6, and 6×8. I really liked this size for the project and this year I'm using the Dear Lizzy Canvas Album with the same page size but a variety of different types of page inserts as well as the pocketed page protectors. I haven't done anything to my album at all yet, but will be doing that in the next few days and will share with all the class participants!
Another thing I sometimes prepare in advance are date tags or page numbers to be added as I go. I'm not doing matching numbers this year so haven't done them in advance, but this video shows the process I have used for making matching (or coordinating) layered embellishments with numbers to count the days of December and early January.

For further ideas on album covers and design styles, the Garden Girls have so much beautiful stuff to share! They've each made a holiday album this year – some albums ready to be filled with this year's memories and some scrapped with stories of Christmas past. Have a look through and see what speaks to your creative style. Click any of the images to see more of that album, plus all the supplies used to make it – pretty much all of which are at least 30% off at the moment. They are gorgeous projects from start to finish.
I'd also love to point you in the direction of two blog posts from two JYC participants who have been part of this adventure for several years: Dolly shares her unique 2013 project and Rachel shares her full 2012-2013 album.
Every year I see at least a few people lament that they haven't made an album and a stack of pages by the first of December, so they might as well not start with any sort of project like this for the year. While some crafters work really well with pages prepped in advance, it is not the only way and I really hope it won't put you off jumping right in. If you can type on your screen or jot notes on a piece of paper, you can create a memorable journal this Christmas – even a very beautiful, crafty one – without a single thing prepared in advance.
The other big worry I hear from Christmas journalers is the idea that they can't 'keep up' or making an entry every day is too much. With Journal your Christmas, there is no such thing as falling behind. I believe you really must live first and scrapbook later and that means not every single day in December will be the same. Some will be filled with holiday activities from start to finish. Some will be quieter and could be any day of the year really. The writing prompts for Journal your Christmas are not just about your activities this year, so you can mix memories of Christmas past, documentation of Christmas present, and hopes for Christmas future all in the same book. You can do 'daily' entries that are not truly made every day, like keeping notes and then filling things in here and there when time allows, be that in December or July. And most importantly, you don't have to do daily entries. It's not a requirement in any way – it's merely one way you can work on this project and definitely not the only way or the right way! In fact, if you're not feeling up to writing much this year but really wish you could finish the season with a great library of holiday photos, you could ignore the daily writing themes entirely and focus on the daily photo prompts that come to your inbox too! This is truly a project where everyone is welcome and you're encouraged to make the project work for you in absolutely any style.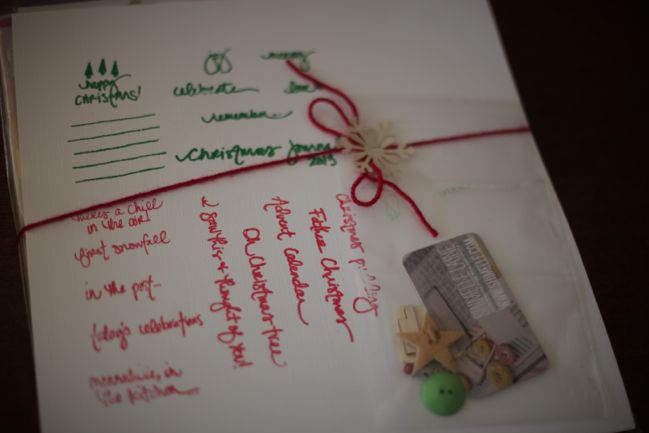 You truly can use any supplies you would like for this project, and if you have a stack of stuff that needs to be used, I really encourage you to use what you have on hand. I've assembled a kit of supplies that I'll be using, though I inevitably throw in a few things sitting on my table just as they happen to seem useful, and I have a very small number of those kits left here for UK addresses only. I'll be listing those here on the blog tomorrow, the first of December, once the first prompt has been sent. No matter where you are in the world, you can order your choice of supplies from Two Peas, and if you're thinking of shopping now, I would do it this weekend while the prices are greatly reduced for their Black Friday sale. You can find my individual product picks here and options for collection packs and paper pads here, if that helps! (Neither of those lists are meant to be one where you need everything! Just pick what you like to suit your budget.)
And one last note – you can join Journal your Christmas absolutely any day of the year! It's never too late to jump right in, so no matter when you see this post, you are very welcome to join us.
It's so close to December!

Read more about: classes scrapbooking-videos
30 November 2013

Next post: A Christmas Manifesto and Some Holiday Honesty
Previous post: Five Ways to Use Stencil Masks by Natasja Verbeek