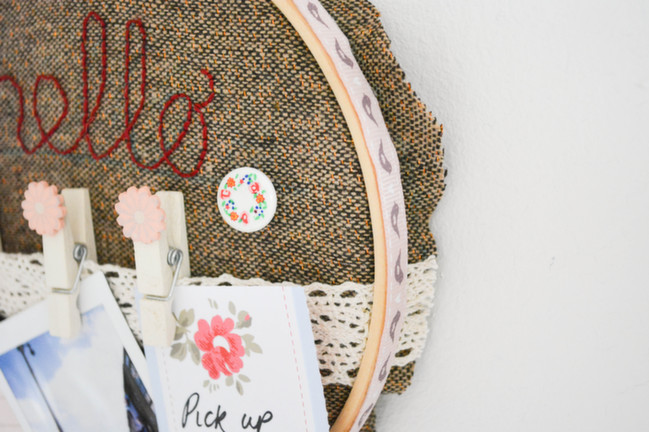 Recently Alice and I were both a tiny part of a lovely, lovely project from the very talented Kirsty Neale, a new book entitled Hoop-La!: 100 things to do with embroidery hoops. Alice's contribution is far more noteworthy than mine – the hands that appear throughout the book's instructions are hers, and she got to spend the day working with Kirsty putting all those step by step instructions together. I mostly got to look at all the finished projects, turning from page to page with various different intonations of 'oooh, that's just lovely'!
Here's a little look at what you'll find inside the book, and a beautiful capture of Kirsty's artistic style:
To celebrate the release of Hoop-la, we're sharing a few embroidery hoop projects of our own!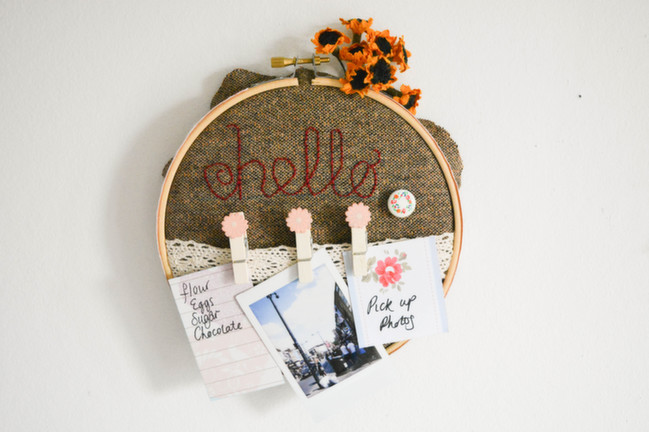 There are so many lovely projects in Kirsty's book, I had no idea which one to choose or what to use, how to use it etc… all the typical crafty questions you ask yourself before starting a project! In the end, I decided to narrow it down to two questions: 'What project out of this book would be most useful? and 'What project would fit in great with my style?' This left me with the memo board embroidery hoop.
I am constantly pinning things to my wall, getting through a ridiculous amount of sticky tack or pins with little reminders or shop cards, anything that I think I need to know or remember. This seemed to be a way to perhaps control some of that while still being able to pin up plenty of things. Kirsty's version of this project in the book isn't exactly the same to mine, but it inspired my hoop in my own style. I think it's lovely to add your own touch to it. What materials would make it your style?
I wanted a cute, vintage feel to my little memo board, and by using the tweed fabric and lace, this really helped add that touch. I used bird ribbon for the embroidery hoop and tiny flower pegs to hang those important notes. The stitching was hand stitched and I thought the little button was a great tiny touch to bring it all together! It didn't take me too long and I didn't run up a big bill for supplies, and I'm really pleased with this hoop for my wall. I hope you can imagine it in supplies or colours you would love.
-Alice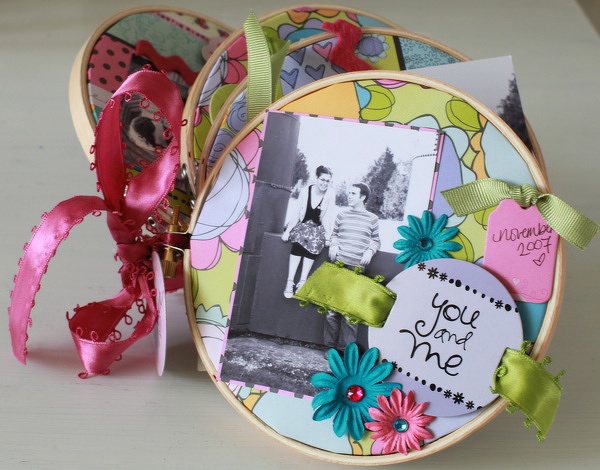 When Kirsty first asked if I made anything with embroidery hoops myself, this is the project that instantly came to mind. It's an older project, but a display minibook (meaning it stands open on a counter top or shelf) where each page is an embroidery hoop filled with paper or fabric plus photos and scrapbooking embellishments.
Now my challenge is to create a new hoop that combines Kirsty's stitched and photo projects from Hoop-la with my current crafting style! What would you suggest for…
…colour?
…types of embellishments?
…colour or black and white photos?
I'm curious as to whether you would choose the same sort of thing for your own room that I might choose for mine. Decision time!
For more embroidery hoop fun, don't miss Kirsty's blog for plenty of loveliness, and find more details about the book via Amazon or the publisher.
xlovesx

Read more about:
06 November 2013

Next post: Five Ways to Scrap with the Colour Purple by Ashli Oliver
Previous post: How to Add More Dimension to your Scrapbook Page:: A Scrapbook Tutorial by Jessica Lohof