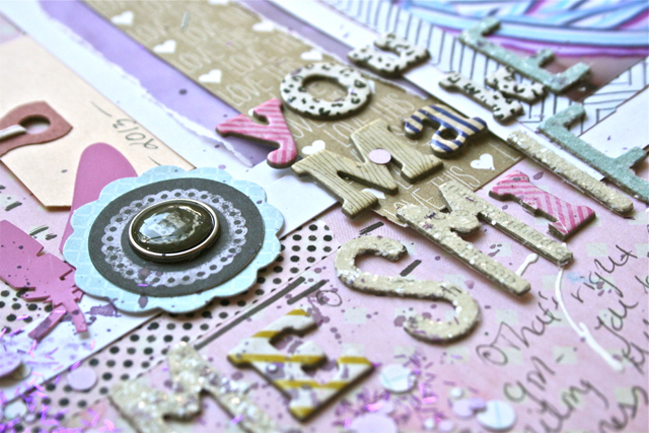 Purple is my favorite color. My mailbox is purple. Our bedroom is purple. Purple is a star in my wardrobe. But, when it comes to my scrapbooking… I have the hardest time incorporating purple into my pages. Worst yet, if a photo contains large amounts of this perplexing color, I tend to avoid scrapping it. So, it is time to conquer this, yes?
I'm not sure exactly why purple is so hard to work with. Perhaps it's how dominant it is? Or perhaps it conjures up certain emotions or connotations? I really don't know. But, what I do know is that with just a few simple strategies, I was scrapping with purple in no time and you will be too!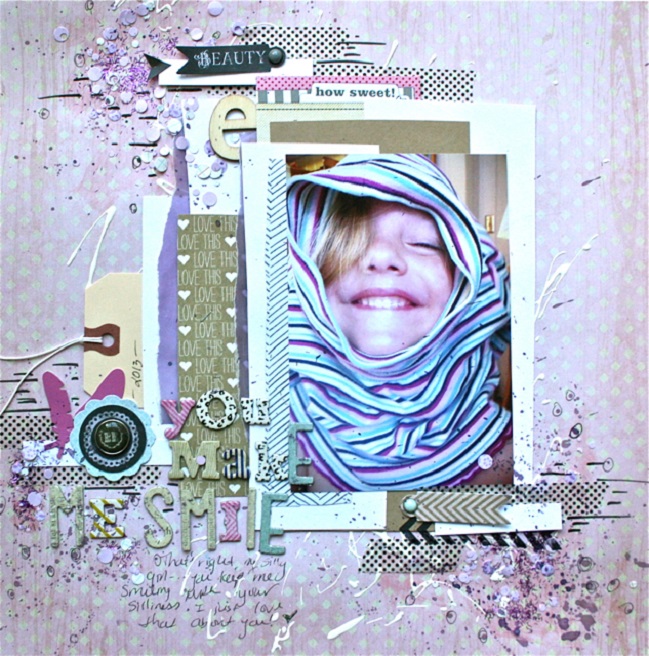 Use it in Small Doses
Perhaps the easiest way to "get your feet wet" with any supply or color that is out of your comfort zone… use just little bits of it. When combined with soft pinks and blues, the purple confetti and subtle layers work harmoniously without distracting from the photo, which incidentally, is one of those photos that had been set aside on my desk due to the large amount of purple. So good to have it scrapped!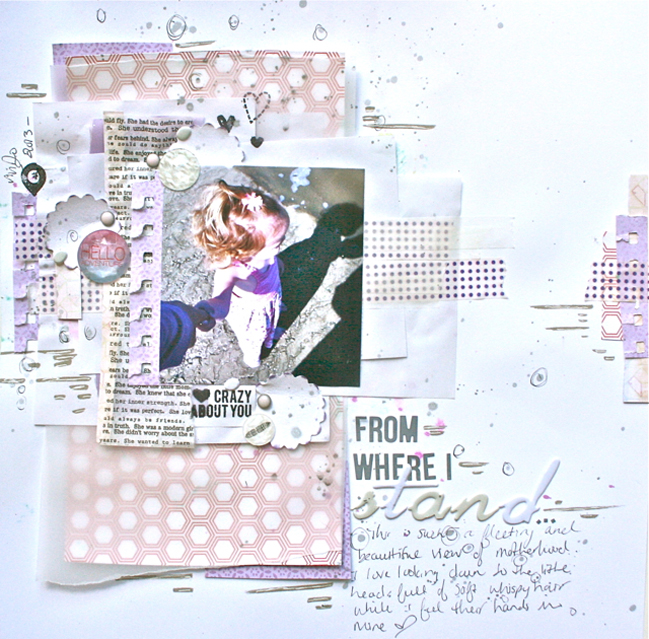 Add lots of White
Almost anything becomes calmer and softer when paired with lots of white. Purple is no exception. I kept the other papers, patterns, and layers on the softer side as well to avoid a high contrast. A lovely way to showcase purple, I would say!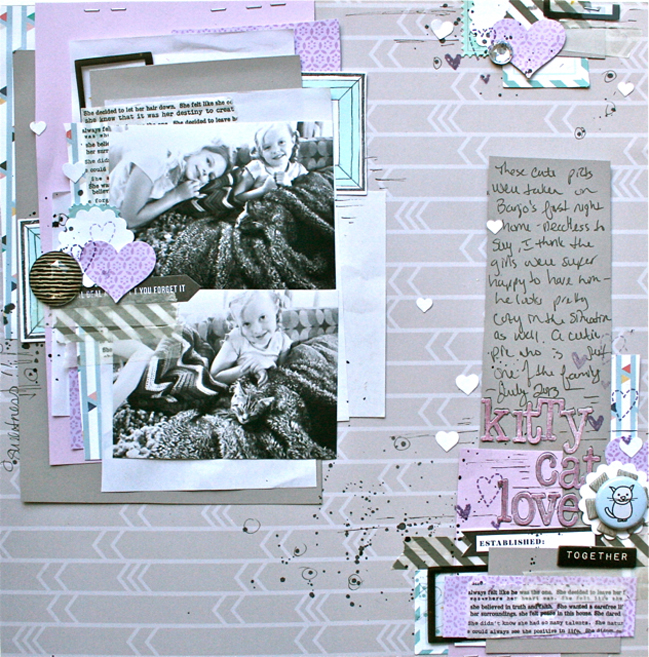 Ground it with Grey
Purple has several complimentary colors… green, pink, teal… but, my most favorite is grey. I love the softness that grey can add to this over-zealous color. In fact, it even allowed me to break into a never-before-used sheet of purple alphas. Paired with grey, all of the little purple touches shine in just the right way and lead the eye to the soft black and white photos.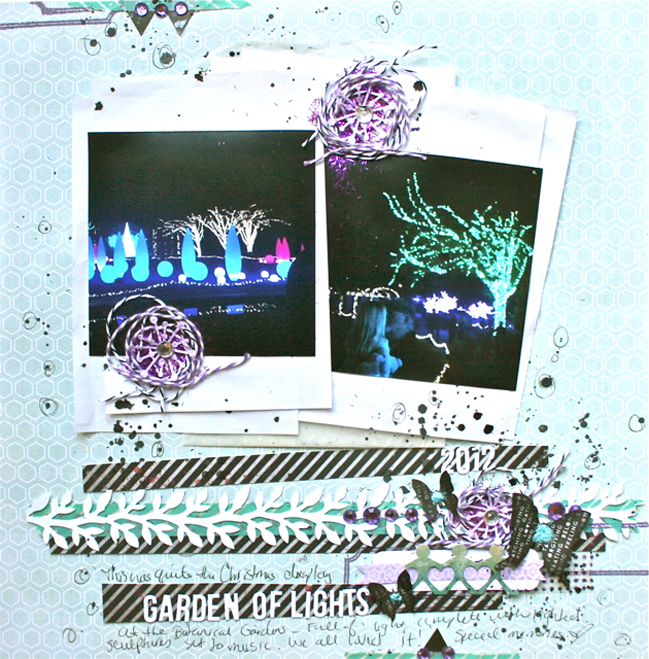 Embellish with It
Here is another case of challenging photos I had set aside. The high contrast and deep jewel tones were leaving me with a conundrum. Once I decided to focus on softer colors for the background and layering and only use the bright purples in the embellishments, well… it all came together. This was also a good stash stretcher as I don't normally have an abundance of purple embellies on hand, I simply put some scrap papers, ink and punches to good use!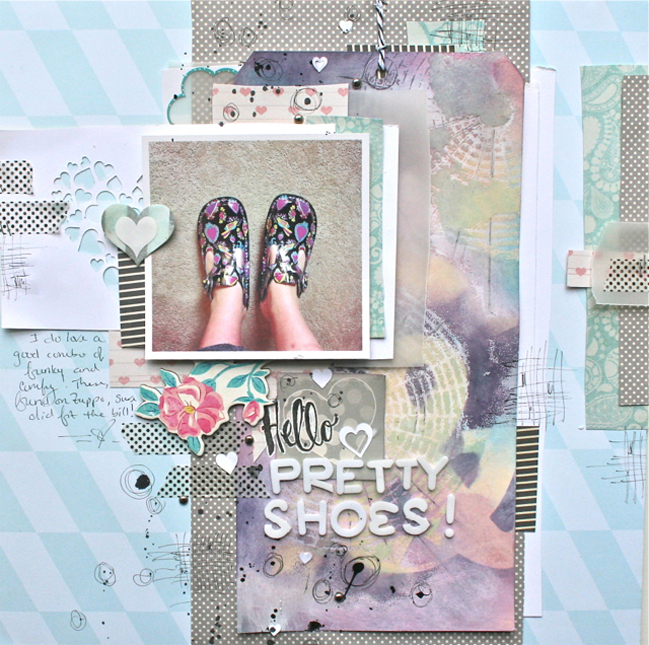 Play with Ink
Speaking of ink, another fun way to infuse your pages with purple is to get inky and play. For this page, I grabbed some stencils, distress ink, embossing powders, and an oversized tag. I just went to town having fun with all of my purple goodies and ended up with a lovely tag to include within the layers of my page. The best part about this? There is no fear in "messing up" a page with a color you are not confident in. Play with it off the page and add it later. Perfection!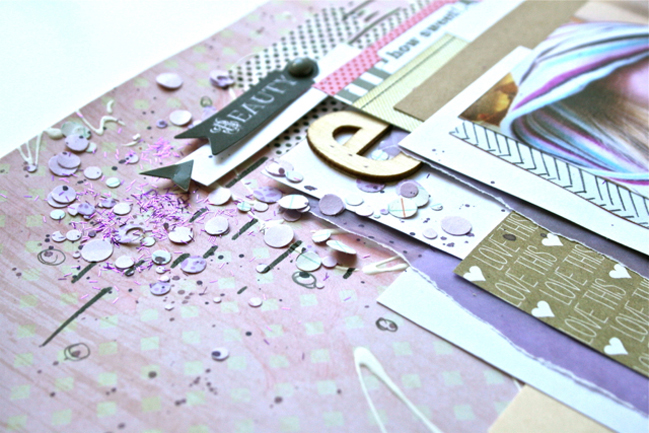 So, the next time you are perplexed by purple, be it in your supplies or in your photograph, I encourage you to put your fears aside. Don't be afraid to try some of these strategies, play with ink, and put your scraps to use. Before you know it, you will have that purple on a page and in your album!
Thanks so much for joining me!



Ashli Oliver (aka soapHOUSEmama) is a recovering graphic designer, a homeschooling mother, wife, daughter, coffee addict, knitter and gardener with an extreme passion for mixed media paper crafting and memory keeping. Ashli finds great joy in both the creative process and the final piece. Most of her craft time is found in the wee hours of the evening when all of her kiddos are in dream land. Although, Ashli never misses an opportunity to grab a snippet of time during the day to shuffle some paper around.
Ashli has been an artist her entire life. She followed her dreams and attended art college. While Ashli mostly wanted to play with paint and glue, she chose a more sensible major of Digital Multi-Media and Photography. After working in that industry on and off, Ashli put her computer and brushes aside to start her family. Never in a million years did she think that scrapbooking and the paper craft industry would re-awaken her inner artist that she had put away so many years ago. Thanks to a good friend who showed her the ropes just a little more than a year ago, Ashli has jumped into a pile of pretty paper and is never looking back!




Read more about:
07 November 2013

Next post: Mini Envelopes:: A Scrapbook Tutorial by Magda Mizera
Previous post: Hoop-la: Crafting with embroidery hoops