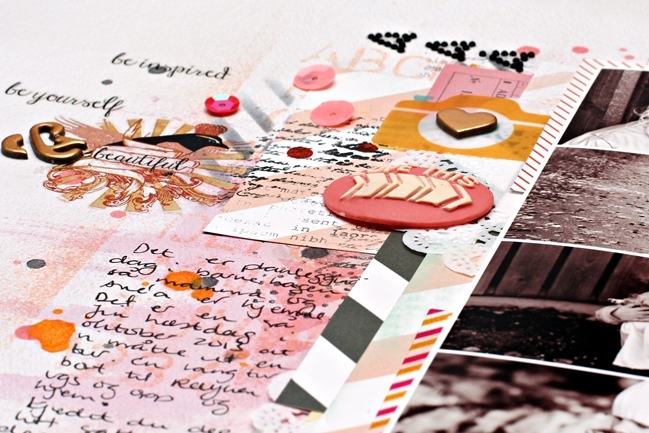 A beautiful Sunday morning to you! For this final day of the weekend, there are more scrapbooking challenges coming your way. We'll start with another sketch to brush off the cobwebs and get the paper moving!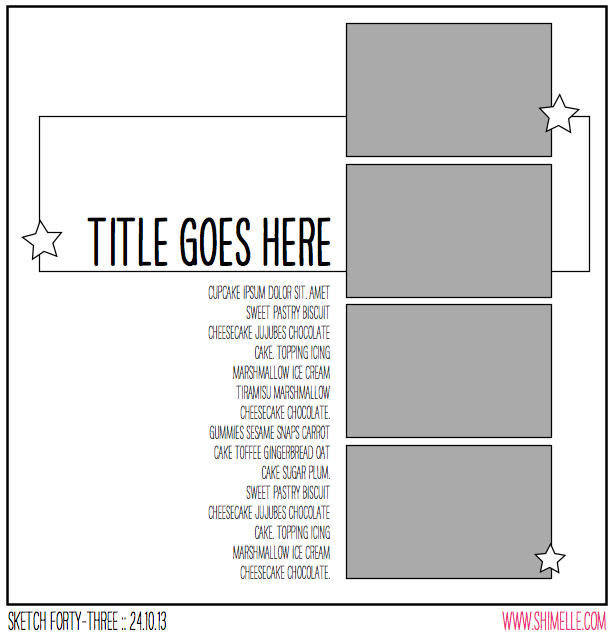 This sketch is designed for four small photos, but that is easily changed to a column of photos to fit your needs. A stack of two portraits instead of four landscapes could work just as well. The horizontal bar balances all that vertical flow and creates a corner perfect for holding your title and journaling. As Christin Grønnslett demonstrates, it's also a handy starting point for all your layering work!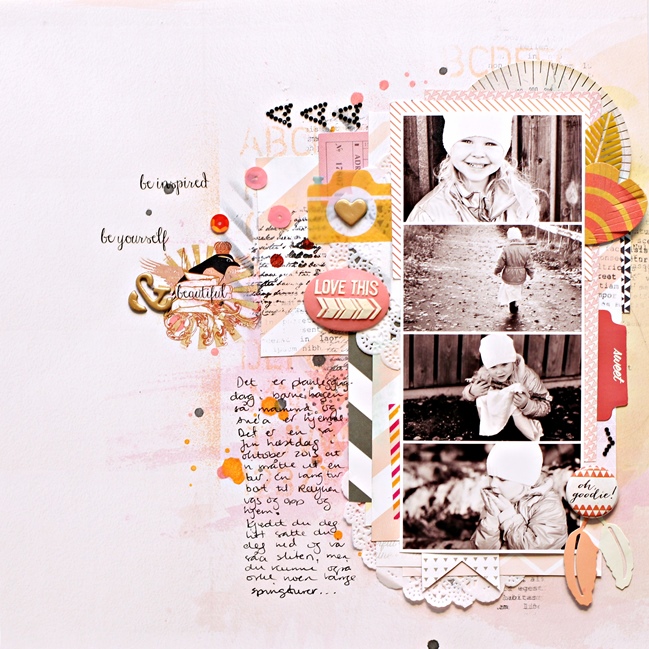 I am one of those people who get scared of many photos on a layout, and most of all scared of 'using up' all the space on a page, but you have to try something different now and then. I also didn't use my usual white card stock for the background; I started with a Pink Paislee Color Wash patterned paper instead. The pictures for this layout were taken in late October, almost all the colorful leaves had fallen off and we decided to take a little photo walk around the neighborhood. I used Photoscape to combine the four photos in a row and add a sepia filter. I found a selection of pink, coral, orange and black papers and layered them. A collection of mists and for once I actually used them also for actual misting with the stencils, not just droplets. The real reason why I usually just drop mist on my pages is that my scrap table is just too full of stuff and I don't want everything full of mist. The papers are all stapled to the background paper: it's so much easier just to place all the papers you want and then just staple than try to remember when adhering them with tape or glue where you actually wanted to place each piece of paper. The pictures were adhered using foam squares, as I didn't want the photo touching the staples. I used some rub-ons for the title as I prefer the pictures get the most attention, not a big title. Then I threw in some more embellishments in matching colors. -Christin
Now it's your turn. I'd love to see you you interpret this sketch with your own style and stories. As always, this sketch is just for fun and everyone is welcome.

| | |
| --- | --- |
| Christin Grønnslett lives in Røyken,Norway with two kids and a husband. When the kids are tucked in bed she escapes down to her scrap cave in the basement. Christin currently serves on design teams for Pink Paislee, My Creative Scrapbook, Papirdesign, Scrap around the world and Paper Issues. You can find her blog here and follow her on Instagram. | |

Read more about: sketch-of-the-week inspiration-party
22 June 2014

Next post: Graduation Scrapbook Pages
Previous post: Sketch to Scrapbook Page :: Repeating simple shapes