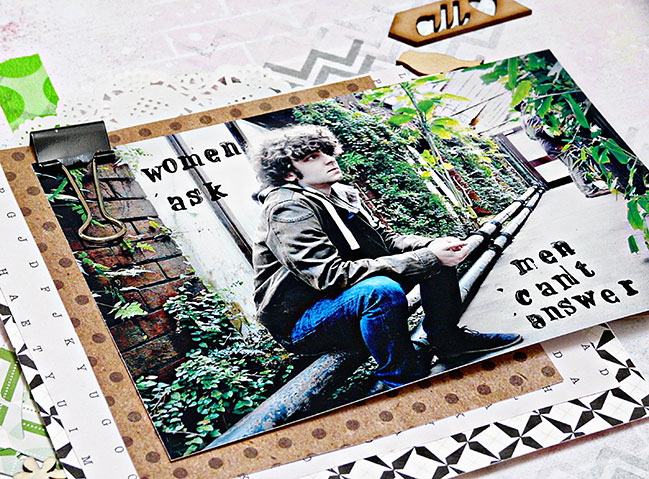 Hello there. Yes, you'd be right: I do have a notebook in my hand. You won't have known me for long before you realise that I'm a good listener – and that's because I like to record what people say. Funny, sharp, profound or though provoking, if I like it enough to write it down, then I try to scrapbook it too. And I enjoy the challenge of finding different ways to pin down a word or two. These are my current favourites.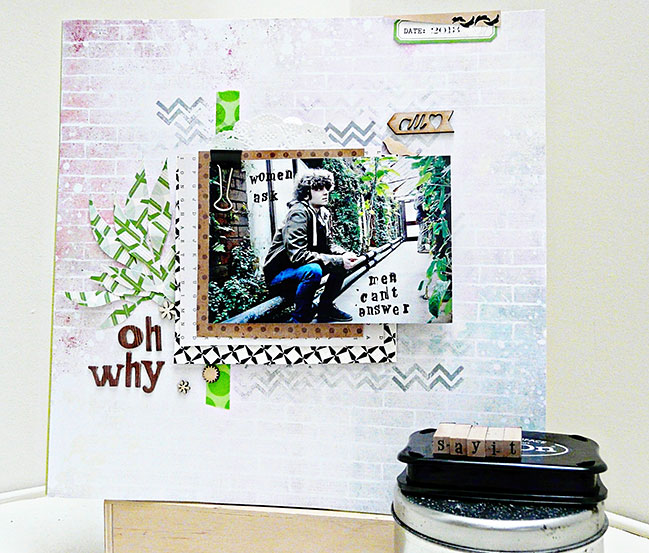 Go Stamp
I stamp directly onto my photo. For this to work you need a picture with plenty of negative space – a wall or some sky is good – and Staz On ink so your stamping doesn't smudge. You can create a mood for your quote depending on the style of font you choose: this is a little stamp set from the local discount store. When I'm stamping a whole sentence or more, I line up the letters and stamp a word at a time. The quicker you work the easier it is not to make a mistake – try it, you don't have time to think about it! I've made a layout here, but this idea would also make a great addition to Project Life pages.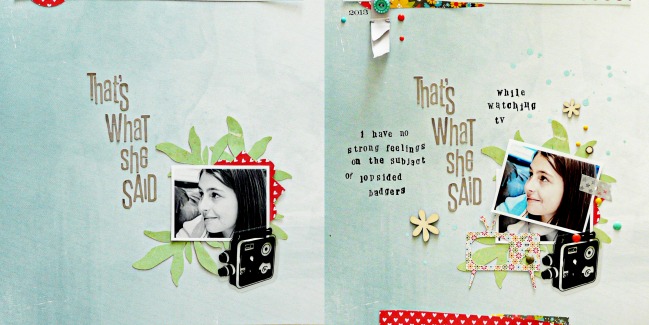 Go Ahead
Prepare your page ahead of time. See the layout on the left of my pairing? I could have added anything at all she said to it. It's a blank canvas page and I've started making up a couple of these when I don't have anything else I want to scrapbook. I keep it simple with embellishments I can add to when I add the words. The completed version with a stamped on quote is on the right. I'm thinking I could turn this idea into a mini album, with lots of pages prepared in advance.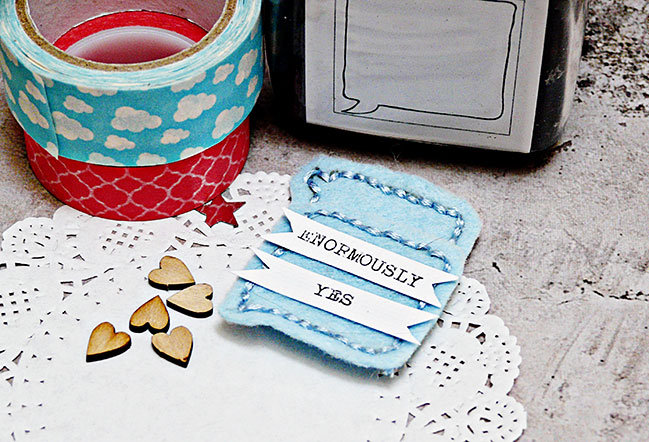 Go Small
These are speech bubble embellishments. I stamped onto felt, stitched over the stamping line with six strands of embroidery floss and cut it out. 'Enormously yes' is what my nephew says when he is absolutely agreeing with me, so to record it I typed up a couple of word strips to add to my bubble.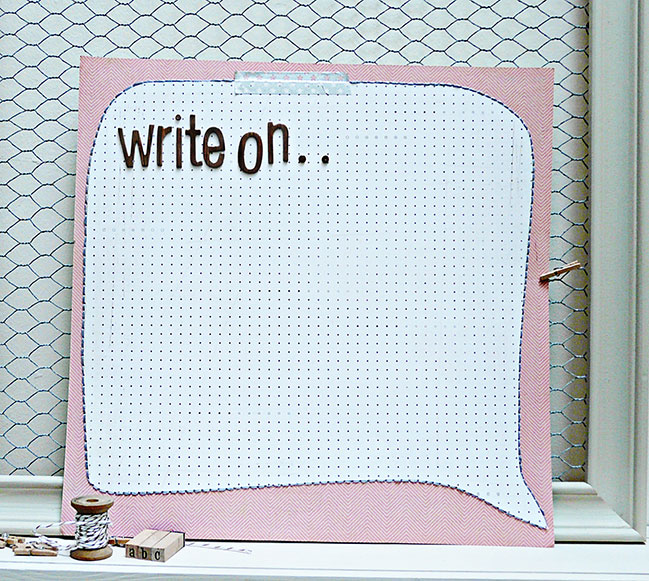 Go Large
This is another speech bubble – large this time – I've prepared, ready for just the right words. I drew it onto dotted patterned paper – graph or ledger would be good too: something you're going to want to fill in – stuck it onto the red for a brightly coloured contrasts and stitched round the edge. Use it like a notebook page to record what your family says: it doesn't even need a photo because the big bubble tells everyone what's important about this page.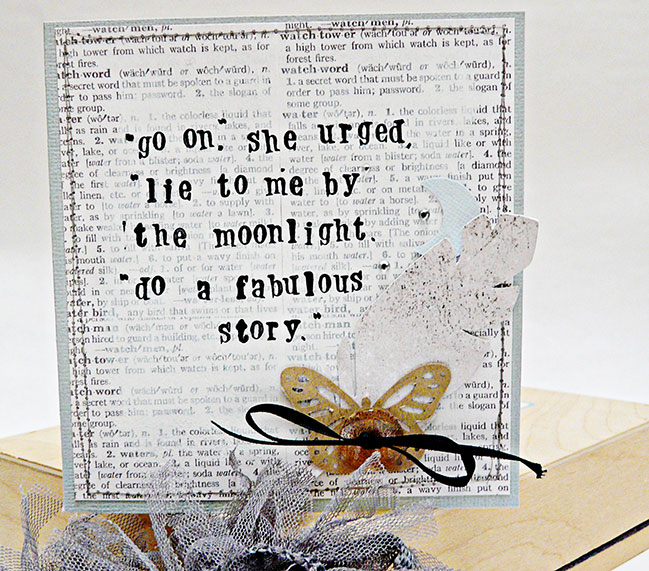 Go Send a Card
I don't just note down things my family say. Sometimes I'll see a great quote I'd like to remember too and it can be a nice idea to pass it on as a stamped greeting on the front of a card. Here I have used some words from F. Scott Fitzgerald, stamped onto a background patterned paper I had prepared with a light dry brushing of white paint. It's also fun to give someone a card stamped with one of their own quotes. Give them their words back… or keep them to yourself to bring out and enjoy some rainy day in the future.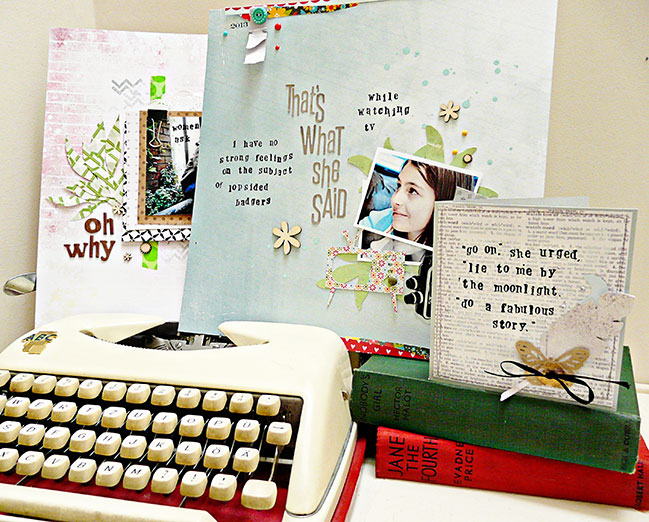 Go on: I bet if you ask around someone will remind you of the time you said… what? write it down! and then scrapbook it.
| | |
| --- | --- |
| Sian Fair has been making stuff since she first discovered how to hold a pair of scissors. When she isn't scrapbooking, she loves to stitch or knit and she's happiest when she can do more than one of her favourite hobbies at a time: that's a lot of sewing on paper, then she lives with her family in a very tall house in the city. Her crafting space is on the fourth floor and that's why she blogs From High in the Sky. Sian currently contributes to Scrap 365 and Jot magazine and is a member of the Get It Scrapped Creative Team for 2013. | |

Read more about:
25 October 2013

Next post: Border Punches with Decorative Tape:: A Scrapbook Tutorial by Tegan Skwiat
Previous post: Gardeners' Digest Scrapbooking Blog Hop (October 2013)