Modeling paste is such a fun, easy way to add texture to your pages! I'm thrilled to be here and show you some different ways it can make its way onto your projects. I love its versatility and the texture it adds to a layout or project. If you consider yourself mixed-media challenged, or just don't think it's for you, I hope to challenge those thoughts today.
Besides the modeling paste, the only other tools needed you most likely already have in your home. For all these projects I used Liquitex Light Modeling Paste. It comes in a jar, and I like to scoop it out with a wide popsicle stick, but you could also use a normal size popsicle stick if that is what you have. The stick also serves as my color mixer and my applicator. Besides a popsicle stick, you can also use an old plastic gift card to spread the paste around which is my preferred method. To change the color of the paste is so simple. On the projects below I used either Studio Calico Mister Huey or acrylic paint. You can change the color before you apply it, or you can change it once it has dried on your page/project. The only thing I find inconvenient about modeling paste is the drying time. You can use a heat tool, but it's best to just let it air dry. There's the basics… easy, right!? Now let's move on to the fun stuff.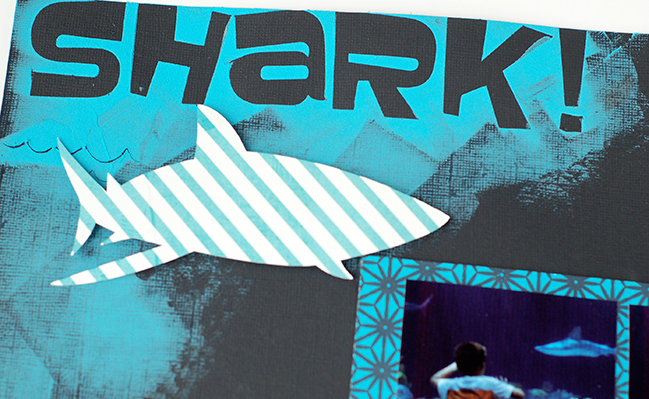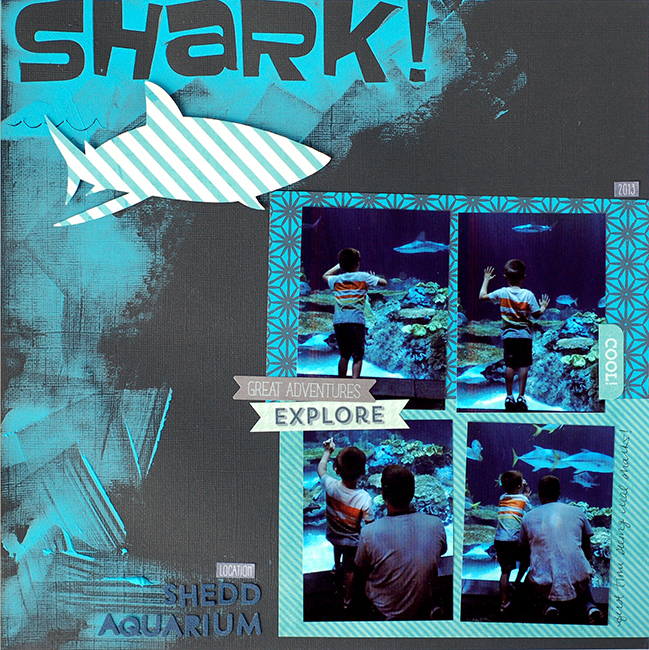 Create Your Title
This technique makes for such an eye-catching title, especially when using colored paste on black or white cardstock. An electronic die-cutting machine is a great tool to have for this technique, but not required. If you don't have a machine, you can use any chipboard letters or letter stickers as long as you can easily remove the letters from your project after paste application. For this layout, I used a Silhouette SD to cut the letters from a scrap of cardstock. Next, I lightly adhered the letters to the page using a tape runner with removable adhesive. You MUST be able to remove your letters — they will not be staying there! I spread the paste over the letters and leveled it out with a plastic card. I also drug some down the left side of the page. Once the paste has been spread around to your likeness, carefully peel off the letters while the paste is still wet. I used a paper piercer to peel up an edge far enough that I could then grab the letter and pull the rest of it off — tweezers can be helpful for this step too. Wait for the paste to dry and finish your layout.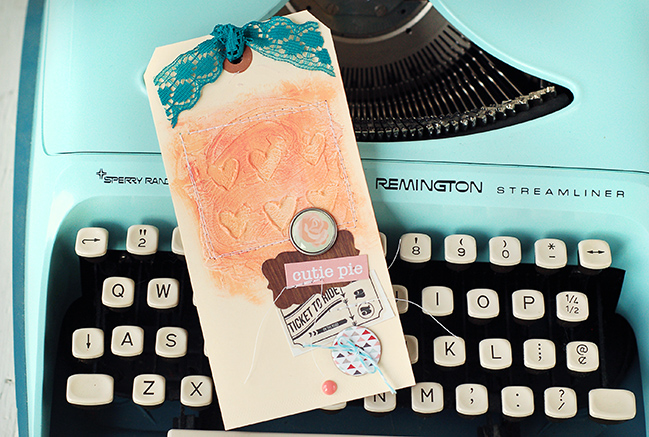 Stamp Into It
Not going to lie, finding the right object for this stamping technique can be a little tricky. The modeling paste doesn't hold small details, so the stamping is best accomplished with the most simple of shapes. For the hearts on this tag, I used a heart from a package of Studio Calico wood veneer. I tinted the paste with Mister Huey and spread it around on the tag using a popsicle stick. Next, I pressed the wood veneer heart into the paste several different times. Great thing about this technique is, if you don't like how it stamped just smear the paste around to 'erase' it and try again. Once dry, I did a little dry brushing with a slightly darker shade of acrylic paint for some additional interest and depth. You can stitch over modeling paste too… once dry of course!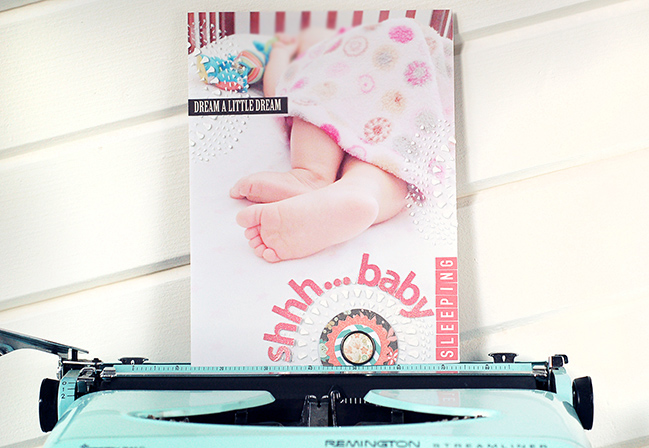 Add it Directly Onto a Photo
Find a photo with a lot of negative space and give this one a try. This photo/layout is 6 × 8 inches — Studio Calico Handbook size. I used a vintage plastic doily as my mask. Holding the doily down with one hand, I applied the paste with the other and then carefully removed the mask. I didn't add any color this time. I like the nice opaque white straight from the jar. I repeated the technique a couple more times for movement and variety, then added a title and a couple embellishments. Simple, yet impressive and eye-catching.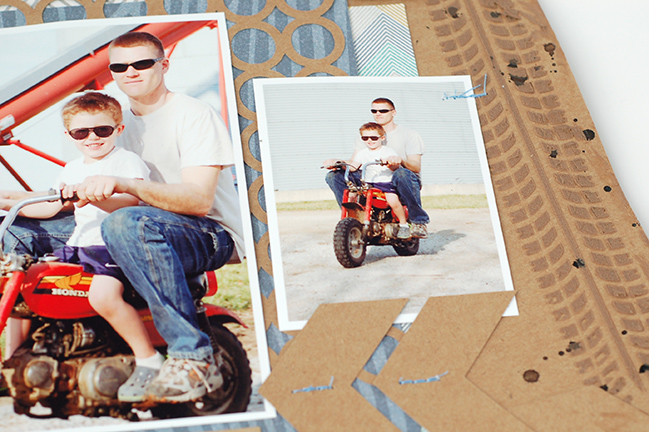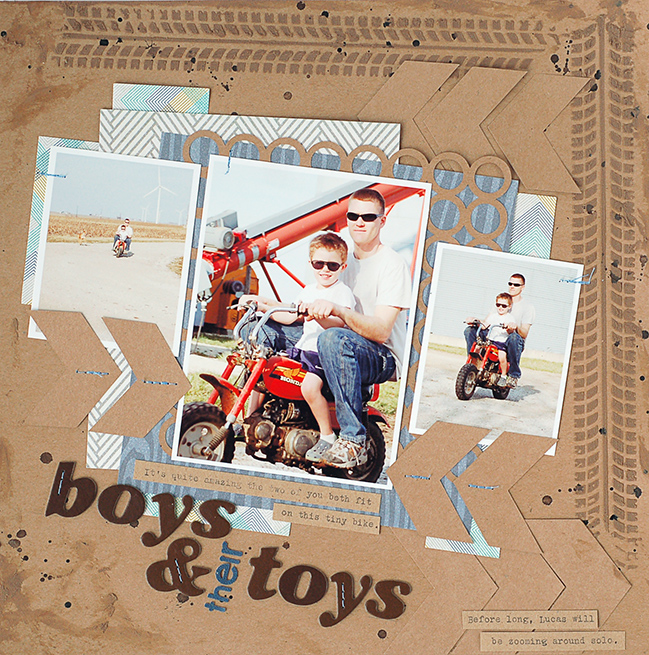 Make It Literal
What does modeling paste look like to you? I think it would be the perfect icing for a paper cupcake. Or if you are making a layout or mini album about remodeling your home — it looks like drywall putty. As depicted in my layout it makes pretty great muddy tire tracks. I used the 'tire track background' shape from the Silhouette store, and made a one-time-use mask with scrap cardstock. I colored the paste with Mister Huey, placed the mask down on my layout and smeared the paste over it. I saved my excess tinted paste by placing some plastic wrap over it on my mixing surface until I was ready to use it again. Once the tracks were dry, I splattered some mist and picked up a little of the saved paste with a popsicle stick. I smeared the extra onto the page in various places then completed the layout with patterned paper and photos.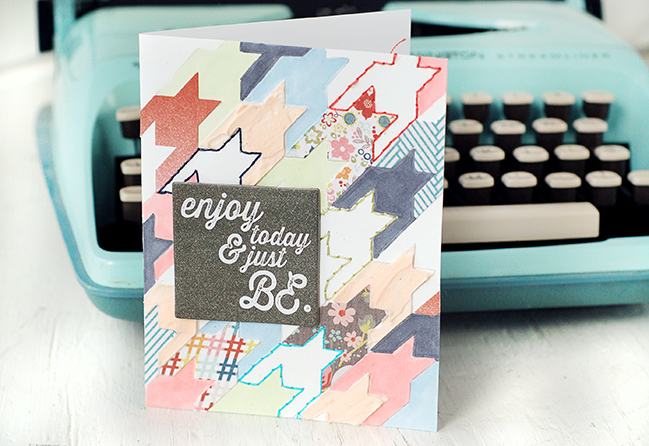 Build A Pattern
How about using modeling paste to make a basic pattern more interesting? I took a simple houndstooth shape and repeated it across this card, using a variety of mediums, for a stunning effect. The fun patterned houndstooth stickers are from the new Cut and Paste Line from My Mind's Eye. I applied one of them randomly on my card and based the rest of my pattern on the placement of this single sticker. Next, I needed to make a template so I can continue the pattern. To make houndstooth template/mask, I picked up the sheet of stickers and cut around the waste part of the sticker I just removed. I stuck the waste part to a scrap of cardstock, then cut the houndstooth shape out again with a craft knife. Now you should have ended up with a mask that matches that houndstooth sticker exactly. I took my new mask and with a pencil I traced the shape repeatedly until the pattern was complete. I applied the remaining four patterned stickers in various penciled spots. Next, I picked up the mask again and used modeling paste to fill in a few more of the penciled shapes. Finally, I colored a few areas with Copic markers and completed the last of the pattern with stitching. How's that for mixed media—stickers, markers, modeling paste, and thread!
So what do you think? Can you adapt one or more of these ideas to fit your style? Don't be afraid and give it a try! I would love to see what you make!
| | |
| --- | --- |
| Valerie has always been that quiet, creative, artsy girl. You know — the one who was yearbook editor and co-president of the art club? Taking photos and making is art is something she's always done. She put together her first scrapbook as a young teen back in the 90's. Thanks to a high school and college art background, there isn't a medium Valerie's afraid to use. She might even be a bit of an art supply hoarder. She resides on a farm in Illinois with her husband and 4-year-old son Lucas. Lucas is the best foster brother to the sweet baby girl who has temporarily joined their family. Valerie is a stay-at-home mom and freelance graphic designer. Currently she is on the design team for My Mind's Eye and is a contributor at Write. Click. Scrapbook. You can find more of Valerie's work on her blog . | |

Read more about:
27 September 2013

Next post: Memory Keeping By Numbers:: A Scrapbook Tutorial by Julie Kirk
Previous post: Colourful Gelatos:: A Scrapbook Tutorial by Patricia Roebuck