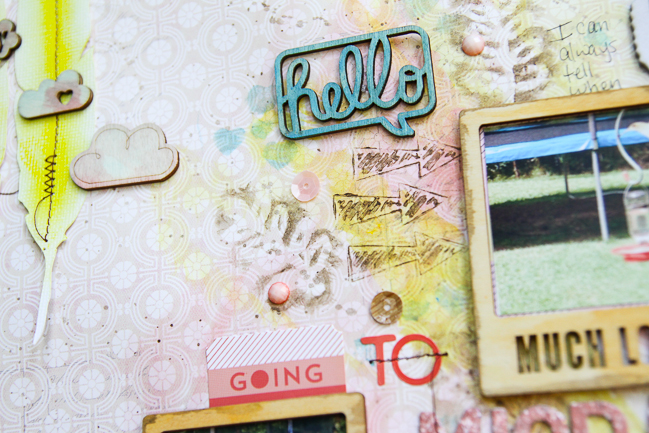 Im excited to share with you my current go to mixed media product and techniques. I find I am turning to Gelatos for my layouts and Project Life spreads to add color and texture over and over again. Here are a three projects I have previously done on Gelatos. Project Life, Photo Bomb and Hello-Hansens.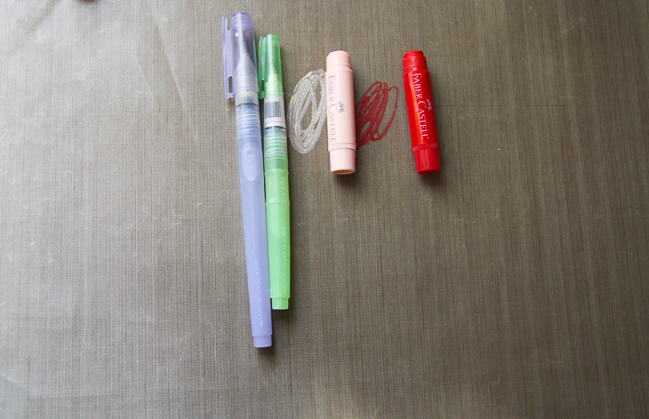 I gathered an assortment of Gelatos and a water pen, or you can use a paintbrush and a cup of water. I use a non-stick mat to write a few marks to get started, but you can use wax paper as well.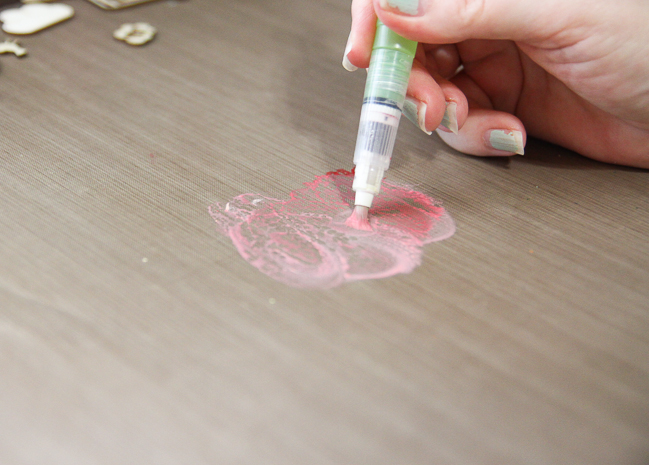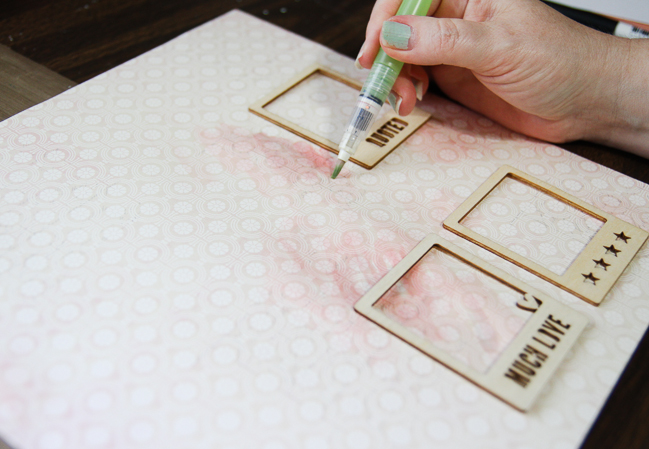 Because I wanted a paler color red and a darker color peach, I mixed the two colors together to create a soft blush color. Then while squeezing the water brush slightly, I paint quickly across the background paper. My paper did warp because I used a good amount of water to get the Gelatos to spread. The warping doesn't bother me. But you can try to use less water and/or put something heavy on your pages overnight to flatten.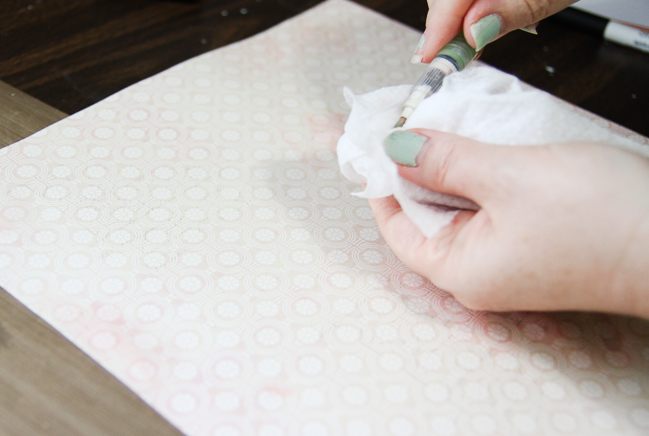 I switch colors often and find using a baby wipe works well to give me a clean brush.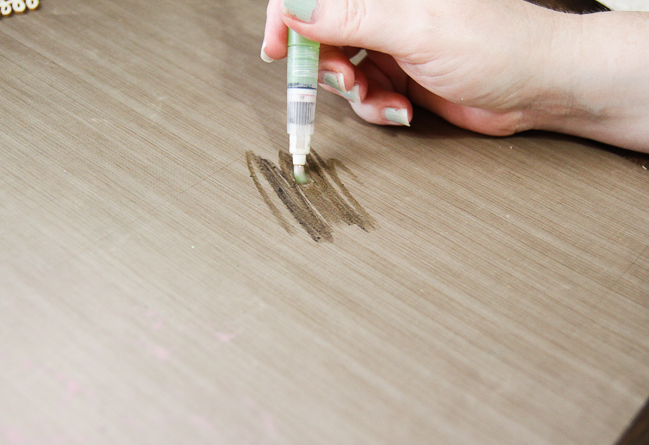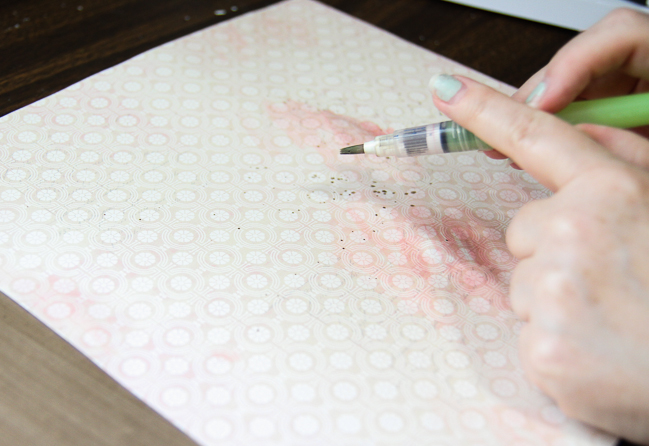 I want to build layers on my background before I start placing the photos and frames, so next I squeeze a generous amount of water to mix the dark brown and then flick my water brush across my background for little splatters.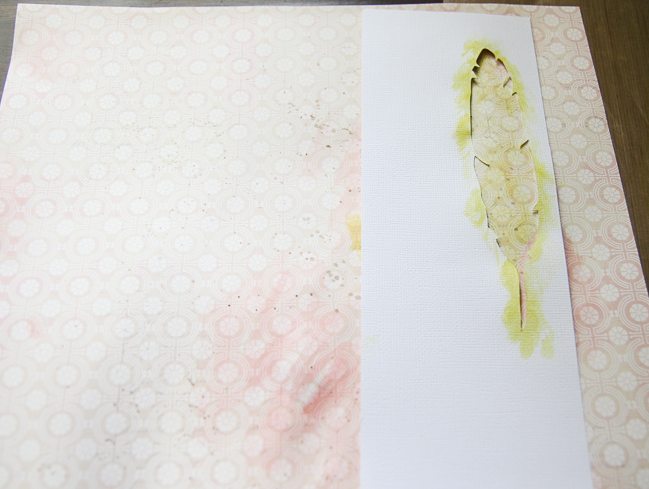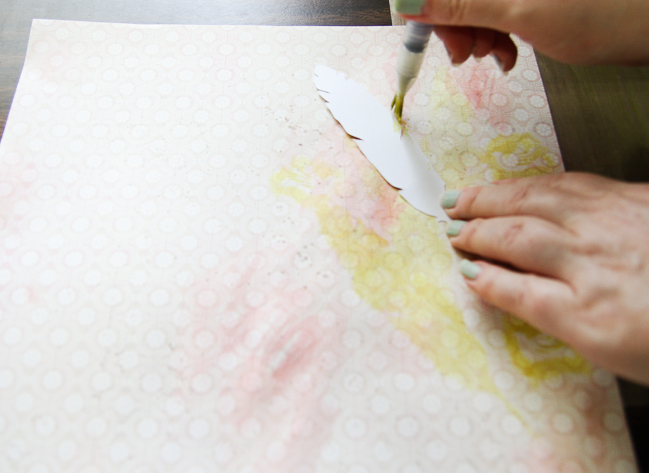 I'm ready to add more color. Using both the negative and positive feather die cuts, I use a larger brush and a stippling motion of my water brush to stencil and mask on the background.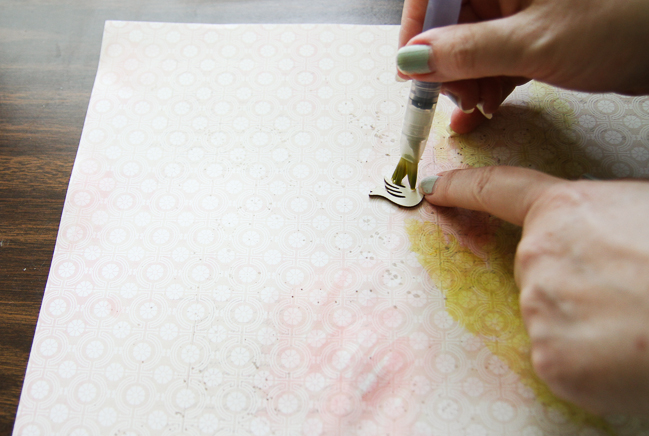 I have several wood veneers that would work for the theme of my layout, but decide to use a few as a mask to continue creating my background.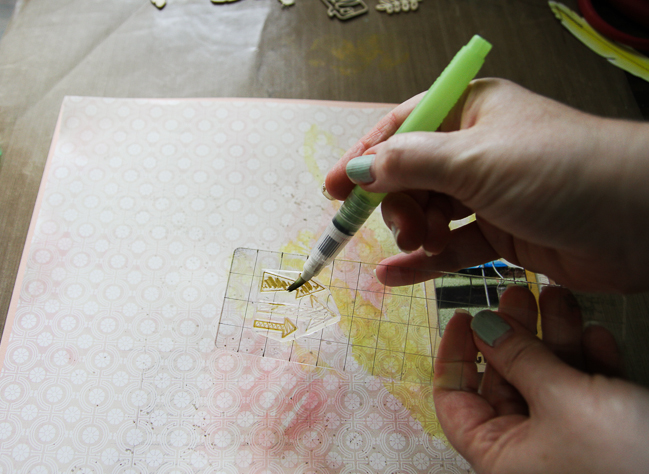 I added an arrow stamp and randomly stamped an asterisk stamp on the background for more color and texture. To stamp with the Gelatos, I use the same water brush, but I suggest experimenting with stamps as some will not stamp a clean image, and the amount of water will effect it as well.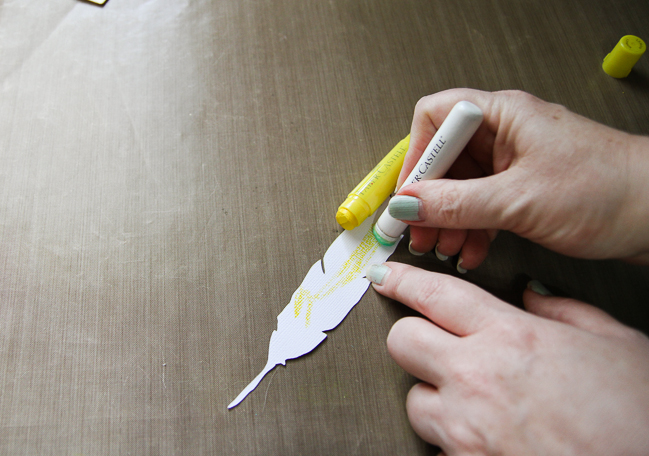 I want to include the positive feather die cuts, so using the Faber Castell sponge tool, I rub the Gelato into the cardstock. I like the soft, airbrush look this gives to the feathers.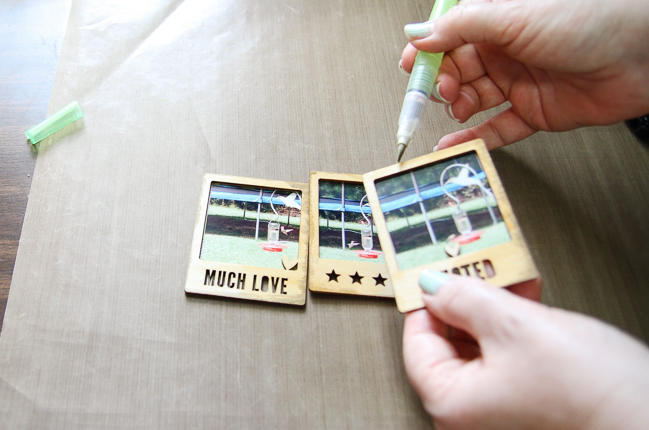 After I brush on the light and dark brown Gelatos onto the wood frames, I am ready to put the frames, photos, and embellishments onto the background now.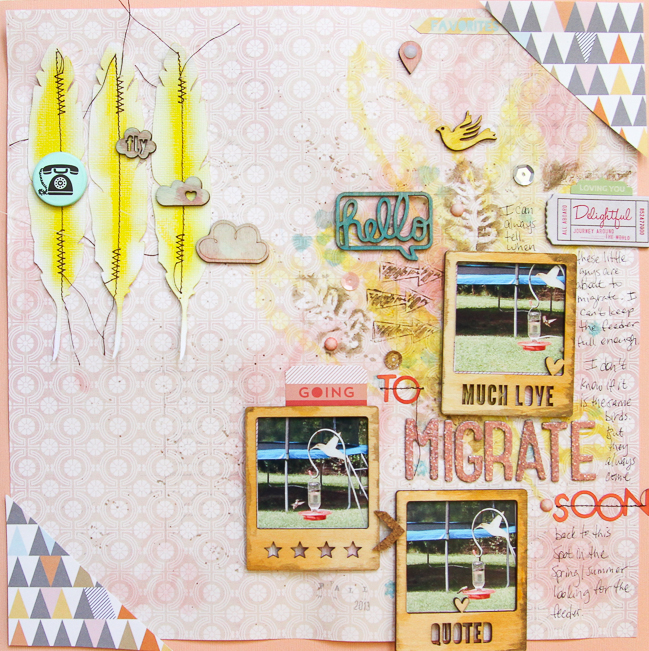 My layout came out artsy because of the layers I created on the background. But Gelatos work with any style or any scrapbook mood. Use any combination of the five ways I've shared to create completely different looks each time such as, painting and creating splatters with water brush, masking and stenciling, using a dry sponge, painting wood veneers, and/or stamping. Instead of stamping with them, try coloring in the stamped image. For a clean and simple look, pick only one technique, such as painting only the wood veneer accents. I hope you try one of these techniques and see which one fits your style.
| | |
| --- | --- |
| Patricia Roebuck lives in Mandeville, LA, about 30-45 minutes from New Orleans. Patricia lives with her husband of almost 23 years, her five-year daughter, and her eighteen year-old cat. She discovered her addiction to scrapbooking while waiting to adopt her daughter from China. Patricia has been published in Scrapbook Trends, Creating Keepsakes, Scrapbook & Cards Today, Scrapbooks, Etc., Scrapwerk, and Paperhaus. She is currently designing for Lily Bee Design, American Crafts, and Scraptastic Kit Club. She blogs at Patricia Roebuck. She is frequently on Instagram and Facebook to connect with friends and family. | |

Read more about:
24 September 2013

Next post: Five Ways to Use Modelling Paste by Valerie O'Neall
Previous post: A little something new is live right now!