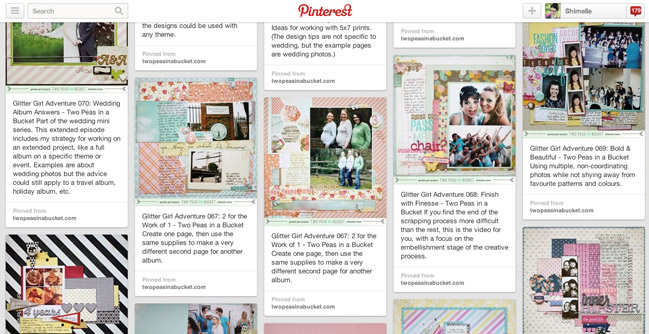 I know I'm dreadfully behind at keeping up with Glitter Girl's adventures here. She has eighty-seven episodes now! She has never missed a week since starting her Wednesday videos at Two Peas and YouTube at the beginning of 2012. Now, I definitely have plans to get that Glitter Girl archive up to date here soon, but I've also had some requests for a sort of quick guide that would allow you to jump right to the project you need. With that many videos, it's easy to get them muddled in my mind, and I have to help that Glitter Girl person film and edit them every week! They display at Two Peas and YouTube with a sneak peek thumbnail and the titles are a little less than straight forward sometimes, so it's time for a simple guide that includes the full layouts and a description of each episode.
You can find exactly that now on Glitter Girl's pin board over at Pinterest. Each week's adventure will be added, so you're welcome to follow the board for updates if you like. Or just bookmark if it you tend to get stuck looking for an old adventure you remember but can't quite identify from titles and thumbnails. If you're more interested in catching the new videos each week rather than going through the archives, it may be best to subscribe to either my YouTube channel or the Two Peas channel. Glitter Girl's videos are hosted on the Two Peas channel, but they are also featured in a playlist on my channel, so both channels give subscribers a reminder link when the video is up each Wednesday!
I hope you find the pin board helpful, and Glitter Girl asked me to thank you for your ongoing support for the series!
xlovesx

Read more about: adventures-of-glitter-girl two-peas-in-a-bucket
15 September 2013

Next post: Scrappy Shaving:: A Scrapbook Tutorial by Heather Leopard
Previous post: Subtle Stamping:: A Scrapbook Tutorial by Sasha Farina