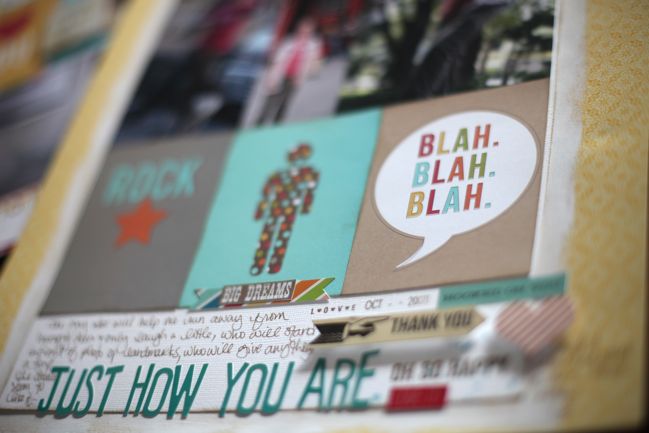 In every Best of Both Worlds kit, I include at least one cut-apart sheet with either 3×4 or 4×6 cards, and June's kit had not just a sheet but also an additional booklet of 3×4 cards, and I only make the odd divided page here and there! Time to get cracking on ways to use 3×4 cards on a 12×12 page then.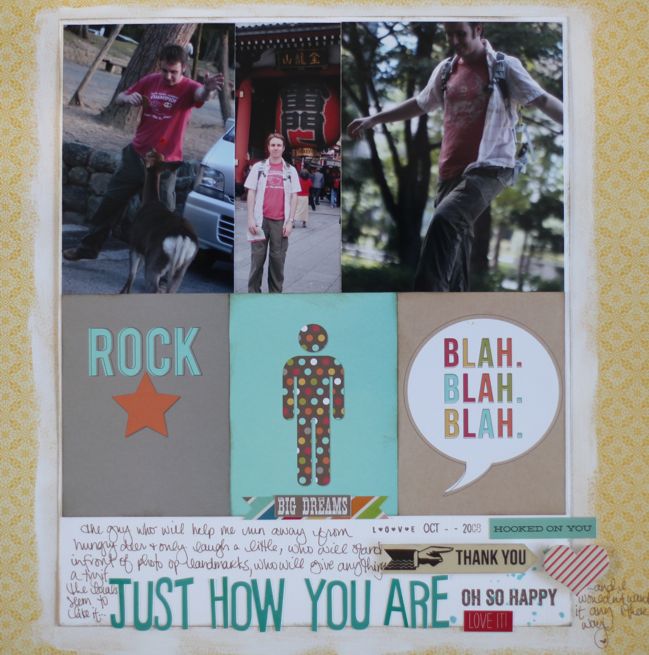 I think Noell's flexible template must have stayed in my mind a bit, because again the photos are at the top and everything else is lined up in the space below that, but indeed this page looks different to the other. Everything on this page is from the June Best of Both Worlds kit, except the date stamp, a sheet of white cardstock, white paint, and turquoise spray mist in the bottom right corner.
Everything on this page started with that line of three 3×4 cards, then I built outward from there, which was a little different to how I started with the photos and worked down on the previous page. Lately I'm finding whenever I start working on a page with a sheet of cardstock, I will be almost finished with the layout and decide I don't like the entirely plain background. Trimming it down and adding it to patterned paper is improving those pages to my eye right now and you'll see a few more examples of that this weekend. In this case I felt the white cardstock to the delicate yellow pattern of the background was just too harsh, so adding a bit of white paint around the edge softened that. I think without that there would be so many straight lines on this page that it could be quite jarring in my albums. I find graphical styles work best if they are consistent from page to page in an album, and just the odd linear design here and there mixed in with pages that have slight angles and plenty of layering feels a bit off. But it doesn't take much to bridge the gap between the two styles: a little paint, a few droplets of mist, and allowing three stickers to cross over the edge of the white cardstock was enough here.
Now the challenge is yours: choose three 3×4 cards and line them up. Start there and finish your page in your own style, with any photos or anything theme. Upload your finished project to your blog or a scrapbook page gallery, and leave a link here to share! Happy scrapping.

Read more about: best-of-both-worlds-kit
02 August 2013

Next post: Scrapbooking with stickers. So many stickers.
Previous post: Scrapbooking with a Flexible Template