You might remember when I posted the last Sketch to Scrapbook Page video that it was a little something different – trying a sketch by someone else. This video is the follow-up to that, creating a page that is not strictly a sketch but what Noell Hyman calls a flexible template.

Noell often shares flexible template designs in her Paperclipping Membership videos, but I wanted to work with one that all of you could see rather than just members, so I'm afraid I had to pick an older template. Like I mentioned on the episode of PRT when we discussed all this, I was a little nervous that she might kill me for that. But the design advice she gives is still perfectly sound – it's just that when you usually work with current collections, it does make older products date unnaturally fast! Noell uses a variety of products and you can see her more current pages on her blog if you're looking for inspiration in her style with something you've just ordered. It may make the most sense if you watch Noell explaining this flexible template first – it's about five minutes.

Here's my interpretation, taking it from an 8.5×11 to a 12×12 page, so working with squares rather than rectangles. Almost everything here is from the June Best of Both Worlds kit, with the exception of some enamel dots and the corner rounder.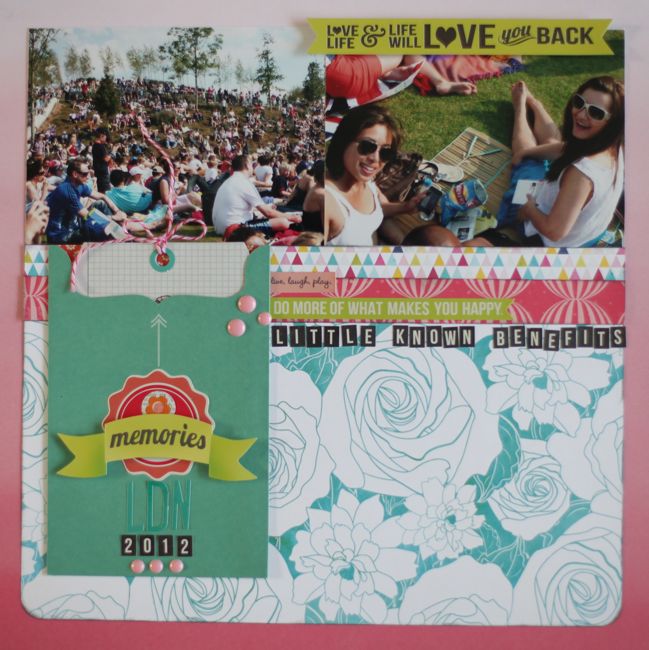 And with that, welcome to a weekend of Best of Both Worlds inspiration! I'm not following a set schedule throughout this weekend, but there will be a variety of posts starting now and going through till Sunday night. Some have videos, some do not, but everything links in some way to the Best of Both Worlds kits. You're welcome to participate in the challenges with any supplies you want (though I do hope you consider a kit at some time!) and all the challenges will stay open till the end of next weekend, so you have a bit more time than just these three days. So let's call this challenge one then, shall we? Give Noell's Flexible Template a try in your own style, upload it to your blog or a scrapbook page gallery, and leave a link here. You're welcome to apply any of these weekend's challenges to cards rather than scrapbook pages if you would like – whatever you prefer.

Read more about: best-of-both-worlds-kit paperclipping-roundtable
02 August 2013

Next post: Scrapbooking with three 3x4 cards
Previous post: Five Ways to Recycle Items from Daily Life on your Projects by Jessica Lohof