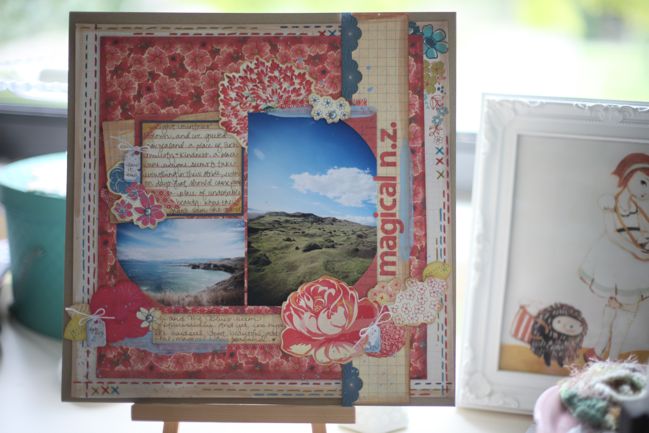 I'm tempted to treat paint as the scrapbook supply with the greatest potential for mess, but I've actually made a lot more mess with bits of paper and those pesky backings from pop dots ending up all over the place than any paint disaster that has ever existed on my table! But still, there is something a little intimidating about putting paint to pretty paper. Maybe because it's a case when it could go horribly, horribly wrong.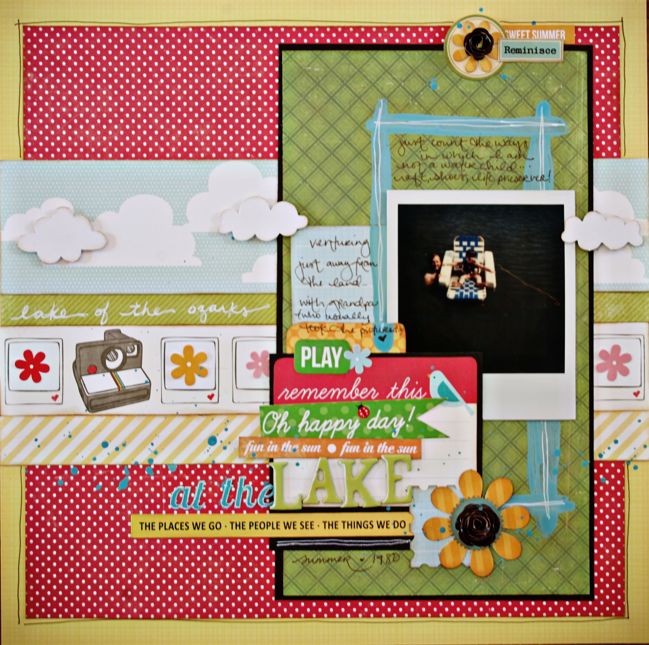 I've actually only had the horrible, horrible happen once, and that would be when I reached across a layout-in-progress to answer the phone and knocked over the paint bottle, spilling at least half the bottle and covering more than half of the page. I don't remember who was on the phone and I hope they have forgiven me for the panic that ensued. This was when I adopted a preventative measure and started adding the paint to a teacup so it would be harder to topple and highly unlikely to splash everywhere since there wouldn't be much paint in the cup at any one time. It has saved many a layout from an untimely end, I'm sure, because I am often the least coordinated person in the room.

Here's a bit of evidence of my tea cup phase! It's actually something I'm looking forward to returning to as I get all my supplies back in place, tea cups included. The Jenni Bowlin paints have sadly been discontinued by Ranger, but I stocked up when that was announced and they are still holding up well. Provided you can keep a good seal on your acrylics, they can keep for a very long time, so make sure there's not paint on the seal of the bottle and you'll be all set.
And now to guest artist Corrie Jones, who probably doesn't throw paint over her layouts when the phone rings!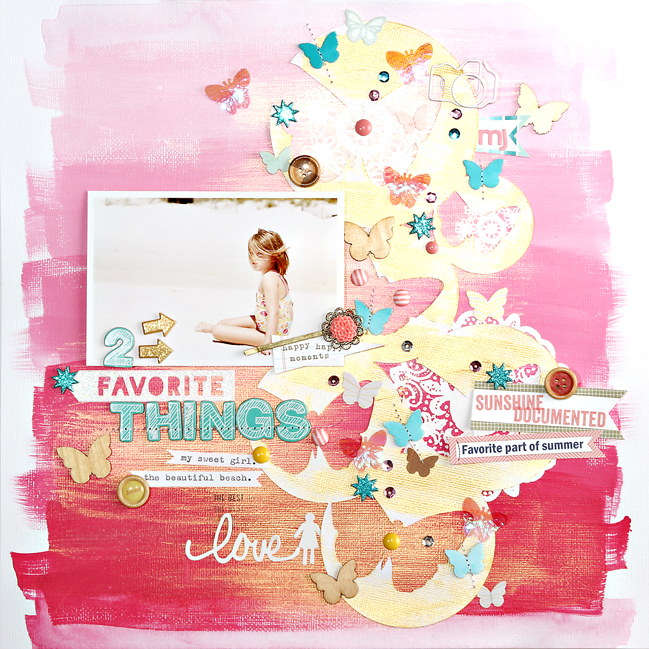 I love working with paint. I find it to be one of the best mediums to get the most out of my supplies. Not only does paint work perfectly to color chipboard, wood veneer and plain Thickers, but it also gives me complete creative freedom to create custom backgrounds for my pages. The more and more I use paints, either acrylic or watercolors, the less patterned paper I use and the more "me" I feel like my pages are becoming. For this page, I used paints to create an ombre background with red paint and gesso. I also used gold paint to give the butterfly circles some random color. Lastly, I painted white fabric butterflies different shades of teal to compliment the pink. I challenge you to use some paint on your pages! Allow yourself to play with colors and embrace the brushstrokes.

About the Artist
Corrie Jones lives with her husband and three active daughters in the suburbs of Atlanta where she spends a considerable amount of time playing a taxi driver and trying to stay cool in the heat. She has been scrapbooking since 2009 and has found that it forces her to remember how amazing this life and world are, even when things aren't happy and perfect. Beside scrapbooking, Corrie enjoys photographing her kids, reading on the beach, and eating sushi with friends.
Corrie enjoys being on design teams and can currently be found over at Two Peas in a Bucket as a part of the Garden Girl team or on her blog, You, Me & Crazy.
Your nineteenth challenge is to paint it up! Entries close at the end of next Sunday, the 12th of May. Please check back on the 14th of May to see if you have won a prize.




Read more about: inspiration-party
04 May 2013

Next post: Scrapbooking smaller photos
Previous post: The Power of Three in Scrapbook Design