It says something to me that the pages I created for my journaling workshop, True Stories are actually some of my very favourite pages even now that they aren't the newest pages added to my albums. The True Stories pages reminded me that I love scrapbooking best when the story, the photos, and the design all work together in one happy world, each taking a little inspiration from the rest rather than forcibly existing in the same space.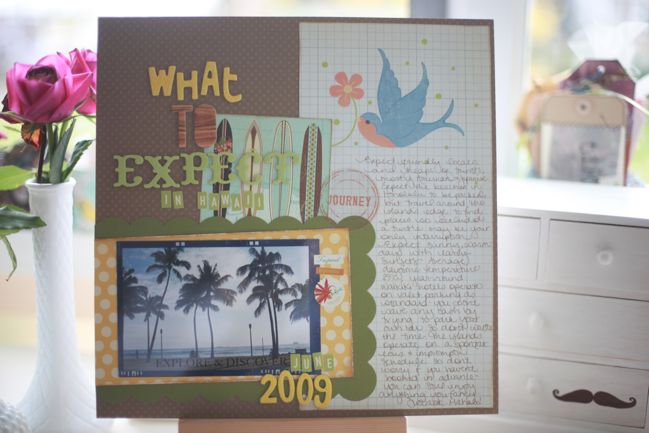 Specifically, using repetition in writing is something I find really helps scrapbooking journaling take on a new importance and a clearer voice. I wrote about a particular bit of repetition here that makes things really simple for daily writing, which might be helpful if you keep a Project Life album but wish it was easier to write something about each day. This take might be useful reading too. But really, any word you repeat takes on greater importance, while at the same time it's taking away a decision you have to make at the start of each sentence, so repetition is scrapbook journaling actually makes your writing sound better while being easier to write. What's not to love about that?

Glitter Girl has a few notes for making journaling a little easier too, just in case you're interested. (See this page for further details on this Glitter Girl Adventure.)
And now for our guest artist, Lexi Bridges, who has made me remember the typewriter should be the next thing I unpack.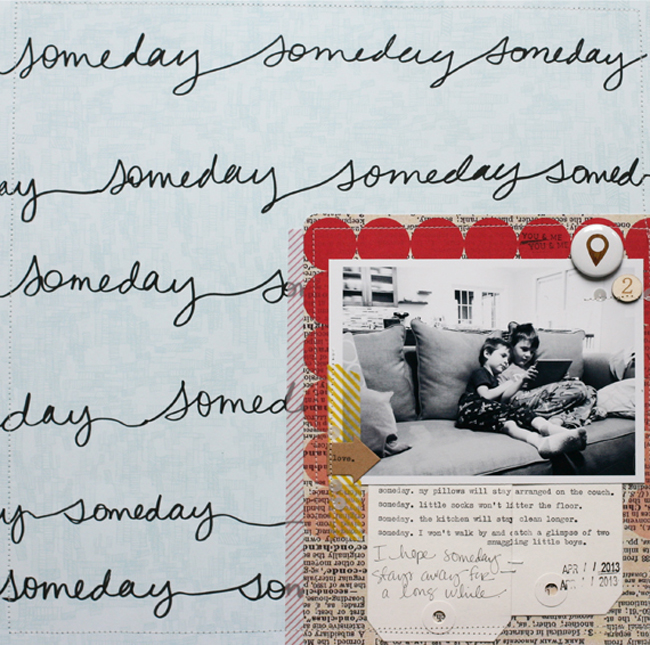 The challenge for journaling with a sentence starter that repeats had me excited because I had this idea of creating a repeated word background for awhile. I thought it would be a perfect time to try it out for this challenge. I could have gone with several words…remember, this, love, but I went with "someday". I used a galaxy marker from american crafts to write on the patterned paper. I practiced a few times on scrap paper because I'm not really a fan of my own handwriting. With a marker and only one sheet of the background paper I wanted to use, there was no turing back, but I liked the imperfect, organic feel it had. I altered where I started the words so they wouldn't be all lined up in columns.
The base of the photo mat is actually an album insert from studio calico. The ombre circles on the dictionary paper make it look like a paint/ink job, but without the mess or time to create it. I used two white office supply tags tucked underneath my photo to journal on. I almost always use my typewriter for journaling and I like how it looked combined with the handwritten background.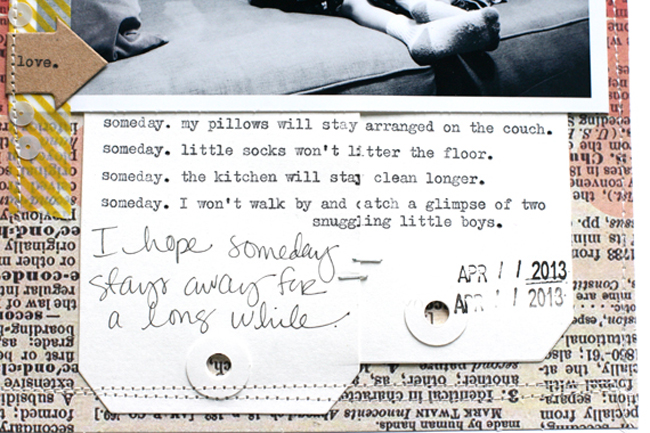 I'm usually all about the embellishments, but with this layout wanted the focus to be more on the words and the story in the photo. I typed "love." on a Maya Road arrow which is sewn with a splash of yellow washi tape and a few sequins. The upper corner of the photo almost has a photo corner created with embellishments: a geo tag badge marking where we are at this moment in our lives with these two boys, a number 2 veneer piece for the two of them, and a few more sequins to tie in the sequins that go on the side.
And the story behind the photo? I happened to notice it was quiet in the house…and if you are a mom like me you know that usually it means someone is into something. Instead I walked into the room to find these two little guys snuggled together playing a math game. When I took this picture I noticed the messy kitchen in the background and the pillows all crazy-like. You can't see the socks laying in the floor or the school books scattered here and there. And I thought…it won't always be like this. Someday my house will be quiet. And clean. And I will long for days of mess and noise and two little guys snuggled side by side. So I am choosing to ignore the mess and embrace the moment…and, as my journaling says, hoping that the "someday" of quiet and clean stays away for a while longer.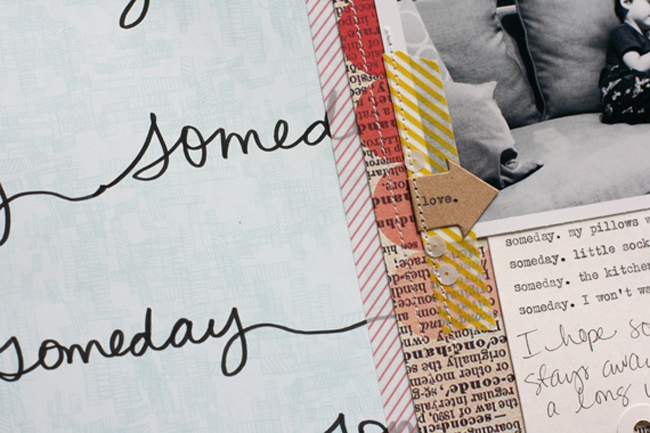 About the Artist
Lexi Bridges is a Garden Girl at Two Peas in a Bucket. You can see more of her work on her blog, Prone to Wander.
Your fourth challenge is to write with repetition! Entries close at the end of next Sunday, the 12th of May. Please check back on the 14th of May to see if you have won a prize.




Read more about: inspiration-party
03 May 2013

Next post: Scrapbooking ideas for brads and eyelets
Previous post: Scrapbooking with Spray Inks and Mists