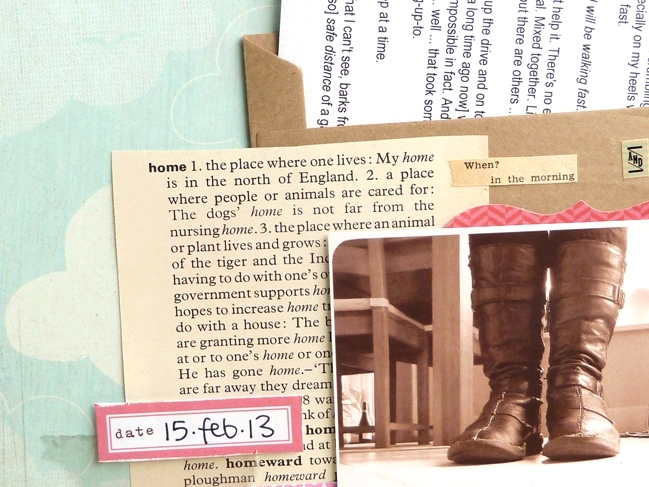 Please welcome the lovely Julie Kirk, who note only has a delightful sense of style in all things papercraft, she is also in the middle of a very interesting and useful series of posts on making the most of your blog! Do check that out – but after you have checked out her fabulous five ideas, of course!
If you looked closely at everything I've created for the fun of it [in my scrapbooking, art journaling, card making, collage and more] over the last couple of years I'm pretty sure you'd be able to spot at least one snippet cut from an old book somewhere on the vast majority of it. So much so that working with old book pages seems to have become a 'signature style' for me and it's all because of the serendipity of it all, the delight in never quite knowing what inspiration I might find hidden inside a book that nobody's opened in a long time!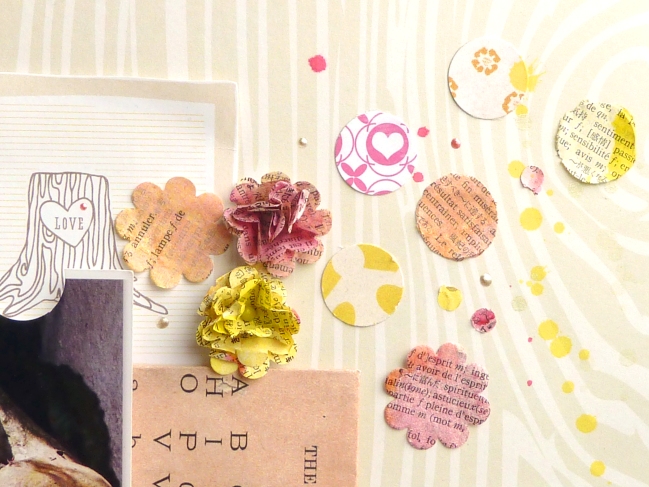 Now, don't get me wrong, I love browsing through and selecting brand new supplies, new patterned papers never fail to inspire and set me off planning which pages to make with them. But when it comes to finding that something extra, to help me tell the story of a layout, or to put a new spin on a familiar technique or to add another layer of interest then it's my collection of old books I turn to. So here's a few projects to tempt you to do the same.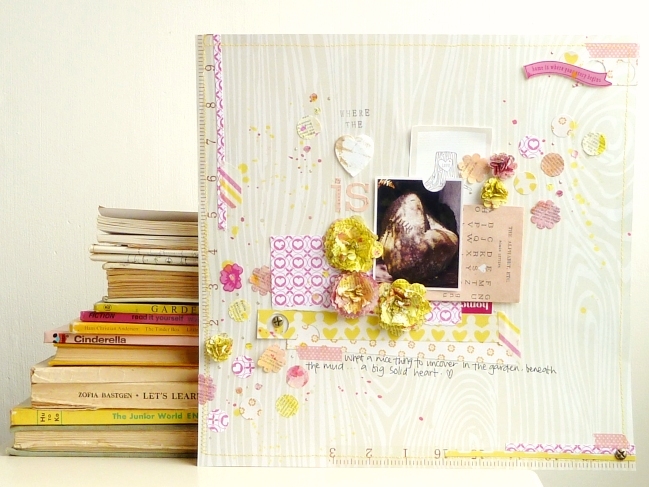 1. Inked and die-cut flowers
This is a fun way to add several additional levels of interest to a technique often used with plain tissue-paper. Grab several sheets of very thin book paper [you can often find this inside pocket dictionaries] and spritz and splatter them with a few shades of spray ink. Once dry die-cut the sheets using various small pinked circle and flower dies [you can cut through several sheets at a time as the paper's so thin].
For each flower stack-up around five or more layers, push a small brad through the centre then, starting with the top layer, carefully scrunch each layer up toward the centre to create a perfect papery bloom.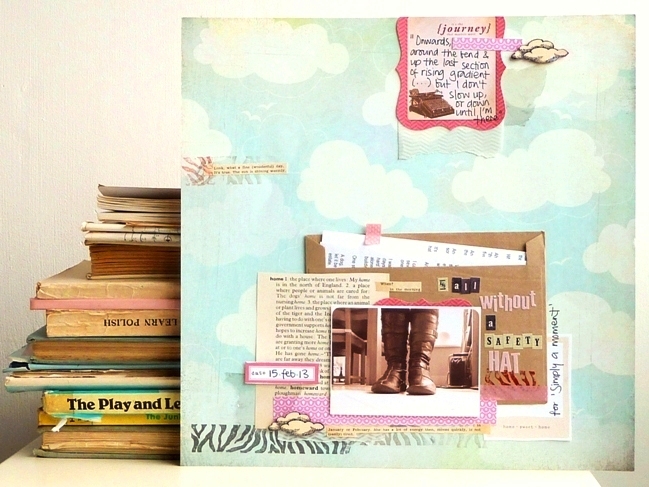 2. Using dictionary definitions to tell your story
Dictionary definitions occasionally make an appearance in scrapbooking ranges don't they? But, to be sure of always finding the exact one you're looking for … try an actual dictionary because it's full of them! Definitions can help to support the subject matter of a page in a way that's often easier and more subtle than seeking out a fully matching themed paper range.
For this page I used the definition of 'Home' as found in a 1960s children's dictionary to fit the theme of my page which documents an everyday adventure: a walk I took from home to the Post Office last month. I'd blogged about the trip as part of the 'Simply A Moment' meme hosted by Simply Alexa then I printed off the text from the post
and popped it inside the envelope on my layout.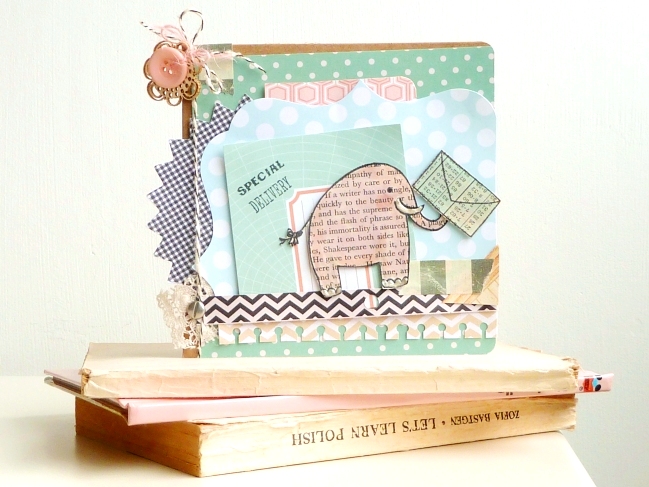 3. As a background for stamping and colouring If there's one thing on my 'just don't like it' list of crafty activities it's stamping images directly on to cold, blank, white cardstock before colouring them in … so I don't do it! Instead, I tend to stamp onto lightly patterned, self-patterned, off white papers and book pages which offer a lovely soft and interesting base for stamped images especially those which have open areas in the design, where you can see the text beneath.
Here I stamped a super-cute Polka Doodles elephant onto a page all about Shakespeare and gave him an envelope stamped onto a book page filled with numbers (which I stock in packs as well as regular text page packs).
Once stamped I colour my images with ProMarkers or pencils depending on whether the print on the old page reacts with the pen ink or not.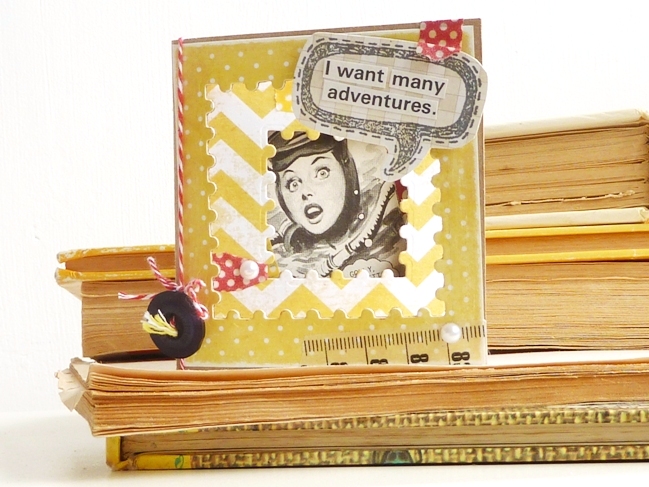 *4. Hiding an image behind an aperture&
Aperture cards offer you the chance to have a focal image hiding away behind a frame or two, just waiting to be revealed in full when the card is opened. And there's some fun images to be found on the pages of old children's annuals, which you can find really very cheaply in charity shops and car boot sales, that are ideal for this.
For this tri-fold card I placed the image on the central panel before cutting frames from the two panels on either side. If you'd like a clearer idea of how this works, there are a few extra images of this card, taken at different angles, on my blog today.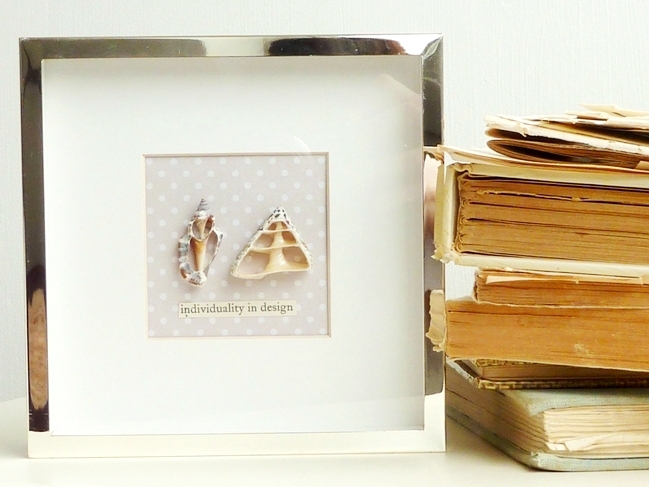 5. Giving a title to quick wall art
If you're anything like me you'll have at least one empty frame sitting, lonely, on a shelf in your house. Go on, admit it! But with a few items and a snippet of text from an old book you can transform it into a sophisticated piece of wall art in under twenty minutes!
Here I used a scrap of spotted scrapbooking paper, two shells and a phrase cut from an old architecture book to create a little work of art for my bathroom wall. Alternatives could be to frame a selection of buttons, crafting embellishments, or even a brooch.
Then, when it comes to finding a phrase, there's no need to go flicking through pages for any specific wording, or with any preconceived ideas of what you want to say. Simply leaf through with an open mind until your eyes to find something as serendipitously perfect as the one I found.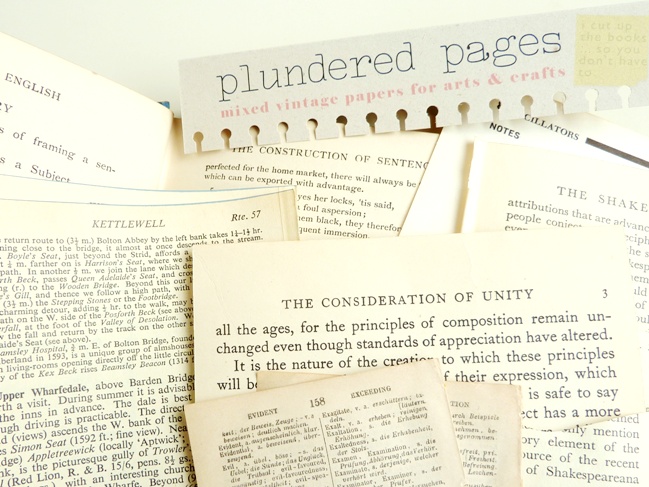 I hope my projects today have given you a few ideas of how old pages can be combined with modern styles of paper crafting and even home décor. One of the best things about introducing book pages into your crafting is that it's cheap and plentiful meaning you're free to experiment … and fail … and then experiment again without feeling restricted.
And, if nothing else, old pages offer so much in the way of surprises, you really never know what wonderfully inspiring image, print or phrase will leap out from between those dusty covers!


Julie Kirk documents everyday stories through her scrapbooking and shares her love of vintage paper supplies through the packs she creates for her Etsy shop. She's a regular designer for Papercraft Inspirations magazine and contributes to the 3DJean design team blog. Meanwhile through her own blog 'notes on paper' and her Facebook page, she shares creative projects, hints and tips, stories, plus anything which might raise a smile.

She is currently raising money for charity by swapping free blogging-advice for donations in her Push-Up Bra Blogging e-course which is open to all.







Read more about:
29 March 2013

Next post: Best of Both Worlds :: My scrapbooking product picks for April 2013
Previous post: Double Washi Tape Frame:: A Scrapbook Tutorial by Wendy Sue Anderson