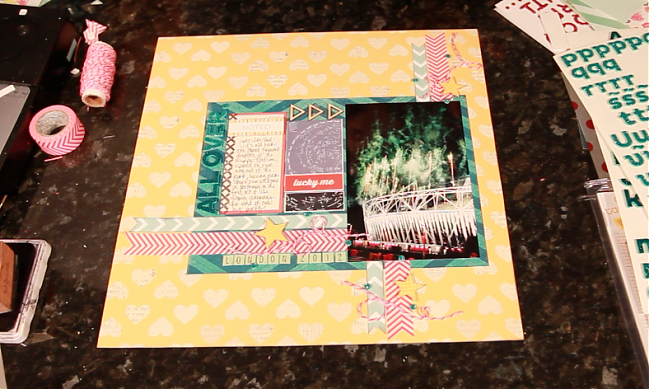 Usually when I share a Sketch to Scrapbook Page video, I stay quite true to the sketch and the guests sometimes give it a bit of a twist, but today we're swapping that around. I designed this sketch thinking of triangles cut from various patterned paper scraps, but once I had my supplies on the desk, I decided to take it in a different direction to embrace the current trend of chevrons and arrows. Maybe I will come back and give the triangles a try too, but rest assured, today's guest has made that look ever so pretty.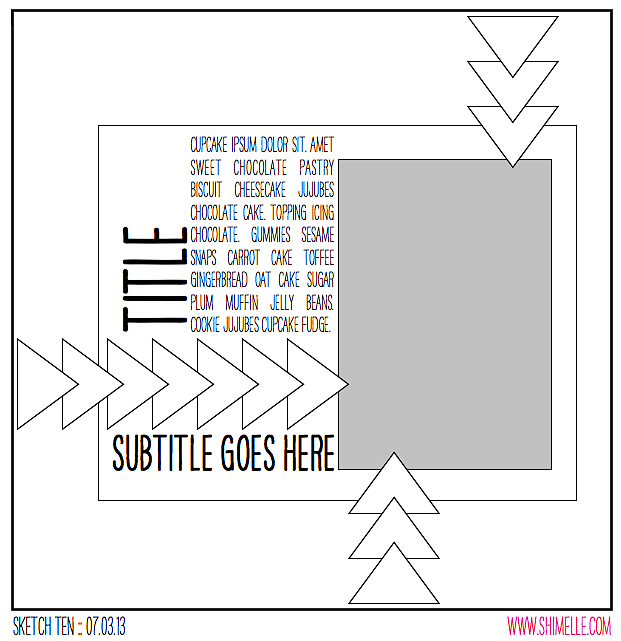 I imagined this sketch with a single photo (4×6 or 5×7 would both work) so the triangles form arrows that point to that important picture. You could replace that single photo with a collection of smaller pictures, or include more photos across that central block of the page if that's better for your style.

The supplies for this page are all from my March product picks for the Best of Both Worlds, plus some paper stars left on my desk from a project months ago and a bit of baker's twine. The photo is of the fireworks at the end of the closing ceremony at the Olympic Stadium – taken as we were leaving the park just ahead of the crowd. Bittersweet! Although my Olympic album will have a few stories that chronologically take place after this photo, I think it will mark a sort of end to a chapter within that book as it comes together. That's the plan, anyway!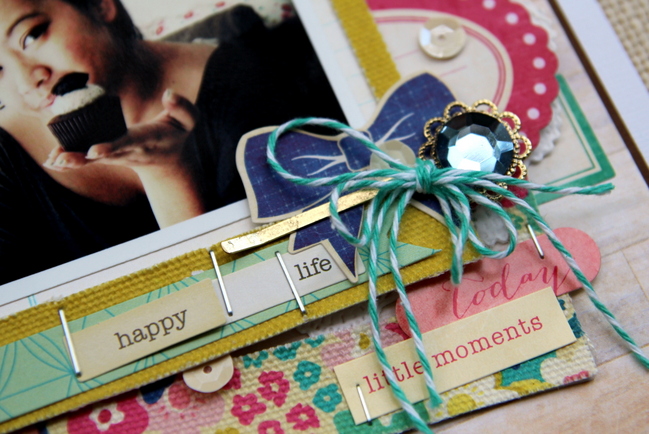 Today's guest, Piradee Talvanna, stayed true to the idea of all those paper triangles and I love the look of all the patterns she selected. Plus there's a little something else with her page that may have made me smile!

I had a fun time using this awesome sketch as it gives you a lot of room to play around with; although I did pretty much keep to the sketch only switching the placement of the title and adding in some fun layering details behind the photo. In creating this layout, I used the Maggie Holmes collection by Crate Paper, which had a lot of fun colors and I wanted to be able to incorporate all the colors into the layout without overwhelming it. Hence I decided to keep the background neutral (one color) and instead played on the arrow design with the various colors and balancing it out with the colorful layering/cluster behind the photo. Also I noticed that the fabric frame from the collection had some staples (to keep the lettering in place) and therefore also added some to the arrow design along with some neutral sequins for more details. On the topic of cupcakes, well what more is there to say? Love them!
| | |
| --- | --- |
| Piradee Talvanna is from Bangkok, Thailand but currently lives in Singapore with her husband. It was there that she was introduced to the wonderful world of Scrapbooking in mid 2008 and quickly became addicted to all the beautiful papers and fun embellishments. Scrapbooking not only allows her to explore and challenge her creativity but also helps her de-stress after along day at work. She is currently a design team member for Crate Paper, Maya Road and Webster's Pages and has been part of the Creating Keepsakes Dream Team Member for 2011, 2012 and 2013. You can find more of Piradee's work on her blog. | |

Read more about: sketch-of-the-week best-of-both-worlds-kit
25 March 2013

Next post: Double Washi Tape Frame:: A Scrapbook Tutorial by Wendy Sue Anderson
Previous post: Gardeners' Digest scrapbooking blog hop (March 2013)