Oh Dear Lizzy papers. Such pretty pastels with just the right amount of sweetness. I've loved so many of these papers since the original 'Spring' line a few years ago now. These cards were made with the Neapolitan collection last year. And this weekend, there's a whole new collection to add to that tradition. American Crafts is thrilled to announce its sixth collection from
designer Elizabeth Kartchner, "Dear Lizzy Lucky Charm".


From American Crafts:
"Beautiful paper with a cool mix of blues, mint, orange-red and yellow,
with a pop of pink in the each of the pretty florals. Lucky Charm was inspired by jewelry charms so you will find your favorite 'lucky' icons here and there. As well as dreamy clouds, star-maps, hot air balloons, and darling umbrellas. Some of the new products sure to get you excited include the roller phrase-only stamp. Scrapbookers loved the Dear Lizzy Date Stamp, so in this collection you will find a new stamp that is full of just the fun phrases. There are also awesome 4×6 diecut cards, striped square buttons that look like candy, a perforated sticker book, tissue fringe flags, fringe garland, printed clothespins, and a colorful Daybook. Of course, a Dear Lizzy line wouldn't be complete without some Lizzyesque icons including jars, kites and handwritten phrases."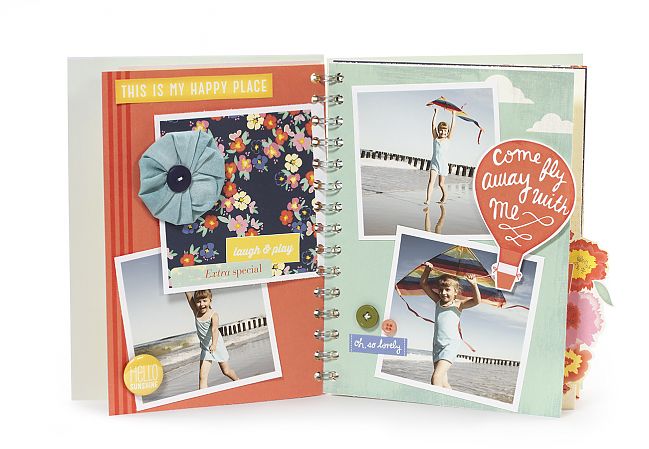 Here's a look at the Lucky Charm daybook! Such a cute mini to carry and create or perfect for making a gift.
To see another product continue on the blog hop to Dear Lizzy for a sneak peek and a giveaway of the entire Lucky Charm collection.
And it's not long at all now until the show opens – and I'll be blogging (and Instagramming) photos directly from the show floor! I'm packing my suitcase today and flying out tomorrow. Place your bets now on how many days I'll be wearing sequins.

Read more about: american-crafts
09 January 2013

Next post: Sketch to Scrapbook Page :: Scrapbooking two 4x6 portrait photos
Previous post: Introducing a new scrapbooking line from Amy Tangerine: Yes, Please