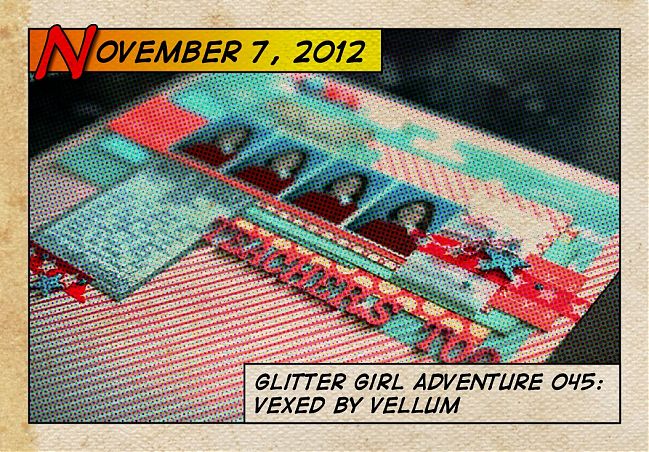 Class content ©twopeasinabucket.com.
This week Glitter Girl takes on an older product that is back on the scene: she's scrapbooking with vellum! Inspired by this discussion on the message board at Two Peas, she has a few suggestions for product choices and benefits, then a new layout to share in this week's adventure.

There are plenty of vellum options available at Two Peas and now and many of them are on sale this week. Scroll down to the bottom of this page and you'll find all sorts of goodies related to this week's adventure, but be quick if you want to grab the discounts as the hot products sale ends on Friday.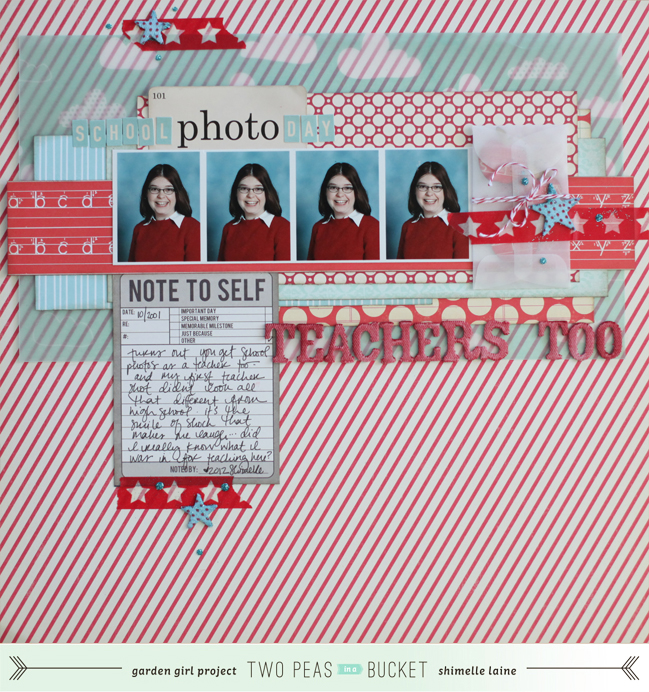 And yes, that is a school photo from my early teaching years! We had to have a staff photo taken each year and once the school had taken the necessary number for bulletin boards and so forth, the remaining prints would appear in our pigeon holes in the staff room, and ever since I've had this small collection of grown-up school portraits. I am pretty sure this is the first time I've put any of them on a page. I also have yearly class portraits of my tutor group – that's basically like homeroom for those of you stateside. I had the same group for four years, so those class pictures show them starting as teeny kids and growing up one year at a time, all in school uniform of course. Some day I will figure out the best way to scrapbook that entire experience too… but this is a start. Interestingly, the top I am wearing in this photo caused me no end of trouble in my first teaching job (I missed the memo that red did not meet the dress code there) but that is a different story for a different day and a different page entirely.
This week, Glitter Girl challenges you to scrapbook with vellum and share the results! You can link to them in the comments here too if you like.


The Adventures of Glitter Girl is a weekly series on Two Peas in a Bucket, and goes live every Wednesday. I'll share each adventure here shortly after that. I hope you enjoy her quests for crafting happiness, and if you ever have a scrapbooking dilemma yourself, you can always call her to action on the message board.

Read more about: adventures-of-glitter-girl two-peas-in-a-bucket
07 November 2012

Next post: Scrapbooking Giveaway Day
Previous post: Scrapbooking with Studio Calico :: Sock Hop & Bobby Socks