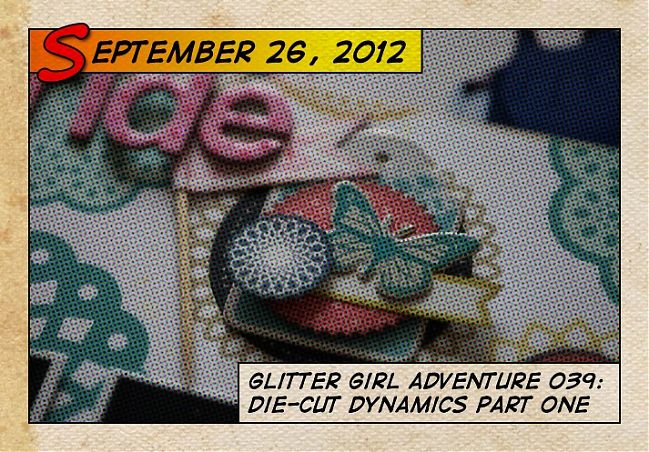 Over the last two weeks, Glitter Girl has been on a real mission of scrapbooking with die-cuts. Two entire adventures! The first deals specifically with manual die-cutting, whilst the second goes a bit more custom with cuts from a digital die-cutter like a Silhouette or the Cricut.
My personal rule is to only buy metal dies for shapes I will cut time and time again – so I have very few and what I have would all fall under basic or essential shapes, quite likely. The three sets I use most are all nested shapes (the same shape in several different sizes, perfect for layering) by Spellbinders – the small circles, small pinked circles and labels one (similar to the label die-cut shape from Jenni Bowlin). The pinked circles were sadly discontinued this year and I've continued to use them – but after this episode some scrappers started asking Spellbinders to bring back that shape. If you want to weigh in on that discussion, you can find it here on Facebook! Otherwise, you can find a few other options here and there or maybe find a shop that still has some in stock.

If you see anything in this episode you would like to add to your own stash, you can find a full shopping list here below the video, including additional dies on sale at the moment too.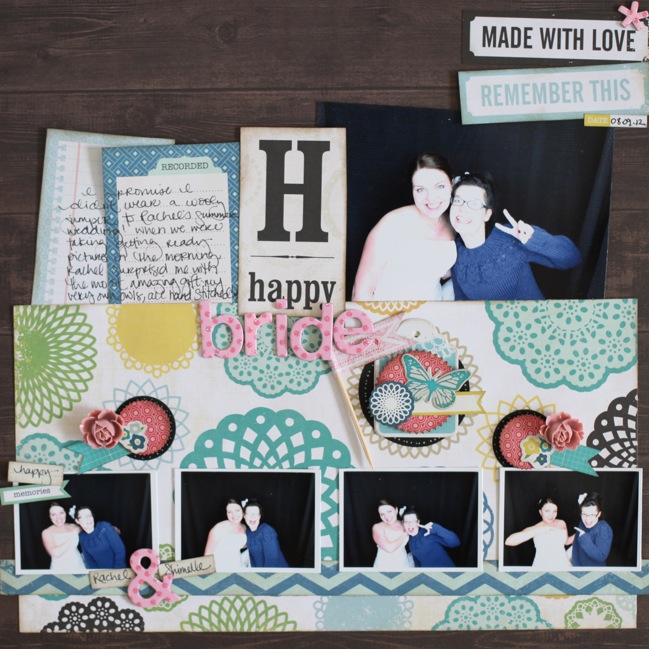 Why yes, I do have new photo booth wedding photos to scrapbook! The lovely Rachel got married recently and we highly approve of her decision to have a photo booth at the reception. It's a bit of a tradition now. I promise I didn't wear a wooly jumper to her wedding: she knit those gorgeous owls for me as a thank you gift and we needed a photo or five to celebrate all that craftiness!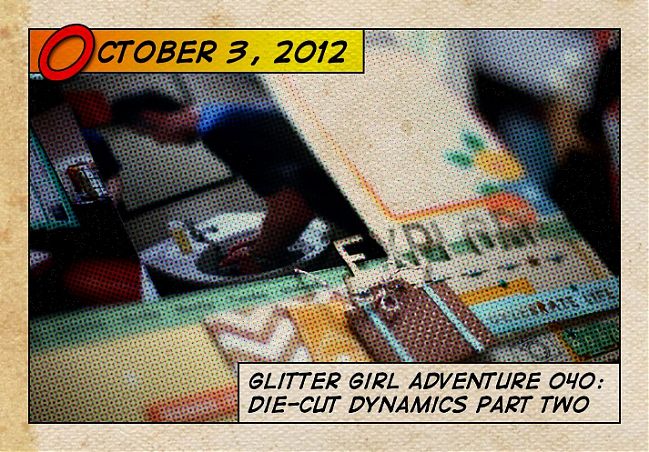 Rest assured, we can do more than just circles and such with die-cuts! I have a Silhouette for custom die-cutting, and use that for anything I might just want to cut once or twice. I love that I can design the cut myself or buy just individual designs from the Silhouette online store. With the cartridge based cutters, I always found I would like just a few designs on each cartridge, making each cut quite expensive. With the Silhouette store, I just buy the individual designs I like and that works out far more affordable for me. For this page I used three different cutting patterns from the Silhouette store – a suitcase, banner and a word card.

Supplies for this project can be found here. In addition to the Silhouette, that includes all sorts of fun stuff, like a new collection of tiny glitter pots, lots of label and letter stickers, and three paper collections I've really enjoyed using lately.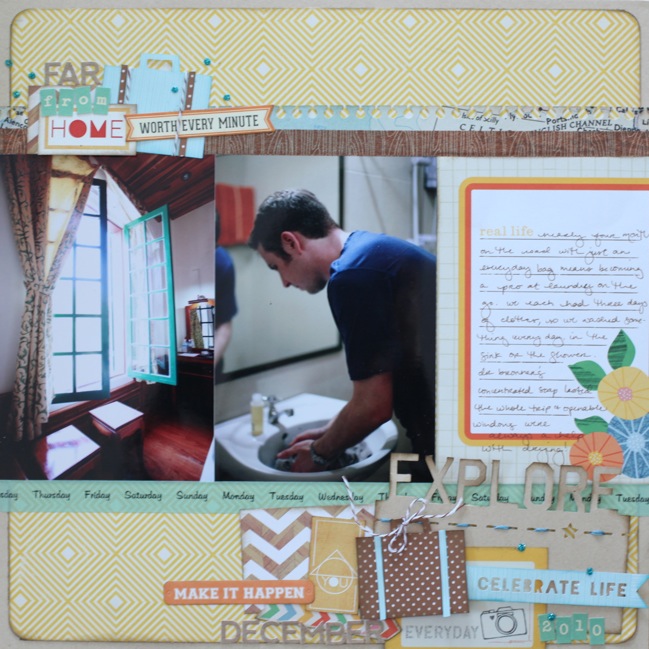 And it's these photos that will make you think I will photograph and scrapbook just about anything. Which is possibly true. But I've been meaning to get the story of how we handled laundry while backpacking into this album. We became such experts in how to get our clothes clean and dry every single night, so it deserves to be recorded. I took a few pictures of this along the way and I think I even filmed a little video of one of us being a bit silly and faux-demonstrating to the camera how to wash something in a hotel sink. We had 100ml of soap concentrate and it lasted the full trip – just! That way we were allowed to take it on the plane as a carry-on. Of course it really came in a giant bottle to start, and we aren't even halfway through that at home. It's amazing just how concentrate a concentrate can be!
Onward, covered in glitter, my dear scrapbookers!

The Adventures of Glitter Girl is a weekly series on Two Peas in a Bucket, and goes live every Wednesday. I'll share each adventure here shortly after that. I hope you enjoy her quests for crafting happiness, and if you ever have a scrapbooking dilemma yourself, you can always call her to action on the message board.

Read more about: adventures-of-glitter-girl two-peas-in-a-bucket
03 October 2012

Next post: On being a London Ambassador
Previous post: Scrapbooking Giveaway Day