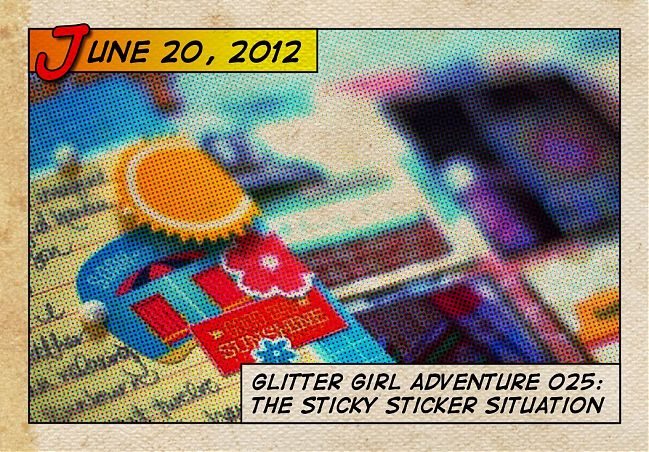 Series content ©twopeasinabucket.com.
Glitter Girl has a sticky situation on her hands this week: scrapbooking with stickers! It started with this discussion on the message board, and Glitter Girl's adventure took her through two layouts: one using the themed stickers in the new "Shoreline collection": from American Crafts and another using a mix of stickers from different manufacturers and collections.

You can find all the products mentioned in this week's video right here, though that set of glittery stickers has already sold out in the sale today! But all the sticker books are there, as are all the papers in today's video. You'll also find an additional video on that page with Shannon Tidwell's top tips for using border stickers, if you have more of those in your stash.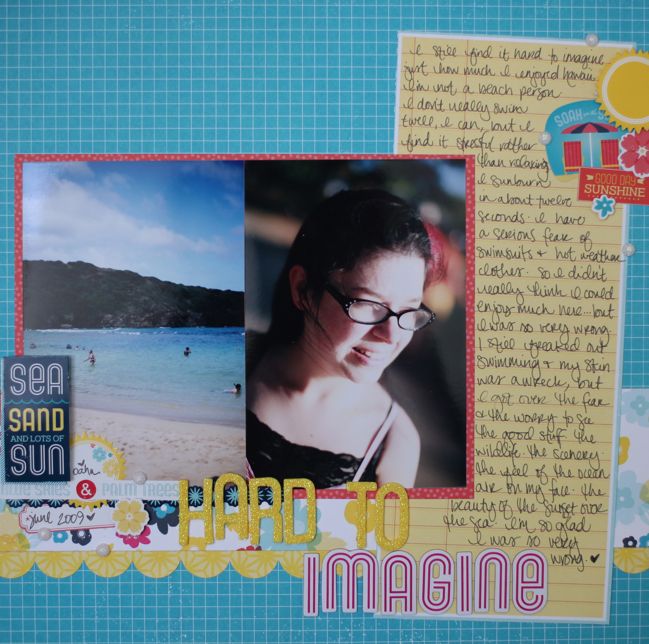 Speaking of American Crafts, it's actually a sticker-themed week on their blog! Check out those projects here for some further ideas on using their stickers.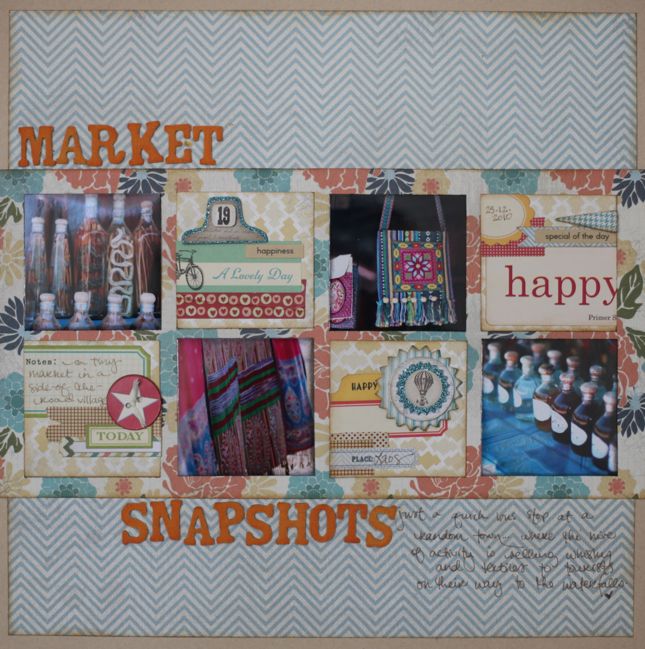 The second layout in today's adventure is one that can be used with plenty of part-used sticker sheets and it's great with Instagram or Hipstamatic images if you find yourself with those square photos to scrap… otherwise you can crop a square from a more traditional photo. Either way, you don't need much else to the rest of the page since all the embellishment comes in those squares. I'm sure you could also adapt this idea to Project Life when working with those smaller pockets. The JBS Hodge Podge stickers are a real winner for mixing different brands of stickers – they provide a nice neutral design to bring all the other elements together.
This week Glitter Girl challenges you to use your own handwriting on a crafting project- no matter what happens – and share it in the Two Peas gallery. You can also leave a link in the comments here if you like.
Onward, covered in glitter, my dear scrapbookers!

The Adventures of Glitter Girl is a weekly series on Two Peas in a Bucket, and goes live every Wednesday. I'll share each adventure here shortly after that. I hope you enjoy her quests for crafting happiness, and if you ever have a scrapbooking dilemma yourself, you can always call her to action on the message board.

Read more about: adventures-of-glitter-girl two-peas-in-a-bucket
20 June 2012

Next post: Gardeners' Digest scrapbooking blog hop (June 2012)
Previous post: Scrapbooking Starting Point :: Stormy New Zealand Seas