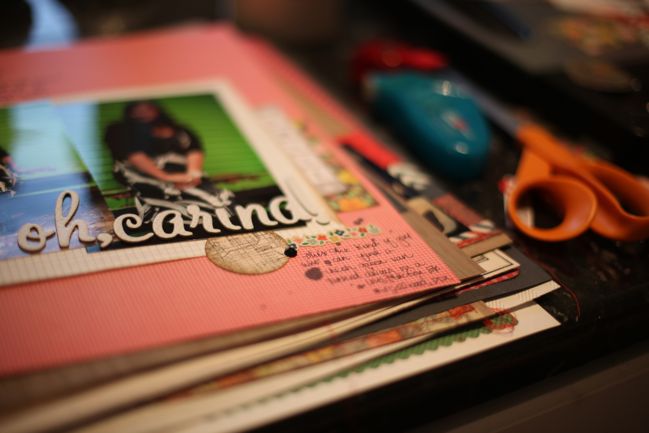 video and projects ©twopeasinabucket.com.
Last month I put together a little video that I thought would make quite a few people roll their eyes. It's just forty minutes of me scrapbooking, starting with a kit and working on pages until it's all gone. That was eight layouts later, starting with a kit of about $40 (including two long-term items – a stamp set and a bottle of mist). I had no idea that it would strike such a chord.
First Jenn at Live.Teach.Create. started this challenge and invited her readers to create a similar kit from their own supplies, then scrap until it was gone. And this month, the Counterfeit Kit Challenge decided to make it their June project, and they invite you to join in the fun and see how many pages you can make… all by choosing things from your existing stash of scrapbooking supplies.
Now, just in case you use those supplies and fancy something a bit new, you can also purchase the original kit in my video here. Just add one of each element that you want, and presto: a kit for getting crafty! (And just a little advance notice: I've just picked out the supplies I'm using for a new project along these lines, so this sort of flexible kit may become a regular thing at Two Peas if enough people like the idea!)
Anyway, I just wanted to say how humbled and thankful I am that so many scrappers find the videos like this to be useful and helpful in using that stash. I love to hear scrappers say they are creating more and collecting less. (Not that there's anything wrong with collecting if you have plenty of space to save all that pretty paper! I have days when I am definitely envious of a big space to store such prettiness!) If you found this idea useful, I hope you'll take up one or both of those challenges and I hope your stash proves exceptionally useful!
xlovesx

Read more about: two-peas-in-a-bucket
12 June 2012

Next post: Glitter Girl and handwriting on scrapbook pages
Previous post: My Scrapbooking Lunchbox