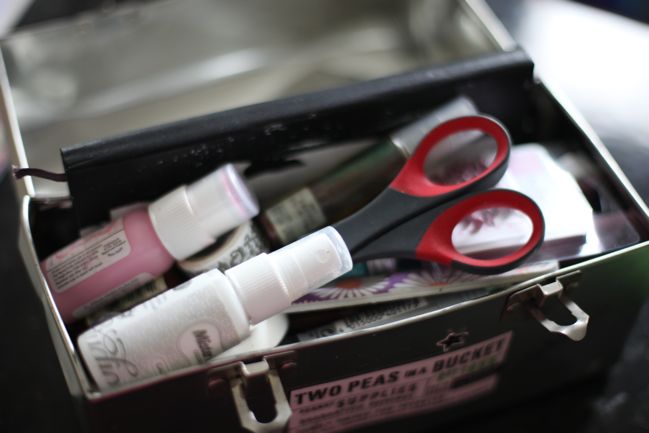 After last week's Paperclipping Roundtable, I've been having all sorts of discussions about scrapbooking in random locations. The knitters get organised with this sort of thing and celebrate with worldwide Knit in Public day, but we seem to be less ready for such an event… but I promise it really isn't all that difficult in the slightest.
With my crazy over-zealous page kitting recently, I know just reach for my most basic of tools when I head out for some away-from-home scrapping. If I want to scrap in the park, I will a) celebrate that it has finally stopped raining and b) pop my scissors, pens and adhesive roller in my handbag. If I can manage it, I'll also take either my brown or black ink pad and applicator, since I tend to use that on pretty much everything, but it does require the added step of putting it in some sort of protective bag otherwise everything in my handbag shall be covered in ink. I'm all for organic art, but that's a step too far.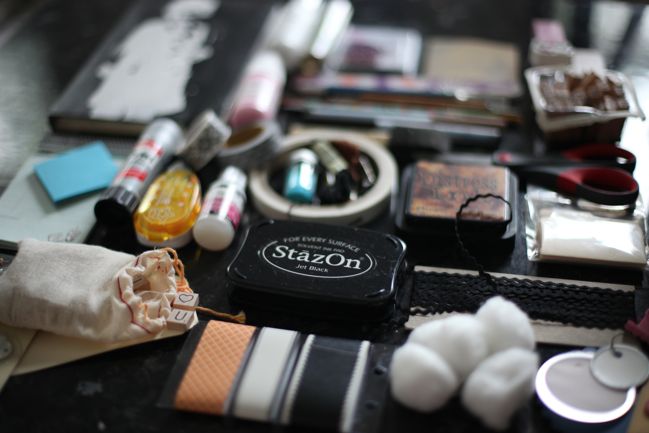 But there are other times when I don't have page kits ready and that's when I take my lunch box. It's filled with basic tools plus an assortment of things that can be useful, so I can pretty much make something with only a little bit more. Add just the journal itself for journal entries, or some card blanks and a 6×6 paper pad for making cards, or larger papers for scrapbook pages. When I used this on a regular basis, I also kept a small tote bag (really small – not something heavy, just something small and easy!) with scrap papers, and that would be plenty to work on whatever projects I had in mind. That was probably the start of my good use of scrap papers, actually. Before that I spent a lot of energy keeping them separated by colour and pattern and although I spent a great deal of time putting things away, I very rarely took the scraps back out again!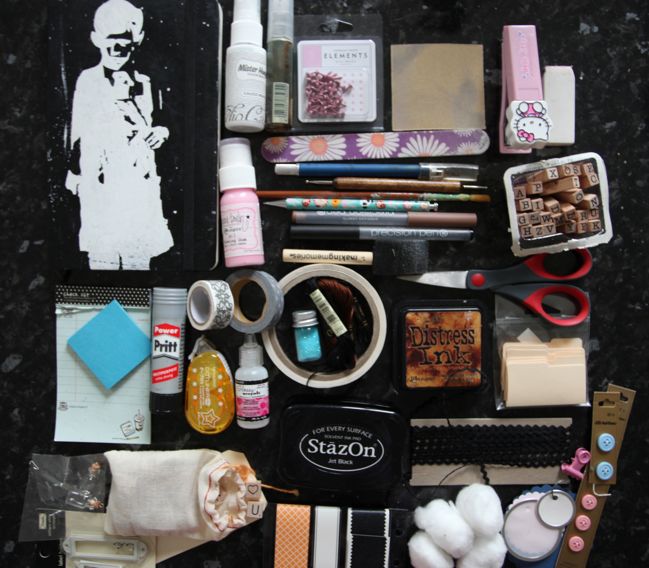 I emptied the lunchbox just as it is – untouched for several months really – and this is what was inside, starting from the top left. A journal. Mister Huey spray ink in white. Empty mini spray bottle for mixing up different colours, walnut ink, etc. Pack of mini brads. Square of sandpaper. Mini stapler. White eraser. (Moving to the second row, from the left.) Jenni Bowlin paint dabber in chewing gum pink. Selection of pen-sized tools, including nail file, craft knife, stylus, paint brush, mechanical pencil, brown and black writing pens, foam paint brush. Set of letter stamps. (Back to the left for the next row.) Post-it notes and mini to-do list notepad. Super duper silver Pritt stick (still my favourite for paper to chipboard). Two rolls of decorative tape. Mini adhesive roller (this kills me: it's Kokuyo in star shaped dots instead of the normal little circles. I picked it up on holiday.) Glossy Accents liquid adhesive/gloss finish. Double-sided tape (on the large roll). Turquoise glitter. Black and brown embroidery floss and a sewing needle. Scissors (smaller than my usual pair). Distress Ink in vintage photo brown. Random little accent of several tiny file folders. (New row.) Bag of 7gypsies scrabble-style letter tiles. Pack of Making Memories metal frames with brads. Staz-On ink pad in black. Adhesive ribbon-finish tape from Martha Stewart. Black rick-rack. Cotton wool. Assortment of small die-cut circles and tags. A few coloured paper clips and some buttons.
That all fits into the lunchbox without any trouble! I've packed more in there by piling stuff into the space at the top, like a watercolour set, a roll of coloured pencils, a pack of odd playing cards… but really there is plenty here to make quite a bit!
So I promise you really can have a lot of creative freedom even while you're on the go… but what would you pack in your lunchbox? And I think the answer of 'lunch' is considered cheating.
xlovesx

Read more about: paperclipping-roundtable
11 June 2012

Next post: Three Sketches for Handmade Cards
Previous post: Scrapbooking Starting Point