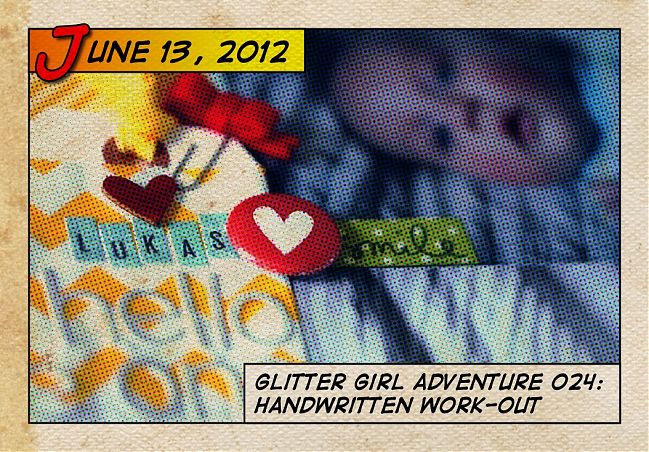 Series content ©twopeasinabucket.com.
I'm sure Glitter Girl was born with all her scrapping skills fully developed, but that is definitely not the case for me. Especially when it comes to handwriting. I got in so much trouble at school for terrible handwriting. Even though it got so much better with repetition, I had such a complex about it, thinking it still looked like that third-grade scrawl that I would have to rub out and trace again, over and over. On my first few years of scrapbook pages, everything is carefully pencilled and printed. Then I gave up handwriting entirely and typed every bit of journaling for the next few years after that. It was only when I was faced with life without a printer that I started to write by hand again and since then, I've never gone back really. I think I've printed my words three times in the past seven years? Something like that. I still don't think my writing is perfect but I have reached a point where my penmanship and I are on speaking terms and we understand each other. I'll take that as a win.
So this week, Glitter Girl takes on a question about what to do with written mistakes. The simplest answer? Write it again and paste it over the top! Easy. Again something that would never happen to Glitter Girl, but one of my most embarrassing moments demonstrating at a craft show involved a customer looking closely at a sample page for ages, then announcing that she had counted and there were thirteen layers on paper in one spot. And I immediately knew why: I had made twelve mistakes. Sometimes less is more, but on my scrapbook pages? Usually more is more. More mistakes, more second chances, more layers, more patterns, more colour. All sounds fine to me!

Today's video has three parts – the kit of supplies at the beginning, then the step-by-step process of the layout and then we start talking about handwriting once the layout is about two-thirds complete. (If you're only interested in certain parts, you can of course skip to what you want to see!) If you fancy crafting with that specific kit of goodies, you can find the Pieces of Me kit listed here. Just scroll down the pages until you reach the supply list and pop it in your bucket! Glitter Girl also shares some of her top tips for handwriting on that page too. (And if you're interested in learning more about what to write rather than just how to write the alphabet in an aesthetically pleasing fashion, you might consider True Stories, my journaling workshop that can be taken any time in a self-paced format.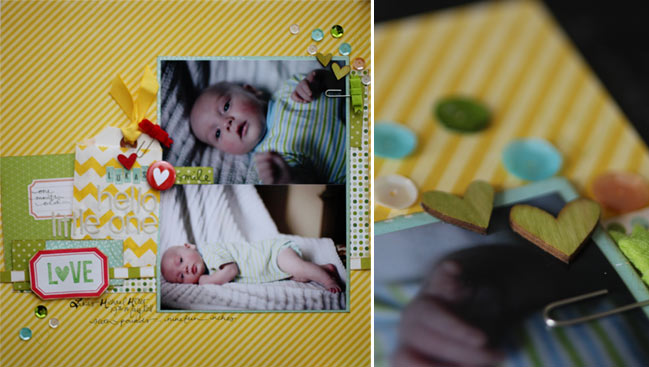 This week Glitter Girl challenges you to use your own handwriting on a crafting project- no matter what happens – and share it in the Two Peas gallery. You can also leave a link in the comments here if you like.
Onward, covered in glitter, my dear scrapbookers!

The Adventures of Glitter Girl is a weekly series on Two Peas in a Bucket, and goes live every Wednesday. I'll share each adventure here shortly after that. I hope you enjoy her quests for crafting happiness, and if you ever have a scrapbooking dilemma yourself, you can always call her to action on the message board.
PS: Glitter Girl will be looking for a few extra good topics over the next couple weeks, so don't be afraid to ask away!

Read more about: adventures-of-glitter-girl two-peas-in-a-bucket
13 June 2012

Next post: Scrapbooking Sketch of the Week :: Scrapbooking with Transparencies
Previous post: So inspired by your challenges