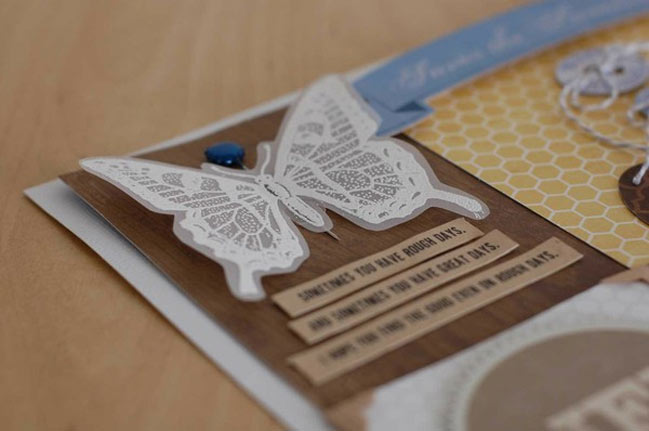 Nearly every time we work through a weekend of scrapbooking challenges here, I throw a quadrant challenge in the mix. I love pages divided into the four quarters and it works so well with 6×6 papers… but I didn't want to make it too easy for you this time around, so I have a special challenge inspired by the work of Jen Gallacher.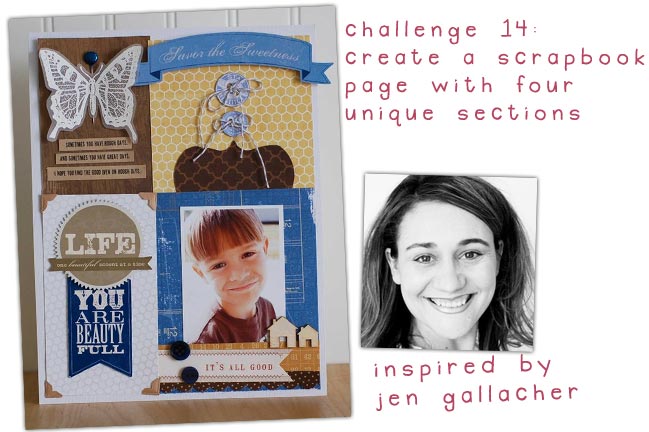 Layout ©twopeasinabucket.com.
You'll need to start by dividing your page into the four quadrants, but specifically, make each of those four quarters unique. I love how she divided this page into four different sections with different elements, but because Jen kept the colour scheme to just a few shades, it all sits together so well.

And you can get a closer look at how Jen created this page from her Memory Keeping Monday video… no matter what day of the week it might be when you watch!
See more of Jen's work on her blog or in her page gallery. Jen teaches the Scrapbook Stamper's Workshop, which is available at any time.
To enter this challenge, create a new scrapbook page with four unique parts. Upload your project to your blog or gallery and link it up here. Entries close at the end of next weekend.

Read more about: online-scrapbooking-weekend two-peas-in-a-bucket
15 April 2012

Next post: Scrapbooking challenge :: Scrap some rubbish photos
Previous post: New Scrapbooking Class... Early Bird Bargain